The Consortium of National Law Universities every year conducts the Common Law Admission Test (CLAT) for the admission of young, talented, and hardworking students in various undergraduate and postgraduate programs offered by the 22 National Law Universities.
The Common Law Admission Test (CLAT) 2023 will be conducted online mode on 18th December 2022.
Read through the post that will give you a complete insight into How to prepare for CLAT 2023 in 4 months, subject-wise strategies, and more.
Short Tricks to Prepare for CLAT Exam 2023 in 4 months
The Common Law Admission Test is one of the most competitive law entrance exams, with approximately 70,000 students competing every year to secure admission to 22 National Law Universities.
It might be a bit frightening when you think of competing with all these aspirants to secure a seat in NLU. However, if you are committed and dedicated to your goal, cracking the exam is not a big challenge!
The following are some of the tips that will help help you better understand How to Crack the CLAT Exam in the First Attempt in 4 months.
Focus on Limited Study Material
You don't have to search or study from every study material possible or available. You should have limited study material, for example: for critical reasoning subject study from 1 book which has all the information and all types of questions related to critical reasoning.
Study material does not mean only books. Study material includes all sources of education like books, youtube channels, coaching institute notes, etc.
So, study from one or two sources only for the CLAT 2023 and study with full dedication and focus on achieving your goal easily.
Download Free Study Material For CLAT 2023 Exam by LegalEdge
How to prepare for CLAT 2023 in 4 months: Make Your Own Strategy
Start practicing a comprehensive test series through which your ability to complete the test and your speed will increase.
Don't listen to anybody, just make your own strategy the way you like to study. If you want to study Legal reasoning first or English first, that is up to you. But make that strategy that is beneficial for you. Or that helps you to study easily and improves your performance.
Make a proper

Timetable for CLAT

and try to complete each and every subject within the time limit.
How to prepare for CLAT 2023 in 4 months: Attempt Mocks
Start attempting and practicing mock tests because while attempting mocks, you will learn so much about the exam pattern and the examination that will help you crack the CLAT 2023 Entrance test easily.
You have to practice at least 40 to 50 mocks before the CLAT 2023 examination, so start attempting mocks from today onwards.
For attempting mocks, you can join various coaching institutes, enroll in our LegalEdge's mock, and purchase our

CLAT Mock Test Series

for practice.
You will get a mock test series of 50 tests from our website LegalEdge. It is not compulsory to purchase from us. You can purchase mock test series from any website you want to, but just practice mocks. It will greatly help you in your CLAT 2023 preparation and examination.
The benefit of solving mock tests is that you will solve 150 questions in one mock test, and if you are attempting around 30 to 40 mock tests, then you will get to solve around 4000+ questions. And in that 4000+ questions, you will get all types of questions that are possible to come in the CLAT exam.
After attempting the mocks, analyze them, find your mistake, and try to rectify it. Do not repeat the same mistake again in the next mock.
Prepare a copy or register and note your mistakes and what new you have learned while attempting or while analyzing the mocks.
Revision of Current Affairs
If you start revising the current affairs from May 2022, you will get to know that many topics or news from the last 4 months that you have left will also be covered in that revision only. That's why I am recommending that you start revising current affairs from May month and revise them till December month.
You can revise the

Current Affairs

from our uploaded videos on our Youtube channel. It will help you to prepare and study well for the CLAT 2023 entrance examination.
For the current affairs section, revision is a must because current affairs are the topic that if you study at night, then the next morning you will forget it so it requires proper revision of each and every topic.

How to prepare for CLAT 2023 in 4 months: Legal Reasoning
The legal reasoning section demands practice, practice, and practice only.
For

Legal Reasoning Preparation

, you have to clear your basic concepts of Law. The basic concepts of law include various topics like Contracts, IPC, Torts, etc. If you have the idea of the basic concepts then it will be easy for you to crack the legal reasoning questions.
You should read the Hindu Newspaper for current affairs; then, you will get some updates about the legal issues that will help you.
If you are updated about the legal issues, this will help you solve the legal reasoning passage-based questions.
Practice from mock tests, different test series, videos, etc.
How to prepare for CLAT 2023 in 4 months: Critical Reasoning, English, and Mathematics
The basic mantra to prepare for Critical reasoning, English, and Mathematics subjects is practice, practice, and practice only.
The English and Critical Reasoning sections include English, so if your English is good, then you will have the upper hand in both sections.
The Critical Reasoning section is directly proportional to the English section.
If you are not good at English, read daily newspapers, novels, books, magazines, etc., and improve your reading skills.
And the students who are good at English should practice more so that they become masters in the English language and enhance their

CLAT English Preparation

.
Practice will help you improve your English skills because you will be practicing many questions, so it will be easy for you to understand each type of question.
For students whose English is not good, don't worry if you cannot understand the whole passage because you just have to tick the most probable answer you think because if you waste your time reading the passage again and again, then it will be wrong.
In the Mathematics section, mostly the data interpretation questions come. So practice Data interpretation questions as many as you can. Don't skip it, thinking that maths is tough because data interpretation is a scoring topic. You can easily score 12 to 15 marks in the mathematics section.
You can buy books on CLAT for preparing for the data interpretation topic or any competitive exam book with a data interpretation topic.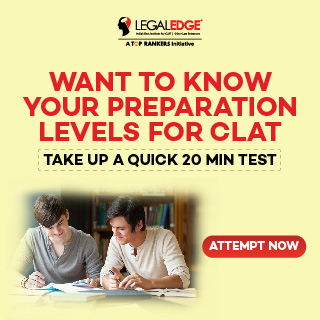 Fear of Failure
When your

CLAT 2023 Exam

is near, you will fear that you might fail the examination. That fear of failure is good, don't worry, every student goes with this fear of failure.
As much as you fear, your performance will also improve. The fear of failure helps you enhance your performance because you fear you will study more, which is beneficial for you.
As per our data analysis, we learned that students perform exceptionally well under high pressure.
If you are afraid of the examination, then it is good to study more for good results.
Make Short Notes
Students should prepare a question bank for every major and minor section for the Legal Reasoning section, Critical / Logical Reasoning section, Quantitative ability section, English section, and Current affairs, including the general knowledge section.
You should prepare a question bank of 50 questions from each major topic, consider the Previous Year's Question Papers for the CLAT of your choice, and create 50 HOTS questions. So this question bank will provide you with the best guidance at the time of revision.