Are you aspiring to become a lawyer? Do you have trouble deciding which entrance exam to take?
Do not worry; we have provided a comparative study on these exams to help you make a well-informed decision.
CLAT and LSAT are highly competitive entrance examinations to get admission into BA LLB and LLM courses. These two are prominent entrance examinations you would pay attention to when looking for popular Law entrance exams.
However, Both entrance exams are distinct in their ways,
The Law School Admission Council (LSAC) administers the LSAT India exam on behalf of Pearson VUE once a year. The LSAT is required for admission to BA LLB, LLM, or LLB programs, and it is accepted worldwide. Aside from marks in school 12th grade, the LSAT score is essential to pursue a law degree. Also, note that the LSAT India 2024 exam will be held in two sessions this year: January and May.
On the other hand, the Common Legal Admission Test (CLAT) is a national-level entrance exam held every year by the Consortium of National Law Universities (NLUs) to provide admission to 22 NLUs' undergraduate and graduate law programs. As per the latest notice, the consortium will conduct the two exams in the same year, which means the LSAT 2024 Exam will be held on before the CLAT 2024 in the same year.
The article Difference between CLAT and LSAT examines all facets of both exams in detail and provides a thorough analysis.
CLAT vs LSAT - Primary Difference
Here is the basic understanding of the highly competitive law entrance exams in India.
| | |
| --- | --- |
| CLAT | LSAT |
| Common-Law Admission Test is a national-level entrance exam conducted to admit law aspirants to BA LLB and LLM courses at National Law Universities. | LSAT India is the Law School Admission Test to offer admission into 3-year LLB and 5 Year LLB and LLM courses. |
| CLAT is conducted by the Consortium of National Law Universities | LSAT is conducted by Pearson VUE on behalf of LSAC India |
| With CLAT, you can get admission into 22 NLUs | With LSAT, you can get admission into 83 Law Institutes |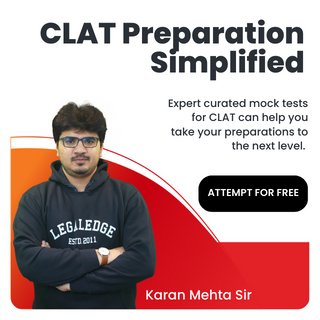 CLAT vs LSAT Nature of Exams
Selection between CLAT vs LSAT India is one of the most difficult choices for law aspirants in the country. Both exams are highly prestigious and hold equal relevance.
CLAT Exam is a knowledge-based exam that mainly tests your knowledge of a particular section or topic in-depth. The exam mainly focuses on legal knowledge.
LSAT Exam is a skill-based exam that tests your awareness and basic understanding of reasoning. It doesn't focus much on legal aptitude; however, it is more of Logical Reasoning oriented exam.
Question Paper Weightage: CLAT vs LSAT
The subject-wise weightage, including the number of questions and marking scheme of CLAT and LSAT India exams, are as follows:
| | | |
| --- | --- | --- |
| Particulars | CLAT | LSAT India |
| Number of Questions | BA LLB - 150 MCQ LLM - 100 MCQ, 2 Descriptive Questions | 115 Questions |
| Marking Scheme | UG - 1 mark each for every correct answer, negative marking of 0.25 marks for each wrong answer. PG - 1 mark each for the correct answer, a negative marking of 0.25 marks for each wrong answer, and 25 marks each for 2 subjective questions. | Scores between 420 and 480, a score band, along with percentile rank, no negative marking |
Which is more Difficult to Crack: CLAT or LSAT?
There are different sets of challenges when it comes to measuring the difficulty levels in CLAT vs LSAT India debate. However, both exams are moderately tough.
CLAT is considered one of the most difficult law exams in India, whereas LSAT is comparatively easier. However, LSAT India has global recognition as Pearson VUE conducts it to determine the qualitative abilities of an aspirant.
Another contributing factor to the CLAT exam's difficulty level as per CLAT Exam Pattern is that the students are given two hours to answer 150 questions from a wide range of topics. Moreover, the negative marking adds to its difficulty levels.
On the other hand, for LSAT India, you have 2 hours and 55 minutes to answer 115 questions without the pressure of negative marking. But the conducting body has added a new 'variables section', which is unscored yet, and the questions are unidentifiable.
CLAT vs LSAT Competition Level :
Since CLAT scores enable entry to the National Law Universities in India, the competition is quite high. As per the last year's data, for 2500 vacant seats, 50,000 applicants appeared for the exam. The list of CLAT Participating Colleges In India 2024 is increasing frequently.
LSAT has global prominence and is gradually gaining importance for law aspirants across the nation. Last year more than 50 law colleges came under the fold of LSAT India, and some of the top law colleges have associated themselves with it. There is an update in LSAT India Colleges List 2024
Which are the Top Participating Colleges for CLAT and LSAT?
There are various colleges accepting scores of CLAT and LSAT; however, the below table shows the top colleges accepting the scores.
| | |
| --- | --- |
| Top law colleges accepting CLAT | Top law colleges accepting LSAT India |
| National Law School of India University, Bangalore | Jindal Global Law School, Sonipat |
| NALSAR University of Law, Hyderabad | ICFAI Law School, Hyderabad |
| Maharashtra National Law University, Mumbai | School of Law, University of Petroleum and Energy Studies, Dehradun |
| Dr Ram Manohar Lohiya National Law University, Lucknow | Alliance School of Law, Bangalore |
| National Law Institute University, Bhopal | SRM University, Delhi-NCR, Sonepat |
| National Law University, Jodhpur | VIT Law School, Chennai |
| Rajiv Gandhi National University of Law, Patiala | The NorthCap University, Gurgaon |