Reader's Digest: Are you thinking of applying to law school in India? If so, you need to know the difference between CLAT and LSAT. These two exams are the gateway to top law schools in India, but they have different eligibility criteria, syllabus, and difficulty levels. Read on to learn more about the differences between CLAT and LSAT, and decide which exam is right for you.
Are you a law student wondering about the differences between CLAT and LSAT India? Look no further! Here are some bullet points to help you differentiate between the two exams:
CLAT is conducted by the Consortium of National Law Universities, while LSAT India is administered by the Pearson VUE.
The exam pattern for CLAT includes sections on English, General Knowledge and Current Affairs, Mathematics, Legal Aptitude, and Logical Reasoning. In comparison, LSAT India focuses on Reading Comprehension, Analytical Reasoning, and Logical Reasoning.
CLAT scores are accepted by all participating National Law Universities apart from NLU Delhi, while LSAT India scores are accepted by selective private law schools in India.
CLAT has a negative marking system wherein 0.25 marks is are deducted for every incorrectly question answered question , while LSAT India does not.
Stay tuned to find out more about the differences between CLAT and LSAT India!
CLAT vs LSAT: Understanding the Major Differences
Let's initiate by talking about some known differences between these exams:
| | | |
| --- | --- | --- |
| Particulars | Description | Description |
| Exam mode | Offline (pen-paper mode) | Online Mode (Computer-based Test) |
| Exam Duration | 2 hours | 2 hours 20 minutes |
| Type of Questions | Comprehension-based, multiple-choice questions | Multiple-choice Questions |
| Number of Questions | Undergraduate Exam (BA LLB) - 150 objective-type questions | 92 Questions |
| Scoring Pattern | +1 mark for each correct answer, the total marks required are 150. | Test scores will be provided as a scaled score between 420 and 480, a score band, along with percentile rank. |
| Marking Scheme | UG - Each objective question will carry 1 mark. An incorrect answer will carry a penalty of 0.25 mark. | No penalties for incorrect answers |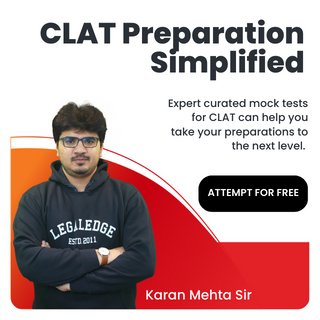 Difference Between CLAT and LSAT on the Basis of Eligibility
For CLAT's undergraduate program, you need a 10+2 grade point average of 45% (40% for reserved categories). For LSAT, the minimum score required for both undergraduate and postgraduate degrees varies depending on the institute you're applying to.
Make sure to review the eligibility criteria for both exams before deciding which one to take, and get ready to take the first step towards your legal career.
Understanding the Exam Pattern for LSAT and CLAT
Though these exams cater to one common goal- admission to a law course, the pattern for these exams varies. To prepare and appear for these exams, clarity on the pattern is necessary.
We're highlighting the key differences between the two below:
CLAT Exam Pattern Details
CLAT is a 2-hour duration exam conducted in offline mode for undergraduate programmes. The exam has passages followed by MCQs.
| | |
| --- | --- |
| Name of the Section | Number of Questions |
| English Language | 22-26 questions, or roughly 20% of the paper |
| Current Affairs including General Knowledge | 28-32 questions, or roughly 25% of the paper |
| Legal Reasoning | 28-32 questions, or roughly 25% of the paper |
| Logical Reasoning | 22-26 questions, or roughly 20% of the paper |
| Quantitative Techniques | 10-14 questions, or roughly 10% of the paper |
| Total | 120 |
LSAT Exam Pattern Details
LSAT is an online mode exam. The duration of the exam is 2 hours 20 minutes. The questions are objective in nature.
| Section Type | Number of Questions | Duration |
| --- | --- | --- |
| Analytical Reasoning | 23 | 35 minutes |
| Logical Reasoning (1) | 22 | 35 minutes |
| Logical Reasoning (2) | 23 | 35 minutes |
| Reading Comprehension | 24 | 35 minutes |
| | ~92 | 2 hours and 20 minutes |
LSAT vs CLAT: Difficulty Level
If you want to increase your chances of success, you need to understand the difficulty level of both the CLAT and LSAT exams.
The CLAT exam is known as the toughest law entrance exam in India. In the previous year, the CLAT 2022 exam was actually easier compared to previous years.
You had to answer 120 multiple-choice questions in just 2 hours. But don't worry, the question paper was fair and didn't create any controversies.
On the other hand, the LSAT India exam is relatively easier, but that doesn't mean you can be complacent. It's still a challenging exam.
According to experts, the LSAT India January section in 2023 had a moderate difficulty level. It's a 2 hour and 20 minute exam with 92 questions and the analytical reasoning section was the toughest part, while the reading comprehension section was the easiest, although it was quite long.
So, which exam should you take?
It depends on your strengths and weaknesses. If you're good at a wide range of subjects and you're comfortable with a negative marking system, then CLAT might be a good choice for you.
If you're better at reading comprehension, analytical reasoning, and logical reasoning, then LSAT India might be a better fit.
No matter which exam you choose, it's important to start preparing early.
Plenty of resources are available to help you, including online courses, practice tests, and tutoring.
Which are the Top Participating Colleges for CLAT and LSAT?
There are various colleges accepting scores of CLAT and LSAT; however, the below table shows the top colleges accepting the scores.
| | |
| --- | --- |
| Top law colleges accepting CLAT | Top law colleges accepting LSAT India |
| National Law School of India University, Bangalore | Jindal Global Law School, Sonipat |
| NALSAR, Hyderabad | Asian Law College, Noida |
| Maharashtra National Law University, Mumbai | School of Law, University of Petroleum and Energy Studies, Dehradun |
| Dr Ram Manohar Lohiya National Law University, Lucknow | Alliance University, Bangalore |
| National Law Institute University, Bhopal | GD Goenka University |
| National Law University, Jodhpur | VIT Law School, Chennai |
| RGNUL, Punjab | BITS Law School |