CLAT results were out, and Rahul Malviya secured All India Rank (AIR) 13 in the CLAT 2022 entrance exam. He has been preparing for CLAT for the last two years.
In the first attempt, he secured an AIR 200. So, he thought of giving it one more try, and now he made it AIR 13.
While discussing how he succeeded, Rahul talked about his preparation strategies, the sacrifices he made during his preparation, and more.
He has added many tips and tricks to help law aspirants achieve their dreams of cracking the exam and getting admission to their dream college.
Interview of CLAT 2022 Topper Rahul Malviya, AIR 13, with Karan Mehta
Karan Mehta, Founder of LegalEdge-Toprankers, had a conversation with Rahul Malviya, who secured an AIR 13 in the CLAT entrance exam.
So, let us know what Rahul's success mantra was and how LegalEdge was part of his success.
Karan: How was your CLAT journey, and how did you manage to prepare for CLAT and board exams together?
Rahul: The journey was really great. I focused on all other sections except GK in the first year. I had in mind that I had to be ready for the CLAT exam within one year only. Then, I gave CLAT in 2021 and scored AIR 200, but I had in mind that I had to improve by 10-15 marks more to get into NLUs. Last year, I was focusing on improving my score, and I made a lot of sacrifices in my life. According to Rahul, starting your CLAT preparation in Class 11 is the best way to secure a good rank in the entrance exam.
Karan: Why do you want to become a lawyer? What inspired you to become a lawyer?
Rahul: Since I was in 8th and 9th standards, I have participated in many debates, which excite me more. I connect to society, and, at the same time, I am interested in gaining some theoretical knowledge. So, in this period of law, we can apply theoretical knowledge in a very creative manner. That is why I wanted to pursue Law as a Career. Also, I took legal studies in my 11th class just to see whether I could enjoy it or not. And I enjoyed it more than my other subjects, which motivated me further.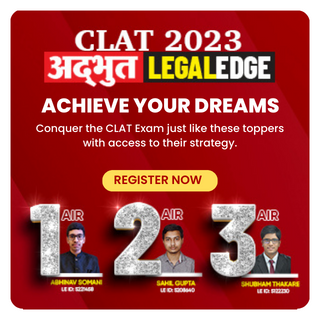 Karan: What areas did you focus on while preparing for the CLAT and what were the things that you kept in mind to crack the exam?
Rahul: Here, I would like to discuss three things I followed during my preparation without compromise and what I did daily.
The first thing is reading the newspaper. For the entire two years, there was no single day when I didn't read the newspaper.
The second important thing I followed was giving mocks. In the first year, I was giving mocks weekly once, but then I gradually increased to 2 mocks every week.
Attending classes. I didn't miss any of the classes for the entire two years.
Karan: Did you write the AILET Exam?
Rahul: No. I didn't fill out the AILET application form because I was very confident that I could secure a good rank in the CLAT Entrance Exam.
Karan: Have you always been into reading?
Rahul: Yes, I read a lot, especially non-fiction books, which helped me in CLAT as well. Newspaper reading and knowing about world events were my hobbies. Also, I used to attend many competitions, so I did a lot of research. I feel English, logical reasoning, and legal aptitude depend entirely on our English ability ad reading skills, and these three sections consist of 100 marks in the CLAT exam. Therefore, if we are good at these three sections, we can always do well in the exam.
Karan: What are the five things that CLAT aspirants should not do?
Rahul:
Some people don't analyze the mocks, which we should not do. As a CLAT aspirant, you should analyze your performance in a mock test because it will tell you your strengths and weakness.
Don't stress much about the exam. You should be relaxed through your preparation and in the exam.
Don't avoid

reading the newspaper's editorial section

because it is as important as studying current affairs from other sections.
Don't spend too much time thinking about important topics of current affairs. You should not be limited to just 10-15 topics.
Don't get rejected by your mock score.
CLAT Schoalrship Test 2023 by LegalEdge - Get up to 100% Off
Karan: How to analyze CLAT Mock Tests?
Rahul: You have to read the question and answer once and then think about your justification for choosing that answer. Then, read the justification given by the coaching institute which created the mock test. This is the best way to analyze mocks.
Read more: Short tricks to score 150 marks in CLAT
Karan: How many questions did you attempt in the CLAT exam?
Rahul: I have attempted 137 questions in the CLAT exam.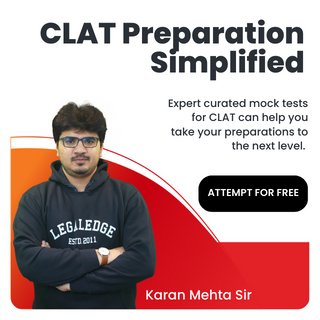 Karan: How good were you with quantitative techniques?
Rahul: I was good at quantitative techniques, but what helped me was that both in CLAT 2021 and 2022, there were no questions on time, distance, or work. They just asked the basic questions on average and ratios. But increasing calculation speed is important to score well in this section.
Karan: What was the lowest mock score in your second year?
Rahul: There were a couple of CLAT Mock Tests where I scored between 75 and 80. When you give a mock, you aim for at least 90+ marks.
Karan: How many hours do you need to study every day for CLAT?
Rahul: In my case, if I study with a schedule, I get pressured. It doesn't justify that you get good ranks if you study more than 8-9 hours. You can score good grades if you study less time with proper focus. Parents need to have confidence in their children and not pressure them, as it can ruin their preparation. I just used to give 4 hours for CLAT preparation daily, which worked for me.
Read more: Short tricks to enhance your CLAT GK preparation
Karan: What is your advice for upcoming CLAT aspirants?
Rahul: All aspirants are different, but one method that worked for me was being relaxed. I did not create any particular timetable, but I created pockets of my time. For example, 2-5 PM is fixed for a particular topic and 6-8 PM for another topic. No one should be anxious about exams because they are just a part of life. You should have a good social circle, interact with them daily, spend quality time with family, and pay attention to school studies.