Summary: The Integrated Programme in Management(IPM) is one of the most successful courses of IIM Indore, and seeing that these are the new IIM to launch IPM program and add the course to their curriculum. The IPM course is one of a kind, so most of the students joining the IIM actually aspire to the IPM programme. Here we will discuss all the IIMs launching IPM as a course. So read along and get to know where else you can get this course apart from IIM Indore.
The Indian Institute of Management Indore (IIM Indore) was the first institute to launch the Integrated Programme in Management (IPM) in 2011. In 2011 this program was the first integrated program launched.
This program allows fresh students who have just passed their 12th grade and are willing to get admission in this integrated program because getting admission in this program offered by the IIM will help the students complete their undergraduate and postgraduate studies. While the program was special and encouraging, it invited much criticism and questions about its validity.
Although, it managed to hold out against the test of time. And In 2019, IIM Rohtak followed IIM Indore and adopted the IPM program for their institute.
By adopting the IPM program, IIM Rohtak had given the program much-needed validity and recognition. After IIM Rohtak, this trend was further followed by the IIM Ranchi, IIM Bodhgaya, and IIM Jammu. They started this program in 2021. IIM Ranchi, IIM Bodhgaya, and IIM Jammu, all three institutions, have successfully started their first batch of the IPM program this year.
This program has been prominent on both sides - the students and the corporates. IIM Indore provides 100% placement to their students; they do not leave a single student without a job after completing the course from their institute. Due to this 100% placement IIM, Indore's average figures have increased consistently over the year.
However, the number of applicants and the demand for this management program have grown even higher.
Why is the new IIM to launch IPM programme? Which IIMs are going to start the IPM program? Get the answers below!
Looking at the current scenario of an increasing number of IPM aspirants, this new IIM to launch IPM program and also older ones to increase the number of intakes.
The current seats offered by all the IIMs are as follows: -
IIM Indore - 150 seats
IIM Rohtak - 180 seats
IIM Ranchi - 120 seats
IIM Jammu - 60 seats
IIM Bodh Gaya - 60 seats
In total, 570 seats have been offered by all the IIMs together.
As you can see, the above-mentioned seats offered are of very limited availability of seats in the existing IIM IPMs. So, because of this, most IPM aspirants are always looking for the answer to this question: Is there any IIM planning to start its own integrated program in the future? If so, when?
In this article, you will know which IIMs will start the IPM program soon.
Increase In Number Of Seats Available In IPM IIM Indore
As we all know, IIM Indore offers the IPM (Integrated Programme in Management) every year through the IPMAT Entrance Exam, and there is nothing new. Still, the good news is that IIM Indore is likely to increase its seat intake from the next year, i.e., from 2023.
As we have mentioned above, the present seat intake announced by IIM Indore is 150 seats. However, it was mentioned in one of the interviews given by Dr Siddhartha K Rastogi from IIM Indore that the institute is thinking of increasing its seat intake to 240 seats starting next year.
This change was to be implemented this year only, but due to the pandemic, it has been postponed and will be implemented next year.
The IIM Indore makes no such official announcement, but professor Rastogi is a credible - enough source to verify the same.
IIM Lucknow Might Start IPM Next Year
As per the sources, we believe that IIM Lucknow will be starting the integrated program in management (IPM) the next year. They will be announced around 180 seats for the IPM program.
The seat intake announcement and the program are likely to happen at its convocation (late March.)
Read more: Short tricks to prepare for the IPMAT exam from class 11
One more thing, the information regarding the program and seat intake doesn't come from the official website and is somewhat uncertain. Although, a recent interview with professor Rastogi confirmed the same. Furthermore, some students of the IPM IIM Rohtak who participated in a competition in IIM Lucknow were also interviewed about the same, strengthening this claim further.
When we get any official notification or announcement from the institute, we will update our post.
Read more: Attempt free IPMAT Mock Tests and enhance your preparation levels.
Is IIM Bangalore Going To Start The IPM?
Recently, there has been big news or a big rumour going around among the students about IIM Bangalore. The rumours are that IIM Bangalore is also planning to offer an IPM program next year.
In a recent interview, Director of IIM Bangalore professor Abhoy K Ojha said they are considering introducing the new undergraduate and postgraduate programs on their newly constructed campus.
Although, in his recent interview, no mention specifically targeting IPM was made. But recently, the institute has announced on its official Twitter handle that they are starting a new 4-year undergraduate program in the liberal arts in 2023. This program is unrelated to IPM (Integrated Programme in Management) but is a separate program with no post-graduation degree.
Thus, as per the reports, we don't think IIM Bangalore will likely start IPM anytime soon. Even if it's in talks, it hasn't been announced yet. Furthermore, the already announced liberal arts program is set to be offered in 2023, so one should at least not expect them to start IPM anytime before that.
What About Other IIMs?
There is a slight possibility that other IIMs will also follow along and start their own type of IPM program soon. Although to implement this possibility, it will take at least 2 to 3 years to go from the ideation process to implementation. For 2023 aspirants, the best idea is to focus on what's already announced while keeping hopes for IIM Lucknow as well.
Read more: IPMAT AIR 1 Interview
Non-IIMs Starting IPM
After the New Education Policy (NEP) began, many institutes other than IIMs also showed interest in the Integrated Programme in Management (IPM). The National Law University Hyderabad (Nalsar) has become the first institute of national importance to start an IPM program apart from the IIMs.
Although, if sources and rumours are to be believed, IIIT Allahabad and IIFT Kakinada might be the next institutes to start IPM programs soon. Likely, these institutions may as well start IPM next year.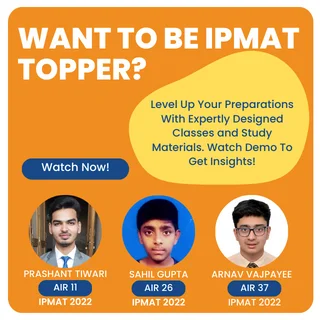 Why Have Other IIMs Not Started IPM Yet?
The Indian institutes of management (IIMs) have their own sets of aims and provocations as to why they have not started the IPM yet. For the old and early established IIMs, it's more of a difficult job, and they will also have infrastructural issues.
All the IIM campuses are already running at their fullest strength, and committing to a new program is impossible unless and until a satellite campus is opened (like in the case of IIM Bangalore.)
Adding to that, the needs of undergraduate students and postgraduate students are different from one another. They manage to be physically more active, so they require an upgrade in the existing sports facilities too, which isn't possible for the old IIMs owing to the earlier-mentioned issue.
On the contrary, the newer IIMs would want to focus more on bringing their MBA program to its fullest capacity before they start with any other program. This, again, will end up taking some time.
Enhance your preparation by understanding Important topics for the IPMAT exam, and for more help, check out the best online coaching for the IPMAT exam
Read More: How to Approach Questions in IIM IPM Exam?
Conclusion
From all our background information, we can conclude that 2023 aspirants expect to have around 630 IPM seats. This includes 210 seats in IIM Rohtak, 240 in IIM Indore, and 180 in IIM Lucknow (hopefully.)
If you're an IPMAT aspirant looking to crack the entrance on your first attempt, you can have a look at our specialized preparation courses taught by your seniors-to-be.
Read more: IPMAT Fee structure and scholarships