Our team of experts had a live webinar session to understand IIM Ranchi dignitaries on IPM Program and here is a report prepared on the same.
IPM is the best management program for students aspiring to have a career in the field of management.
IPM and PGP programs have similar values, however, with IPM programs you can enroll at a young age.
This article sheds light on the IIM Ranchi IPM Program and why choose it to have a great career path.
Why take the IPM Program at IIM Ranchi?
Many domains like communication, physics, etc are taught and a wide range of courses have been included in the curriculum.
The IPM program is better than other management graduates as you are introduced to management subjects in 1st two years.
Several students across the country study at IIM, so you get to learn.
New batches of juniors and seniors can also help you study and exchange knowledge.
IPM program has subjects that meet the current industry standards
Check: IPMAT Preparation Tips 2023
IIM Ranchi IPM Course Curriculum 2023
Variety of programs like humanities, social science, science, and commerce.
You get to have a culturally rich exchange with various students coming to study at the college.
Lots of exposure to subjects for all streams of students.
Academics and extracurricular activities are equally given importance.
The new IIM Ranchi Campus is being constructed.
Weekends are usually free.
Introducing life skill courses.
The internship program will be introduced soon.
The course allows students with exit options, candidates can exist in 3rd year with a BBA degree if they wish to.
Check: IPMAT Colleges List 2023
Admission Procedure at IIM Ranchi For IPM
Candidates should have passed the 10th standard/Secondary/SSC Examination and the 12th standard/Higher Secondary/HSC Examination (or equivalent) with 60% (55% for candidates from SC/ST/PwD) or more marks. The percentage of marks obtained by the candidate in the 10th and the 12th standard would be calculated based on the Board's regulations. If there is no such regulation regarding aggregate marks from the concerned Board, then the aggregate marks of all the subjects that appear in the grade sheet will be considered for calculating the passing percentage. There will not be any age limit for the applicants.
Admission to the IPM 2022 will be based on SAT/

IPMAT IIM Indore 2022 exam scores

, a written ability test, a personal interview, and overall academic performance at the secondary and the higher secondary levels. Applicants choosing to appear for multiple tests (SAT/IPMAT 2022(IIM Indore) will be assessed for shortlisting based on their best performance among the tests they have appeared for
Applicants are required to take the SAT. For more details about the SAT, please refer to https://collegereadiness.collegeboard.org/sat?navId=gf-sat.
SAT is conducted five times in a calendar year. Traditionally, it is held in March, May, August, October, and December. For test dates and deadlines or to register for an upcoming SAT exam.
SAT is held in over 70 cities and 73 test centers in India. Students can appear for the SAT multiple times. You may look for your nearest test location at:
https://collegereadiness.collegeboard.org/sat/register/find-test-centers. You will, of course, need to choose India in the "Select a Country or Region" option.
All applicants will need to send us their official SAT scores through their College Board account. While you take the SAT, you will have the option of directly sending the scores to IIM Ranchi for free. You will have to give the SAT code. The SAT code for the Indian Institute of Management Ranchi is 9109.
Applicants will be shortlisted based on their SAT/IPMAT 2021(IIM Indore) scores and invited to the next stage. Here you will take a Written Ability Test (WAT) and take a Personal Interview. WAT and PIs will be conducted at six cities: Bangalore, Chennai, Delhi, Kolkata, Mumbai, and Ranchi. If the pandemic situation and travel restrictions continue, only the PI process will be conducted virtually online.
Candidates are evaluated based on their performance at all stages and their prior academic performance at the secondary and the higher secondary levels.
IPM Ranchi Placements will be similar to the PGP placements.
Check: IPMAT Eligibility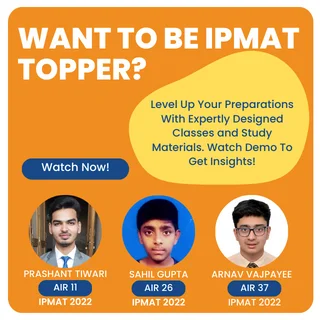 IIM Ranchi IPM Program Application Process 2023
The application process for the IPM is entirely online. The last date to submit the application form and upload the documents is 2nd June 2022 (11.59 pm IST). The last date to upload SAT/ IPMAT (Indore) 2023 application information is 30th June 2023.
However, your application will remain incomplete until we receive your official entrance test scores.
The application fee (Non-Refundable) is INR 2000 (INR 1000 for applicants belonging to the reserved categories). To Apply Online check the official website.
If you still have a question, please email us: at ipm.admissions@iimranchi.ac.in