Learn to ace interviews from the topper preparation tips. Take tips to ace MPCJ from the MP Civil Judge topper interview. Himanshu Paliwal is a first-class Judicial Magistrate from Satna in Madhya Pradesh.
Download FREE Study Material for MP Judiciary Exam by Judiciary Gold
MP Judiciary Topper Interview
Read the success story of Himanshu Paliwal, and gear up to prepare for MPCJ Mains and Interview. MP Civil Judge topper interview is as follows.
Interviewer: When did you think that you wanted a career in Judiciary?
Himanshu: It goes back to the interview days. My college had a culture of compulsory internships after every six months, and my approach was different.
I was eliminating the options rather than searching for one. So, I did ten internships. Out of which, three were corporate internships, and two were litigating firm training.
The corporate culture didn't attract me much. After analysing that experience, I decided I could not do nine-to-five jobs, and Judiciary seemed the most appropriate career option.
Interviewer: How did you convince your family to choose Law as a profession?
Himanshu: I did not need to convince my family. They were already happy about my choice of career as a judge, and I'm a first-generation law student in my family.
No one is a lawyer or judge in my family, and I'm the first one to choose law as a subject. Litigation is the preferable stream in law. However, I decided not to go for it.
Interviewer: Do you think Judge as a career option is fulfilling?
Himanshu: Yeah! I can't ask for more.
Interviewer: While pronouncing the judgement, do you feel you are doing a specialised task?
Himanshu: In fact, I would do what you said. Instead of looking at Judiciary as a job. I take it as a responsible service. It's more of satisfaction that comes with it. I feel proud to deliver the right decisions. It doesn't feel like a job. I enjoy doing it.
Interviewer: From when did you start your preparation?
Himanshu: My last internship was at Laxmi Khuanan Institute. I worked as Juniors in the MP High Court. After 5-6 months of graduation, I enrolled in a strategic course for the Madhya Pradesh Civil Judge exam. However, I failed on my first attempt.
During my second attempt, I started my preparation from home. This time, I got selected for the Civil Judge exam.
Interviewer: What do you suggest for the students whose preparation is up to a point but misses the MPCJ cut-off by a few marks?
Himanshu: My strategy was a bit different, and I changed my source of inspiration every then and now.
Considering the seats, the competition is very tough. Once you are determined to be a judge, there is no going back, and determination is the right mindset.
Interviewer: Was clearing MPCJ an easy or an arduous journey for you?
Himanshu: For me, it was not an easy journey. But the level of the exam was of moderate level.
If the exam level is too easy, then it increases the competition. The MPCJ syllabus is limited, so you can have a better chance of succeeding.
Unlike UPSC, you are competing just with the law graduates.
Interviewer: What was your preparation strategy for MPCJ?
Himanshu: I prepared simultaneously for MPCJ Prelims and the Mains exam.
After the prelims result, Mains has only 40-50 days. So, that is too less for preparing 4-5 subjects.
When the notification of Prelims came, I only focused on MPCJ Prelims.
Interviewer: Suggest tips for interlinking and remembering sections of CrPC with IPC.
Himanshu: I also faced a similar situation of linking and remembering the sections.
Instead of rote learning, learn it by visualisation. Don't go point by point, and create a story so that it becomes easier to remember.
The concepts must be clear. If the images are clear, it will also help you clear the interview.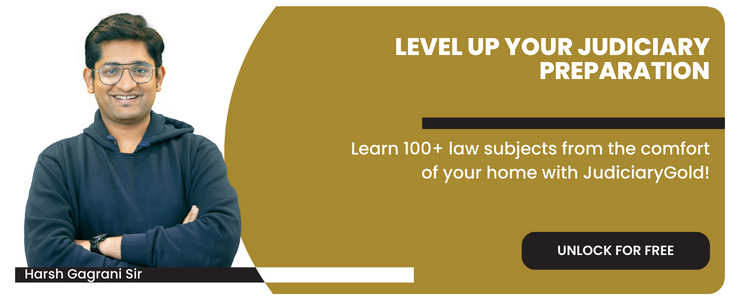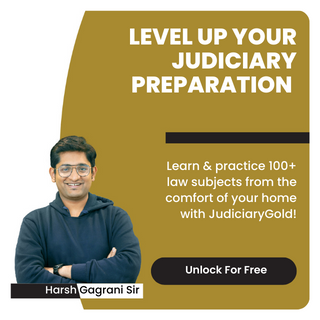 Interviewer: During your MPCJ preparation, you allotted more weightage to question-solving, reading, and clearing the concepts.
Himanshu: I did my MPCJ preparation in chronological order.
First, I started by reading and solving the previous year's question papers of MPCJ. Secondly, I cleared my concepts of the Bare Acts. Thirdly, I practice mock tests of the Madhya Pradesh Civil Judge Mains paper.
Interviewer: What are your favourite subjects of MPCJ preparation?
Himanshu: My favourite subjects are CrPC and MPLRC. I relate more to these subjects.
Interviewer: What is the importance of a mentor or guide in MPCJ preparation?
Himanshu: Self-study is inevitable, and I also took a year course. A mentor holds the utmost importance in MPCJ exam preparation.
My mentors guided me on what to read, how to read, what to leave, and the weightage of a topic. A guide helps during a monotonous preparation phase, and his role becomes evident when your understanding of the topic becomes weak.