Ever wonder why logical reasoning, despite being touted as one of the most scoring subjects on the LSAT, still gives you jitters? After all, around half of the question paper is covered by this section, and this makes the process of studying for it all the more beneficial and rewarding.
According to the latest LSAT 2022, logical reasoning comes in two parts, namely logical reasoning 1 and 2, and both of them primarily test your analytical and reasoning skills.
Think of it this way; logical reasoning can come to your aid after dealing with the stressful English section, but only if you are well versed with the intricacies of the problems.
Download Free study material for LSAT 2023
On the surface, it might seem that students with a background in mathematics are better suited for these types of questions, but the reality is that anyone can solve these questions with a bit of patience and quick thinking. All you need to do is follow the following steps.
Check the LSAT preparations:
(1) Categorize the questions according to your strategy
(2) Learn the subtle art of eliminating options
(3) Practice a lot, and I mean a lot
(4) Try to create a picture of the question in your head
(5) Take mock tests
Now we shall study all these steps in detail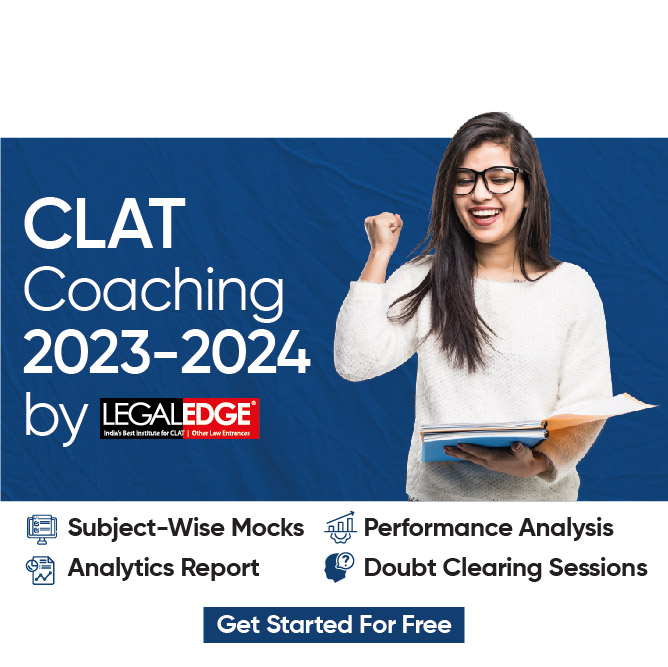 (i) Categorize the questions according to your strategy
It goes without saying that the sheer range of questions that can be asked in the LSAT 2022 exam is endless. Yes, you can make a strategy for each and every one of them, but then your mind would become scrambled, and you would start forgetting crucial bits of information.
In this scenario, you should focus on generalizing the questions into separate categories and then solving them together. Ask yourself to choose between two scenarios, similar types of questions without any deviation, or each and every question as they come. I am sure that if you think about it logically, the former option would seem a lot better than the latter.
To follow this, all you need to do is flip the pages of the entire question paper and segregate the analytical questions from the reasoning ones. For E.g., Tabular arrangement question sets contain a wide array of questions, but you can tick mark those of analytical reasoning with blue ink and those of critical reasoning with black ink.
Remember to seek help from the best online LSAT coaching institute to ace your preparations.
This will substantially improve both your speed and accuracy, and it might seem a bit tedious at first, but in the grand scheme of things, it would be worth it.

(ii) Learn the subtle art of eliminating options
Now we come to the most important yet the easiest part. You might be wondering how both of these stand true, but in this case, it does, and I will tell you why. If you try to analyze the options of any question, you will find a general pattern that one or two would be far-fetched from the other two.
Now keep in mind that this trick should not be used as a shortcut to success, and reading a question is still the most viable way of approaching the problem, but this trick can still help you save time in those crucial moments while also helping you attempt more questions.
To master this trick, you would still need to have done tons of practice on that question. I have emphasized this point because unless you have an idea of the general possibilities or outcomes of a particular question, you will not be able to reach a conclusion.
Read More: LSAT Syllabus
(iii) Practice a lot, and I mean a lot
I have said this before, and I will say it again, there is no substitute for practice. Consider it a ritual that you cannot bypass and which would ultimately define your success. Logical reasoning is a mixed bag; you can never be 100% sure of what's in store for you, so it would be better to prepare for the worst and expect the best.
If you find the LSAT questions easy, then try practicing the GMAT reasoning questions, as they will surely put your skills to the test. Once you have mastered the general approach to solving these types of questions, try to work on your speed.
Speed checks are vital for any competitive exam, and LSAT is no different. You should keep in mind that unlike the other law entrance exams where you can take up GK and solve it quickly, here you won't have that cushion, so work on this aspect, and you will realize how adept you have become with logical reasoning.
Read More: LSAT Application Form
(iv) Try to create a picture of the question in your head
Did you find the science diagrams from school tedious? Turns out you would need to brush up on those skills again in order to simplify logical reasoning.
No, they will not be as complex as the aforementioned diagrams; quite the contrary, these would hardly take any time, and you might even find them entertaining.
E.g., Take the clock questions and those of tabular arrangements and then try to solve them by - (1) Without a diagram ; (2) With a diagram
You will yourself notice the difference in either approach, and the precious time you save can be utilized elsewhere.
Always keep a rough notebook and a sharp pencil handy while solving the aforementioned questions, and make sure to make the diagrams legible and structured.
Check: LSAT India College List