Current Affairs and GK syllabus for CLAT is relatively vast. You might find it hard to cover or must have felt overwhelmed with the excessive number of topics. However, it is not the case. You don't have to read each and everything you come across.
There are around 150 topics covered in the GK syllabus for CLAT and Current Affairs, and you only have to focus on them. Also, you need to just copy down the notes on the events going around in the news.
You have to focus on the topics. Some might believe that covering 12 months of CA will be enough preparation. The truth is that you have to prioritize topics over timelines.
In this article, we will share a month-wise strategy with you. With this, you will be able to prepare in the best manner for GK for CLAT Examination. So, without further delay, let's dive into the details.
August: Onset of Preparation
Let's begin with August; here, we will discuss the basics and the very first vital things you need to do to strengthen your foundation of GK and CA. It will be your August CLAT Study Plan for GK and CA.
Understand the paper
You are suggested to start my analysis of previous years' papers' for the GK and Current Affairs section. It will help you understand the topics that might get covered in the Current Affairs section.
Also, you must dissect it into segments. This means you have to make notes about the timeline, sources, questions' depths, and topics covered in CLAT Question Papers.
It will eliminate your basic doubts about questions' sources and their types.
Begin with topic classification
You need to analyze what topics are covered in the GK and Current Affairs sections. It means that you have to make notes on which topics are repetitively covered.
Download Free Study Material For CLAT 2023 Exam by LegalEdge
These will be your area of focus. The most important enlisted categories are:
International news
Economics
Science (Defence and Technology)
Aerospace
Politics
Legal
Environmental (Global Summits)
Government Schemes (National and International)

Create fact notes
With fact notes, we refer to unchangeable facts and figures. These facts and figures are recorded and presented as Reports and rankings.
Like hunger index, literacy index, per capita income rankings, etc. On the other hand, Important dates and days like International AIDS DAY, Earth Day, World legal Service day, etc.
You are advised to create these notes and stick them on the cardboard wall as a memo. It will help you with quick revision and memorization of the facts.
Check your growth with mock tests
For Current Affairs and GK, you need not wait for the last moment before you take the mock test.
You should start attempting mock tests when you begin your preparation. It will help you in evaluating your preparation.
It will also help you analyze how good you are at dealing with the topics you have been preparing and their probability of securing a good score.
List down Organizations and their Headquarters
In the General knowledge section, organizations and their headquarters are often covered. These are involved in testing your memory and your awareness of International organizations.
That's why you are advised to involve this section in your GK preparation for CLAT. For instance, you will be asked to give the location of the Headquarters of the UN WOMEN or UNICEF, etc.
September: The Second and Critical Stage
You must push your practice a little more intensely in September than last month. You have to gear up for the big day. Here's how you have to plan your preparation for this month.
Do pending mocks
Start by doing pending mocks, or you can say the mock tests in which you previously failed or scored less. Practicing pending mocks will allow you to go through the topics again. It will also make you revise the important notes, henceforth improving your score.
Revise notes from the previous month
Revision is important to keep the information fresh in your mind. You are advised to revise the previous month's topic at least 3 times. You must schedule this revision for the 2nd, 7th, and 28tn days of each month; this way, you will be able to learn new topics and revise the previous topics simultaneously.
Cover more topics
We have already listed that there are around 150 topics that are included in the CLAT 2023 GK and Current Affairs sections. It is given that covering all 150 topics is not possible in one month.
Hence in September, you need to cover the rest of the topics which you have left to study in August.
Perfection in cracking the last month's topics
Never doubt while attempting mock August month's current affairs. You must be precise in your answer and confident about taking on questions without trepidation or losing marks.
You need to rework and reiterate and attempt mock tests till the time you accomplish that quintessence where there's no chance for doubts.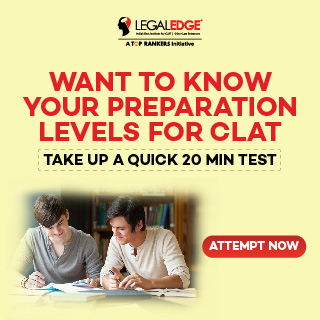 October: The month of celebration
It is said that if you are unable to celebrate this month, you will have a hard time in your examination. It means to say that you must have built confidence about solving GK and Current Affairs by October or else you will fall hard on your face. In this section, we will discuss the GK study timetable for CLAT in October.
Revise topics from the last 2 months
Got the notes from the last two months? Then what are you waiting for? Revise all the topics from CLAT Syllabus you have covered in the last two months.
You can also attempt the mock test based on those topics to strengthen those topics. It will help you analyze your growth and grill on those topics.
Work on weak areas
This rigorous study timetable for CLAT 2023 should be enough to make your preparation concrete. However, if you face a few issues with some of your topics, you are advised to work on them exclusively.
You must spend additional time learning and revising those sections so you can confidently attempt those questions in the exam.
Score well in factual questions
Facts and figures are something which is universal and are not going to change in any situation. Also, they hold exclusive importance, particularly the legal one. So you must remember them so that even if you are asked in your sleep, you can answer them immediately (Just kidding).
Analytical Questions
Never miss practicing Analytical Questions. These are mostly passage-based questions based on current trends or general knowledge. In these questions, you have to analyze and grasp the information in a sheer quick response. Otherwise, you are likely to miss even the easiest questions. For this to enhance your speed, practice critical reasoning, and then you are good to go.
November: Firm up your preparation for the big day
This is the 4th month in this row where you have been preparing for CLAT 2023. This month you have increased the frequency of the activities you have been doing for the last 3 months. Let's see what they are, and you can make your GK and CA preparation unbeatable.
Increase mock frequency
Practice CLAT Mock Tests frequently. You need to try out the knowledge and information you have gained for all these 3 months. Also, consistently practicing mocks will make you familiar with the exam pattern. It will help you ease out your stress regarding questions types and applications you need to apply for solving your questions.
Rigorous revision for 120 topics
Go through every single topic which you have been reading for the last 3 months. Every topic, Every note, every memo you have made. Revise them all one by one. Ensure that you can actively recall all those facts, figures, news, and information you have read this far. Only then will it be considered prepared.
3-day revision for each month's topics
Make an alternative routine to revise contents from each month; this way, you will remain consistent in your revisions. Also, you will not get exhausted from reading the same thing over and over again. This three-day trick will help you revise all 120 topics simultaneously without weighing you down.
December: The End game
This is the last month you will face your biggest challenge. The CLAT 2023 for which you have been gearing up all this while. There are a few activities which you have to complete this month too so that you can finally face your paper without having a speck of doubt about your preparation.
Time management
You will lose this game if you don't know How to Manage your Time in CLAT. We have already mentioned that although the difficulty level is moderate, CLAT is famous for its notoriously lengthy passages.
So, if you are not equipped with time management skills, then you will lose on scoring well.
Final revision
There's one last time for everything. Here too, is a similar case. You must prepare one last time before putting yourself on a test in the CLAT Examination hall.
This revision will help you recall everything you have previously read. Also, it will make you actively recall all the collected information. In this manner, you will be able to mark your answers without dilemma or doubts.
Spare more time for GK
The last moments call for a little more attention than before. Given that other sections have limited syllabi while GK and CA are ever happening subjects.
So you must remain updated about any new trends in the above topic you have covered. For that, you need to spend a little more time Practicing GK and CA Questions for CLAT.
Anxiety Control
Feeling nervous and anxious is a part of the exam experience. It happens that even after rigorous study and revision, you feel your pulse racing and heart beating furiously. It doesn't imply that your preparation is weak; it's just a phase that will pass.
However, you have to keep yourself cool so that you don't make any mistakes out of anxiety. For this, you can practice meditation, counseling, etc.