The National Testing Agency (NTA) has already disseminated the Geography syllabus for CUET 2024. Aspiring students can obtain a copy of the syllabus from the organization's official website and use it to prepare for the exam.
This page intends to provide all of the key facts on the CUET, as well as a full curriculum and exam pattern for the subject of Geography on the CUET exam.
In addition to that, it will provide you with some helpful advice and a concise preparation method to assist you in getting ready for the event.
Download CUET Geography Syllabus Pdf
Candidates from around the country will be taking the Common University Entrance Test (CUET), a centralized examination, with the hopes of gaining admission to one of the universities that are taking part in the program.
Because there will be so much competition, you need to do all in your power to improve your chances of being successful by preparing yourself in the best way possible.
Understanding the curriculum and coming up with an effective strategy for studying should always be the initial steps in any kind of preparation.
Candidates are strongly encouraged to familiarize themselves in great depth with the CUET Geography Syllabus to better comprehend the content covered in the test.
Essential points to remember regarding the CUET test
The National Testing Agency (NTA) has announced that the CUET (2024), which was formerly known as the CUCET, would be administered during the second week of July (tentatively).

At CUET, the medium of instruction will be made available in a number of various languages (13 in all) for the very first time since the institution's foundation.
The examination will be given over the course of two shifts, in the format of a computer-based test (CBT), and online (Morning and Afternoon).
Check: GGU CUET Eligibility Criteria 2024
CUET Geography Syllabus 2024 Overview
As a field of study, geography investigates various of the Earth's surface's physical characteristics and the distribution of human habitation across the planet.
Thorough preparation is required in order to achieve a high score on the CUET and gain admission to one of the top-ranked colleges.
It is essential to familiarise oneself with the curriculum and to establish an appropriate plan before doing this.
The CUET Geography curriculum is broken down into two primary categories, namely,
An Introduction to the Basics of Human Geography
India's Population and Economic Situation
Geography/Geology Syllabus for CUET and Class 12
Note: There will be one Question Paper with 50 questions, out of which 40 must be attempted.
Fundamentals of Human Geography
Unit I: The Nature and Scope of Human Geography
Unit II: People
The population of the globe – distribution, density, and growth
Population change – spatial patterns and structure; factors of population change
Age-sex ratio; rural-urban makeup
Human development – concept; selected indicators, worldwide comparisons.
Unit III: Human Activities
Primary activities – concept and changing patterns; gathering, pastoral, mining, subsistence agriculture, modern agriculture; individuals engaged in agriculture and allied activities – chosen country examples
Secondary activities – manufacturing: agro-processing, household, small scale, large scale; people engaged in secondary activities – some examples from selected countries
Tertiary activities – trade, transport, and communication; services; people engaged in tertiary activities – some examples from selected countries
Quaternary activities – knowledge-based industries; people engaged in quaternary activities – some examples from selected countries.
Unit IV: Transport, Communication, and Commerce
Land transport – roads, railways – rail network; transcontinental railways
Water transport – inland waterways; major ocean routes
Air transport – Intercontinental air routes
Oil and gas pipelines
Satellite communication and cyberspace
International trade – Basis and changing patterns; ports as gateways to international trade, the role of the WTO in international trade.
Check: How to Start CUET Preparation 2024?
Unit V: Human Settlements
Settlement kinds – rural and urban; city morphology (case study); distribution of megacities; human settlement issues in developing nations.
India: People and Economy
Unit I: People
Population: distribution, density, and growth; population composition - linguistic, religious; gender, rural-urban, and occupational; regional differences in population increase
International and national migration: causes and effects;
Human development - specific indicators and geographical patterns;
Population, environment, and development.
Unit II: Human Habitats
Types and distribution of rural settlements
Types, distribution, and functional classification of urban settlements.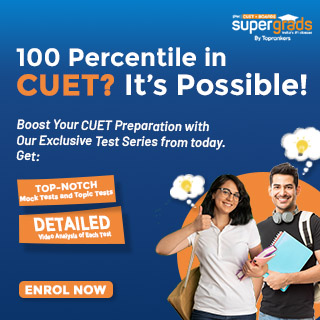 Unit III: Resources and Growth (Periods 30)
Land resources – general land utilization; agricultural land utilization – major crops; agricultural development and difficulties; common property resources
Water resources – availability and utilization – irrigation, domestic, industrial, and other uses; scarcity of water and conservation methods – rainwater harvesting and watershed management (one case study related to participatory watershed management to be introduced)
Mineral and energy resources – metallic and non-metallic minerals and their distribution of conventional and non-conventional energy sources
Industries – types and distribution; industrial location and clustering; changing pattern of selected industries – iron and steel, cotton textiles, sugar, petrochemicals, and knowledge-based industries; the influence of liberalization, privatization, and globalization on industrial location
Planning in India – target area planning (case study); the concept of sustainable development (case study).
Check: Mistakes to Avoid During CUET Application Process 2024
Unit IV: Transportation, communications, and global commerce
Transport and communication — roads, railways, waterways, and airways; oil and gas pipelines; national electric grids; communication networkings — radio, television, satellite, and internet; • International trade — the shifting pattern of India's foreign trade; seaports and their hinterlands and airports
Unit V: Geographical Perspective on Selected Problems and Issues
Environmental contamination; urban waste disposal
Urbanization-rural-to-urban migration; slums problem
Land degradation
Check: 10 Important Tips to Crack CUET Exam
How One Should Cover CUET Geography Syllabus?
This section of the post will now go through a thorough step-by-step technique that, in addition to making your job simpler, will also assist you in preparing your strategy in the most efficient manner possible.
Acquaintance with the Course Outline
You should begin by learning the syllabus in its entirety, and you should also follow along with some example questions. This will allow an understanding of the concept behind the material of the syllabus, as well as the significance and weighting of each subject.
Your strategy will always be more successful if you have a comprehensive understanding of the material as well as the examinations. You will find it easy to prepare a timetable if you consider these aspects.
Maintaining your schedule
You must use excellent time management to avoid falling behind the timetable.
Time management is one important skill that any aspiring individual really has to have.
Only by closely adhering to your timetable will you be able to manage your time effectively.
Determine your areas of strength and improvement, and then create a schedule that will enable you to cover all the topics in the allotted time while giving you some additional time for practice and review.
Check: CUET Eligibility Criteria

Consistency and Punctuality
Maintaining a level of self-discipline during the entirety of your study for the Geography (CUET) exam is of the utmost importance.
It is not sufficient to just organize the perfect routine; it is also required to implement it in a punctual manner. The only way for a routine to yield benefits is if it is followed on a consistent basis.
In this case, both of those things go hand in hand. A good routine can cut down on the amount of unneeded work you do while also ensuring that you keep your attention on your goals. It serves as a map for you to follow on your path of preparation.
Revision is essential since it serves as a check and balance, ensuring that nothing is overlooked.
The goal of practice is always to improve performance.
Take the practice exam, and don't forget to make any necessary modifications.
You will be polished and ready for the real examination if you take a few practice exams first.
A practice test is the best approach to getting used to an examination environment before the real thing.
This must thus be done.
Eat properly and maintain your fitness during this entire process; this is another crucial goal you must always keep in mind.
During these final days of preparation, you just cannot afford to be sick.
When your body isn't feeling well, it might also make concentrating more difficult.
Therefore, maintaining both a healthy body and a sound mind is extremely important.
If you can ensure that the following three things, namely clarity (of the syllabus), attention (towards your objective), and consistency (with your work), you will have a much better chance of achieving success if you follow the strategic plan that was outlined before.
Check: How to get admission into Central Universities through NTA CUET?
Make Sure You Understand It
The ability to think clearly about concepts is essential for finding solutions to any problem.
Make sure that the idea, on its whole, can be understood without difficulty by everybody.
Even if a candidate can only devote three to four hours each day to prepare, all of that time must be spent studying thoroughly. It is imperative that distractions of any type be avoided.
Examine the Test Questions From the Year Before
The best method to get a feel for the test's difficulty level and the exam format is to review the question papers from the previous year.
Always Maintain Consistency, Carefully Plan Ahead, and Maintain Discipline
It is essential to have a method for studying that has been given a lot of attention.
Prior to commencing the preparation, it is essential to have a thorough understanding of the subjects, themes, test pattern, and selection procedure for each of the separate exams.
Strategy for Preparing for the CUET Geography Syllabus
In order for candidates to be among the best in the pool of applicants for the competitive test, they need to follow a comprehensive preparation strategy to crack CUET exam.
Because the curriculum for Geography is so comprehensive and covers a wide range of topics, including some that are rather challenging, it is necessary to follow a suitable strategy when studying this subject.
The following is the technique that should be used to prepare for the CUET Geography Syllabus:
Utilize Dependable Study Resources as Much as Possible
If you want to do well on any competitive test, you must pick the best and most reliable study sources.
The majority of students prepare for exams by reading many books; nevertheless, this strategy can result in confusion and cause students to lose time as they switch between the books.
Check: CUET Preparation Books
Keep a positive outlook and a strong sense of self-confidence
Keep in mind that having confidence in oneself is really important.
Maintain a good attitude and have faith in yourself and your preparation level.
If you have prepared ahead all throughout the year, you won't have to worry about anything at the very last minute.
Ensure that both your physical and mental wellness are in good shape.
Exercising your body and mind with activities such as walking, running, or even meditation might help you feel more relaxed mentally.
Don't be stressed out throughout the preparation time; in fact, you should steer clear of negative individuals and people who exert pressure on you.
Notes
When students are preparing for standardized tests, it is imperative that they understand the significance of taking notes.
You will find that you have more time on your hands and more success if you have prepared brief notes on a variety of topics, particularly on recent events and general knowledge.
Gain an understanding of the Exam Structure and the Syllabus
The first step in preparing for any competitive test is to familiarize oneself with the requirements.
Check the qualifying conditions and the test's outline and structure before you submit your application to take the test.
You must evaluate the significance of the many topics and subjects you will be studying to plan your study time effectively.
Check: How to Prepare for CUET in One Month
Conclusion
It is crucial that, when making preparations, one does not allow themselves to feel overburdened by the vast quantity of knowledge that must be reviewed.
Students have a difficult time in the months following their 12th-grade board exams since it is unclear which future-beneficial path they should pursue.
In such situations, it is essential to maintain composure. You should have no issue preparing for the logical reasoning component of the exam if you employ a thorough plan and practice sufficient time.
The pupils must keep a healthy diet and acquire sufficient rest. Re-examining the material at frequent intervals guarantees that all preparation bases are covered.
Although stress cannot be entirely avoided, it need not necessarily be overwhelming. To alleviate the monotony of studying for tests, it is essential to meditate, engage in physical activity.