Summary:
December is quite a busy month for law students appearing in highly competitive exams like AILET PG and CLAT PG. Amongst this crowd, there will be students taking both these exams in consecutive weeks.
Luckily, criminal law is a common section with a similar syllabus in both exams, making it easier for your LLM exam preparations.
Challenges make your preparations interesting in highly competitive exams like the LLM entrance tests. But there is no doubt - that having a common section to cover for 2 exams is quite a relief, and one such is the Criminal Law Section.
Criminal law is one of the mandatory subjects taught in the undergraduate program, helping you prepare for LLM entrance tests.
Your UG law textbooks are sufficient to cover all the important topics that can appear in the PG entrance test.
Last year, the difficulty level of this section was "high," calling you to pay extra attention while preparing for this section. We cannot emphasize this section's importance more! You can expect a minimum of 20-30 questions, and every mark you score can determine your rank and fate in studying at the top NLUs.
Therefore, covering all the topics in your CLAT PG syllabus 2023 with almost care is essential.
Download FREE Study Material for CLAT PG by LegalEdge
Weightage helps you Prioritize your Syllabus
The more weightage, the more you score!
The table below shows the number of questions from Criminal Law in previous year's papers.
| | |
| --- | --- |
| Year | Number of Questions from Criminal Law |
| 2022 | 24 Questions |
| 2021 | 30 Questions |
| 2020 | 10 Questions |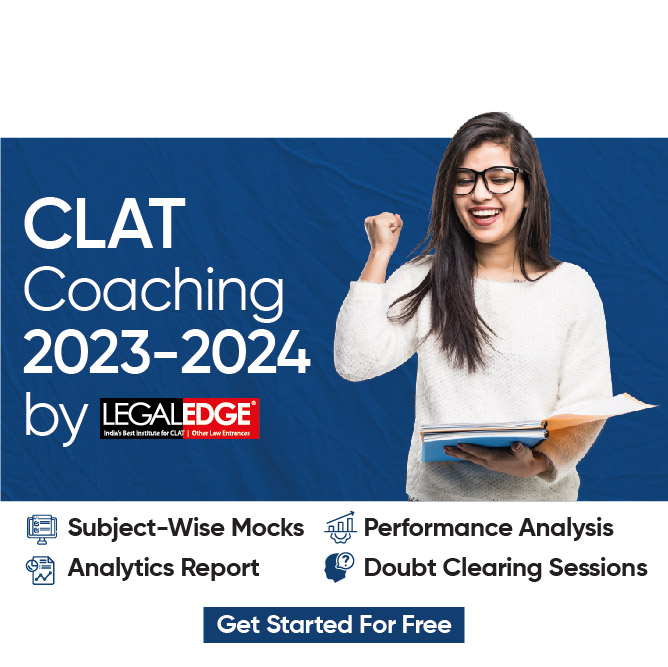 Preparation Strategies for Criminal Law Questions for CLAT PG and AILET PG 2023
Criminal law in AILET PG and CLAT PG deals with statutes, rules, and regulations set to protect the right of every citizen in the country and is an important subject to be studied by every law student.
It holds the ground of Justice for the rights of all the country's citizens, emphasizing the importance of this section.
It also deals with laws related to threatening, murder, and otherwise endangering an individual's safety, health, property, and moral welfare, including oneself requiring you to cover criminal cases and contemporary/ recent cases that can appear in your LLM entrance papers.
1. Start your criminal law preparations with Bare Acts
Study bare provisions and bare acts, and understand the illustrations and legal terms.
Bare Acts will be asked in the form of questions in the question paper.
2. Short notes can be your saviour.
Short notes will be beneficial while you revise before the examination.
Example: If you are reading about provisions of Rape
List down its provisions, essential ingredients, and newly added amendments for every criminal topic you cover. This holds good for other sections as well.
This saves you time and revision.
Check: CLAT PG Mock Series 2023
3. Cover the Index of the Bare Act
You must know which section deals with which concept. Refrain from reading big books or commentaries from the LLM preparation point of view.
Don't go into the depth of concepts in the Bare Act's; just have a command over it.
4. What must you cover?
Know the gist of IPC, CRPC, Evidence, and fundamental conceptual clarity and illustrations.
Read the Landmark Case Laws
"Do not read the entire case!" Read recent judgments based on the criminal law, IPC, CRPC, Evidence, POCSO, Domestic Violence Act, Juvenile Justice Act, 2015, and the recent amendments.
Check: CLAT PG Online Coaching Services 2023
What to study for Criminal Law Questions for CLAT PG and AILET PG 2023
In the past year's question paper, the difficulty level of Criminal Law questions in CLAT PG and AILET LLM courses ranged from moderate to difficult.
Considering previous years' papers, it is noticed there were a good number of questions that appeared based on the Code of Criminal Procedure, 1973 (CrPC) and not the Indian Penal Code (IPC).
Nearly 30 questions were asked in the 2021 paper on criminal law, including 4 comprehension-type passages with 3 Judgement and 2 articles. This shows the significance of thoroughly preparing for this section.
MCQs are the types of questions expected for Criminal Law Questions for CLAT and AILET PG 2023.
And the common Criminal Law Questions for CLAT PG and AILET PG 2023 are as follows:
CrPC
IPC
General Defences
Concept of Constructive liability
Abatement and conspiracy
General principles and definitions of criminal law
Punishments and exceptions
Liabilities
Offences and defamation
Offences against property: Theft, Robbery, Extortion, Criminal misappropriation of property, and criminal breach of Trust
Stages of Crime
Offences against Marriage
Definition clause
Amendment
Hierarchy of Courts
Maintenance
FIR and all the related provisions
The inherent power of the High Court
Provisions added through amendments.
Evidence
Relevancy of Facts
Oral and documentary evidence
Best Evidence Rule
Presumptions
Cross and chief examinations
Dumb Witness

Subjective Type Criminal Law Questions for AILET PG 2023
CLAT PG exam consists of only MCQ-type questions. However, earlier, the subjective question paper had topics listed below:
Previous year' Essay topics for CLAT PG
Criminal conspiracy
Offences and defamation
Most important sections of the CrPC and IPC
General principles and definitions of criminal law
Punishments and exceptions
Liabilities
Men's rea
Theft
Extortion
Cheating
Criminal conspiracy: Act done by several persons
Kidnapping
Attempt to commit offences
Assault
Private defence
General exceptions
Check: Best Books for CLAT PG 2023
Essay-type or subjective-type questions for AILET PG
Section I of the AILET PG paper usually consists of MCQ format questions, and two subjective-type questions are in section II. The Criminal law questions in AILET LLM include topics listed below:
Law of Crimes
Aggravating and Mitigating Factors
Bail and Bonds
Restitution for Crime Victims
Plea Bargains and more
Sample Criminal Law Questions for CLAT PG and AILET PG 2023 to Practise
Criminal Law Questions for CLAT are as follows:
1. Which of the following is not a chapter heading under the Indian Penal Code?
a) Offenses against State
b) Offenses against Human Body
c) Offenses against property
d) None of the above
Ans - None of the above
2. The case of dowry death can be filed only within
a) 7 years of death
b) 7 years of marriage
c) 7 years of dowry demand
d) Both b and c
Ans - 7 years of marriage
Check: AILET LL.M. Test Series
3. Maintenance under Section 125 of the Criminal Procedure Code can be claimed by
a) Wife
b) Everyone
c) Parents
d) Both a and c
Ans - Wife and Parents
4. A person who helps the other person is an
a) Abettor
b) Instigator
c) Accomplice
d) Friend
Ans - Accomplice
5. The offence of theft can only be against
a) Movable property
b) Immovable property
c) Both (a) and (b)
d) All properties
Ans - Movable property
Criminal Law Questions for AILET are as follows:
6. The Law of the contract is a:
a) Criminal Law
b) Civil Law
c) International Law
d) Disputed Laws
Ans- Civil Law
7. The tort is a species of:
a) Criminal wrong
b) Breach of contract
c) Civil wrong
d) Moral wrong
Ans- Civil wrong
8. The Law of Torts is developed mainly through:
a) Customs
b) Legislations
c) Judicial decisions
d) None of the above
Ans- Judicial decisions
Check: Important Topics for CLAT PG
Conclusion
Now that you know the important topics to cover in Criminal Law, your preparation process gets much easier. Coming to the AILET PG paper, make sure you prepare thoroughly for MCQ-based questions, and only then move to prepare for the subjective section.
If you do not clear the objective section, section II will not be evaluated. Therefore prioritize what you study and plan your preparations accordingly.