Reader's Digest - Elements of Crime, Extra-Territorial and Intra-Territorial Application, Stages of Crime, Selection 34 and 149, General Defences, Inchoate Crime, Offenses Against State, and Offenses Against Human Body are important IPC concepts for CLAT PG. Mens Rea and Actus Rea are two Elements of Crime parameters. In this article, we provide detailed information about the important concepts of IPC for CLAT PG 2024.
Indian Penal Code is India's official criminal code and applies to all citizens. IPC is divided into 23 chapters and contains 511 sections in total.
The CLAT PG Syllabus 2024 has important topics like Constitutional law, Jurisprudence, contract law, criminal law, and more to be covered for the CLAT PG exam 2024.
Under criminal law, we have important concepts related to IPC, which are listed in the article.
Important Concepts of IPC for CLAT PG 2024
It would be helpful if you prepared the important concepts of IPC for CLAT PG 2024 in the picture below.
Note that a significant amount of marks belongs to Criminal law, mainly dealing with the provisions of IPC & CrPC.
1 - Elements of Crime
This is to analyze crime liability that includes two parameters: Mens Rea and Actus Rea.
Actions are mainly termed Actus Rea, while Mens Rea is the guilty mind
Based on analyzing these parameters, crime is considered.
Mens Rea is not essential in respect of 5 offences in IPC, namely;
Sec 121 (Waving war), Sec 124A (Sedition), Secs 159 and 363 (kidnapping and abduction), and sec. 232 (counterfeiting coins).
Where the statute itself imposes strict liability, the presence of a guilty mind becomes irrelevant, for example, the arms act; narcotics drugs and psychotropic substances act 1985; the public liability insurance act 1991, etc.
When it is difficult to prove mens rea, where the penalties are pretty fines, and where a statute has done away with the necessity of men's rea based on expediency, strict liability in criminal law may be imposed, e.g., parking offences.
A public nuisance is another exception to the doctrine of mens rea
Another exception that might be mentioned here is related to the maxi "Ignorance of the law is no excuse ". If the person violates a law without the knowledge of the law, it cannot be said that he has intentionally violated it. However, he has intentionally committed an act that Law prohibits.
2 - Stages of Crime
Stages of crime are the next sub-topic that must be covered under the CLAT PG Exam Pattern 2024.
Intention to commit a crime
Preparation to commit a crime
Attempt to commit crime: Section 511 of IPC
Commission of the Crime
Abhayananf Mishra vs. State SIR 1961 SC 1698
If you lack time to prepare for CLAT PG 2024 and need guidance on the same, seek help from the Best CLAT PG Online Coaching 2024
You can also take the CLAT PG Mock Test Series 2024 to know where you stand with your preparations.
3 - Jurisdiction of the Court
Extra-Territorial Jurisdiction must be prepared from sections 3 and 4
Intra - Territorial Jurisdiction must be prepared from section 2
A detailed explanation is provided in the youtube video attached below with an example.
You can check the Important Concepts of Constitutional Law for the CLAT 2024 preparations.
4 - Principle of Joint Liability, Common Intention, and Common Object
These are covered in sections 34 and 149.
Mahboob Ghosh VS Emperor: Common Intention
Common Object: 149
5 - Inchoate Crimes - Chapter 5 of IPC
1. Abatement -
By Instigation
By Intentional aiding or illegal omission
Engaging persons in a criminal conspiracy
2. Criminal Conspiracy - Chapter 5 A of IPC
3. Sections 120A and 120B
Check: Landmark Judgement Questions For CLAT PG 2024
6 - Offenses against State Section 121-130
Waging War
Under section 121, the following are considered essentials of the offences as they need to be proved to constitute an offence for waging war against the government of India.
The accused must have:
Waged war
Attempted to wage
Abetted the waging of war
Such a war must be against the state.
The punishment under this section includes either life imprisonment or the death penalty. A fine can be imposed in certain cases.
Section 122 of the IPC deals with the preparation for war
Section 123 of the IPC deals with the concealment of design to wage war.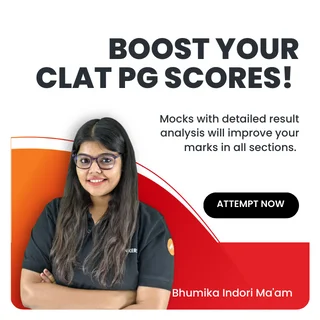 7 - Sedition - 124A
It deals with sedition, and this offence means that intention is to bring hatred or contempt or excite disaffection against the government of India.
Prepare thoroughly refer to all the concepts in CLAT PG Syllabus 2024
8 - Constitutional Validity of Section 124A
Ram Nandan vs State of UP was the first case in which the constitutional validity of sedition was questioned. The Allahabad High Court held that the section imposed a restriction on freedom of speech and was not considered to be in the general public's interest. Therefore, this section was considered ultra vires to the constitution.
However, it was overruled in the case of Kedar Nath Das vs the State of Bihar. In this case, it was held that this section would only limit the acts involving an intention to create a disturbance of law and order or enticement of violence. Thus, the supreme court held the section intra vires.
9 - Offenses Against Human Body
Offences against the human body are as follows:
Section 299 to 377 lays down several offences relating to the human body
Culpable Homicide
Murder
Dowry Death
Various kinds of hurt
Kidnapping Abduction
Wrongful restraint and confinement
Sexual Abuse
Unnatural offences
Conclusion
Note that this article talks about only the IPC concepts. However, several other important concepts have good weightage in criminal law.
Once you understand the concepts, start solving mocks, this will help you apply the concepts you studied to solve every question.