Reader's Digest: If you're wondering whether getting an LLM after your LLB is worth it, this article is a must-read. It breaks down the numerous benefits of pursuing an LLM, from specialization and international opportunities to higher salaries and teaching prospects. Read on!
If you are an LLB graduate and questioning - if applying for an LLM program is worth it? This article will help you make a better decision.
Regardless of the benefits that come along with holding an LLM degree, personal interest also plays a huge role in pursuing the course. Therefore, understand what you want your academic and professional life to look like.
LL.M. is the postgraduate degree you can pursue after completing an undergraduate program in law with qualifying marks.
Most LLM program admissions are based on scores obtained in entrance exams conducted at national, state, and college levels.
However, a few colleges offer admission based on merit scores obtained in your UG Law degree.
Let's begin understanding the benefits of doing LLM in India!
Key Contents
LLM Admission Criteria: Eligibility and Admission Requirements.
Personalized Approach: Emphasizing the Importance of Individual Goals and Interests.
Specialization Options: LLM programs offer specializations like Criminal Law, Commercial Law, and Intellectual Property Law.
Expansive Career Opportunities: Highlighting the growing job market for LLM graduates in sectors such as Corporate, NGO, and Real Estate.
International Prospects: Exploring career opportunities in countries like Canada.
Enhanced Earning Potential: LLM graduates tend to command higher salaries, with examples provided.
Diverse Career Paths: LLM opens doors to various career roles, from Legal Consultant to Law Faculty positions.
Below you'll find hand-curated study material that will help you make it through any LLM entrance exam in 2024!
What are the Benefits of Pursuing LLM?
On performing some research, here are a few Benefits of pursuing an LLM? found that will help you decide how pursuing an LLM can be to your benefit and answers is LLM necessary after LLB?
1. Specialization in a Particular Area
You would already know that in law, you have various fields of specialization. If you find yourself particularly drawn to an area of discipline like Criminal law, Commercial law, Intellectual Property law, etc.?
Apply for the LLM program in that particular specialization.
Having an LLM degree will not only help you hold in-depth knowledge of the respective field but will also help you land jobs in Criminal law, IP law, etc., and have a career of choice in the field you like.
2. Have More Career Opportunities
A career in law is very promising; if you do some research, you will know!
More job opportunities are open to students with LLM as law officers, legal advisors, etc. There are growing fields like the Corporate and financial sectors that need more post-graduation students to work for them as they require students with in-depth knowledge.
You can also have jobs in areas like NGO, Real estate, where you can land jobs immediately as a fresher.
On obtaining 55% in LLM and applying through CLAT PG, you can work with PSUs like Power Grid Corporation of India Limited, Indian Oil Corporation Limited (IOCL), BHEL, ONGC, NTPC.
You can also find jobs in established government and private sectors like Railway Defence, Marketing, Retail, Insurance, etc.
Check: Upcoming Law PG Exams in India
3. Work in 1st World Countries
If you want to gain experience in working in the 1st would a country like Canada, holding an LLM degree is fruitful, as there are several job opportunities posted yearly for LLM graduates.
If you wish to explore working in other countries accepting Indian LLM degrees, you have a good reason to pursue the course.
You can have a career as a Corporate Lawyer, Business Affairs Lawyer, Internal Disputes Lawyer, Taxation Lawyer, Family Legal Consultant, Criminal Lawyer, Trade Lawyer, or International Affairs Consultant in Canada.
Check: CLAT PG Exam 2023
4. Better Salary
There's no doubt that one of the major benefits of an LLM degree is to be able to earn much more than an LLB holder when their career starts and progresses!
Let's check the average salary LLM holder can get :
| | |
| --- | --- |
| Specialization | Salary |
| LLM in International Law | INR 5 LPA |
| LLM in Criminal Law | INR 3.5 LPA |
| LLM in Corporate Law | INR 4 LPA |
Salaries offered in Private firms:
| | |
| --- | --- |
| Pretigous Private Hiring Companies | Salary |
| MAERSK | INR 8 LPA |
| IBM | INR 10 LPA |
| Star Network | INR 10 LPA |
| Morgan Stanley | INR 18 LPA |
| L&L Partners | INR 14 LPA |
| Ernest and Young | INR 15 LPA |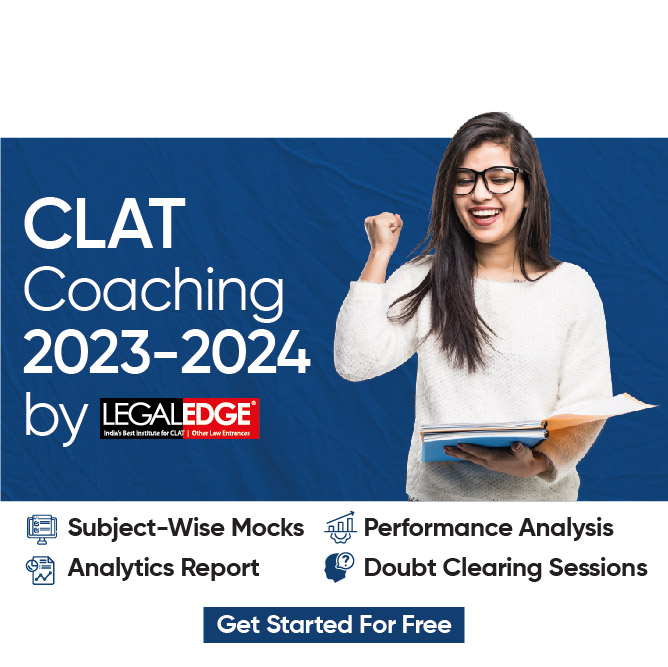 5. Dreams of Holding a PhD
Pursuing an LLM can be a crucial step if your dream is to earn a Ph.D. Here's how it can benefit you:
Foundation for a Ph.D.: Completing an LLM program lays a strong foundation for pursuing a Ph.D. This opens doors to higher earning potential and more prestigious career opportunities. Remember, many academic positions and high-level legal roles require a Ph.D.

Expertise and Research Skills: An LLM equips you with the expertise and research skills necessary for advanced academic and legal research. This makes you a more attractive candidate for Ph.D. programs.
Examples of Ph.D. specializations you can consider after your LLM include:
PhD in Interdisciplinary Law: Blend different areas of law to tackle complex legal issues from various angles. For instance, you might analyze how environmental laws intersect with corporate regulations.

PhD in International Law: Focus on legal matters with an international scope, such as studying international treaties, global governance, and human rights at the international level.

PhD in Legal Studies: Dive deep into legal theory, research, and analysis. This specialization can lead to academic positions and advanced legal research roles.

PhD in Cyber Security: Explore the legal aspects of cybersecurity and digital law. Analyze issues like data protection, online privacy, and cybersecurity regulations.

PhD in Civil Law: Concentrate on civil law matters, such as contracts, property disputes, and personal injury claims. This specialization is valuable for positions in civil law practice.

PhD in Jurisprudence: Study the philosophy and theory of law, gaining a deeper understanding of its foundations. This specialization is often sought after for academic and philosophical roles in law.
6. Career branches for LLM graduates
Pursuing an LLM allows you to specialize in various branches of law, catering to your interests and career aspirations. Some areas you can choose from include:
Constitutional Law: Specialize in the fundamental principles and structures of a country's legal system, including issues related to constitutional interpretation, civil rights, and government powers.

Jurisprudence: Dive into the philosophy and theory of law, exploring fundamental concepts like justice, legal reasoning, and the nature of law itself.

Criminal Law: Focus on criminal justice, prosecution, and defense. This specialization is ideal if you aspire to work as a criminal defense attorney, prosecutor, or judge.

Insurance Law: Explore the legal aspects of the insurance industry, including policy interpretation, claims disputes, and insurance regulations.

Environmental Law: Specialize in laws concerning environmental protection and sustainability, including issues like environmental regulations, pollution control, and conservation.

International Trade and Business Law: Delve into the legal aspects of international commerce and business transactions. You might work on trade agreements, import/export regulations, and corporate international transactions.

Intellectual Property Law: Concentrate on the protection of intellectual assets like patents, copyrights, and trademarks. This specialization is valuable for careers in IP law firms or as in-house counsel for tech companies.

Taxation Law: Study the intricate world of tax regulations and financial law. This expertise can lead to roles in tax planning, compliance, and financial advisory services.

Human Rights: Work to protect and advocate for human rights on a global scale. You could pursue a career with international organizations, NGOs, or government agencies focused on human rights issues.

Corporate Law and Governance: Focus on legal matters within the corporate world, including mergers, acquisitions, corporate governance, and compliance with securities regulations. This specialization is ideal for corporate lawyers and legal consultants in the business sector.

After completing LLM in these specializations, you can work as a Legal Consultant, Legal Document Reviewer, Advocate, Magistrate, Judge, Solicitor, Lecturer, Public Prosecutor, Law Reporter, and so much more.
7. LLM Degree has International Recognition
As mentioned earlier, pursue an LLM program if you want to explore working in a different country. This benefit of pursuing an LLM is less talked about.
In Canada, the NCA evaluates the internationally-obtained credentials of lawyers who wish to practice in Canada.
And they have announced that the law degrees of legal professionals from India will be considered equivalent to those from the United Kingdom and Australia.
Check: AILET LLM exam 2023
8. In-Depth Knowledge
Indeed, a lot of job opportunities have up in recent years. However, private law firms like Morgan Stanley and L&L Partners look for LLM graduates as they want to hire candidates with in-depth knowledge in a particular field like Banking and Finance lawyers, Senior Consultants, Media Rights Lawyers, etc.
Therefore with an LLB degree, it's very unlikely for you to crack these interviews, and most likely, your candidature will not be selected even for the first round.
If you wish to work in multinational law firms across the globe, consider pursuing an LLM degree.
9. More Demand and Quality Clients
If you decide to start a private law firm, you are likely to get more quality clients paying you better if you hold the LLM in the niche specialization.
If you would like even a freelance job, it is better for you to hold LLM, so you have enough knowledge to work independently.
Check: CUET PG LLM Exam
10. Teachers on Demand with LLM Degree
This is the most fundamental benefit of pursuing an LLM.
Most prestigious education institutions and high-paying teachers have LLM degrees.
Some colleges do not qualify candidates without an LLM degree. If you dream of teaching, consider applying for the LLM program.
Most universities consider good scores in the UGC NET examination for admissions.
To apply for UGC NET, you must have a minimum of 55% in LLM to work as a law faculty in top universities across the country.
Key Takeaways
Pursuing an LLM degree after your LLB can be a wise choice for several reasons. Let's check out the various mentioned benefits of pursuing an LLM:
Specialization: You can focus on areas of law you're passionate about, boosting your chances of landing your dream job.

More Opportunities: LLM graduates have access to a wide range of career options in corporate, public, and international sectors.

Higher Earnings: An LLM often leads to better-paying jobs compared to LLB holders, especially in private firms.

Ph.D. Path: If a Ph.D. is your goal, an LLM is usually a necessary step to reach it.

Teaching Options: You can become a law professor or lecturer at esteemed universities with an LLM.

Global Recognition: An LLM opens doors to work in different countries and is recognized internationally.