Summary:

Mocks are the best sources for analyzing your preparation levels for the Common Law Admission Test. Most of you might have already started practicing mock tests but might be worried about how you can increase your mock score. If you are amongst the ones who aren't scoring as per your own expectations or have low scores in the mocks to date, then here's what you have been avoiding!
Not to highlight, but we all know the next session for CLAT and AILET is right around the corner; now it is the time to start attempting mock tests.
Scoring poorly on the mock tests can be worrying for many of you, especially those who thought they had prepared holistically for the next test.
Understand that even if you gave 100 mock tests, failed to analyze them for your strengths and weaknesses, and failed to refine the strategy, the 100 mocks will not have any value.
Do you want to know why your CLAT mock scores are not increasing? Here are some of the reasons for your query.
10 Reasons for Low CLAT Mock Score 2024
Usually, Mocks are tougher than actual CLAT Entrance Exam. You might have heard people saying this all the time, the same old story, and now you might feel it is worn out and hackneyed. But NO!
This is actually tried and proven true. Mock tests are designed on a more challenging note than actual CLAT examination.
Also, they are built in such a way that it usually entails questions based on similar tricks and concepts that are bound to be expected in study materials.
So do not panic about seeing questions that do not have patterns; you might do well in the final exam.
"Magic is believing in yourself. If you can make that happen,
you can make anything happen."
The following are some of the common reasons for low CLAT scores:
Relying only on a particular section during your

CLAT Exam preparation

.
Giving too many mocks without proper preparation.
Focusing just on the number of attempts overlooking the accuracy.
Overconfidence in finishing the syllabus or having solid logical reasoning, or the overconfidence of being way better than others.
Wasting too much time on the wrong question.
Imitating the strategy of the successful CLAT aspirants.
Attempting the paper too recklessly or cautiously.
Burnout, lack of proper sleep, diet, and course, peer pressure!
1. Ask yourself why you are marking wrong answers (Particularly in English and CR)
Whenever you make a mistake while solving your English and Critical Reasoning questions, which are passage-based, you are always likely to make the best answer choices in the English section.
At the same time, while solving CLAT Critical Reasoning Questions, either you choose the extreme option based on the information given in the passage or assimilate external information in such questions to procure answers.
But sometimes the answer marked by you appears to be the wrong choice. Sometimes, you mainly check the reason validating the correct option but never try to analyze it deeply.
Deep analysis means that you must try to understand what point you have missed while reading the passage. What information must you have picked up while going through the English or CR passages before you make your answer choices?
Only in this manner will you be able to improve your score, or else you will repeat your mistake.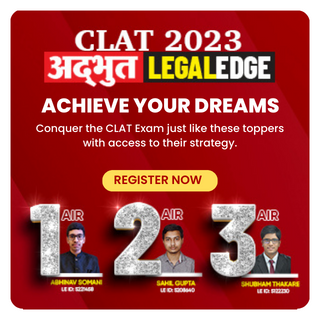 2 . You have stopped reading diverse literature
When you refer to the AILET, CLAT, and other law examination question papers, you will find that their questions have been picked from diverse backgrounds.
They could be from newspaper editorials, magazines, Gazatte, recently published articles on law, etc. As soon as you will stop reading or decline to read these sources, you will witness a gradual fall in your reading speed, and your understanding of the context will decline.
These will adversely affect your performance in CLAT Mock Tests and final examinations. Hence, never stop reading from diverse sources. It will help you understand the deeper context.
It will help you to analyze single literature in multiple dynamics. It will also help you analyze literature style and how you can hunt for the answer between the lines despite diverse literature styles.
3. You are not spending enough time on CA
Current affairs are often likely to hamper your score if you don't have regular updates on them. If you go through the previous year's questions, you will realize that current affairs can be from very recent happenings to one that is 1 year or 1.5 years old.
It depends on the magnitude of the importance of the given news and its impact on global and local affairs. So you must remain updated about all the current trends and ongoing changes in all legal, political, sports, and other domains to maximize your marks in the Current Affairs section.
You can improve your current affairs by going through the Hindu Editorial and other daily, weekly, and fortnightly magazines on current trends and national and global news.
4. You are not sparing enough time on Quantitative Reasoning
As we all know, quantitative reasoning is based on basic mathematics concepts. In such situations, many of you either drop your Preparation for CLAT Quantitative Reasoning, saying that you aren't interested in Maths, or you don't get enough time to attempt QT after writing the mock.
However, this is not the right thing to do. You must give equal time to the Quantitative Aptitude because if you keep losing your score in QT, there will be no chance for you to fare through the CLAT or AILET.
Hence, you are advised to give equal importance to QT as all other sections.
5. You are not up to your legal reasoning game
In every law examination, legal reasoning is one of the core parts of the question paper. No matter what examination you participate in, you must have an extraordinary grip on legal reasoning.
The catch in the legal reasoning is that there is no fixed pattern of questions. Hence you have to level up your game of legal reasoning by constant practice and revision of editorial practice.
6. You have Convinced yourself that Quantity is the King
Many of you must have assumed that your score will gradually improve if you give mocks. However, this is not the case.
We have already told you all that as long as you are not good with concepts and their application, you won't be able to improve your score. We mean to say that if your concepts are not clear and you don't know about the application of those concepts, then you will not be able to increase your marks.
So, focus on clearing your concepts and applying that to the problem while dealing with questions instead of increasing the number of mock tests.
7. You have learned the concept but didn't apply it
While dealing with the Previous Year's CLAT Question Papers, most of you practice really weird techniques. Here you often mark answers based on your assumption instead of applying the concept.
You don't bother applying the concept, maybe because of time restrictions or simply because you don't want to. Thus, in this way, you will end up marking wrong answers and losing your marks.
So, always apply the concept of whatever you have learned. Don't abandon it to go with your assumption because it will cost you, dear.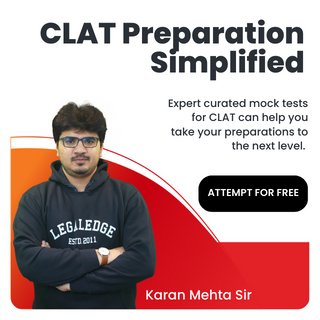 8. You don't know how to improve your score
At times it happens when you don't understand where you are, falling into the trap of confusion and losing your marks.
You don't know what exactly you need to improve to enhance your score in the AILET, CLAT, etc.
You must understand that every section has some basic concepts and tricks which you must understand before you proceed to deal with them. Here we have summarised them for you.
English: For English, you need to focus on your vocabulary and grammar. You have to develop context-based Vocabulary like vocals on economics, law, psychology jargon, etc., to enhance your CLAT English Preparation.
Critical Reasoning: Concept is the King! Critical reasoning is all about concepts. You must know the concept, and you must know its application. As long as you are not good at these, you will not be able to improve your score.
Current Affairs: Revise as much as you can. Revision is the ultimate source that will make your Current Affairs concrete. The continuous revision will help you memorize and recall the content while attempting the question in mock.
Fear of QT: Fear of QT is associated with fear of Mathematics; you must beat that with rigorous practice and a positive attitude.
Legal Reasoning: Read the best and tested Editorial like the Hindus and Times of India and others' constitutional frameworks and terminology to understand the basics of law and its application.
9. You are taking mocks erratically
Are you taking mock tests regularly? Are you participating in live mocks? Have you attempted all the mock tests released by the coaching centers?
If not, then this could be a reason for your score rescission. Yes, you heard it right. You need to practice mock regularly, where you have to give the test and analyze your score regularly.
Only then will you be able to analyze your mistakes and Improve your score.
10. You are not tracking your mock Percentile
When you are attempting a mock, you must track your performance in the mock test. It will help you analyze your weaker sections and how you are performing in each section.
Also, in this way, you will be able to calculate your Overall score and percentage, which will guide you to change your strategy to enhance your score.
On the other hand, if you are giving mocks but are not analyzing your mock scores, you won't be able to identify your weaker point and your performance level. That's why after every mock test, calculate your mock Percentile.
How to Improve CLAT Mock Score 2024?
Here are a few tips and tricks shared by our eminent faculty Harsh Gagrani Sir to help CLAT aspirants like you who have been preparing for months and are now overstressing themselves and given on a light note!
These tips will help you better understand How to Improve Your CLAT Mock Score for the upcoming exam.
Early morning studies are the most Effective - Start as early as 10 am, knowing that it would be challenging for many students. But given a try, you will see a difference, and it works wonders if you would see a spike in your CLAT scores.
On attempting Comprehension-based questions, always start by looking at the options, not reading the comprehension, and then going back to answer the question.
Memorize Words while solving Quantitative Techniques Questions: Revise all the Vocabs as you solve or make Pie diagrams and charts. This strategy would help you remember words for an extended period.
Learn Sentence and Improve Vocabulary: The brilliant trick is to learn a sentence filled with several vocabularies. There would be no need to memorize vocab separately when you can remember more than ten words in a sentence.
Know your All India ranking: Multiply your rank by 68,000, get your approx all India ranking, and prepare diligently.
Live your Current Affairs: Don't just memorize but Live it and be a part of these events, like watching the Olympics.
OMR trick of getting 150/150: Mark all four options.
Always Mark the Correct Answer: Know the Correct Answer and mark it.
Learn the Legal Maxims: Start talking in Latin at home by learning small phrases, e.g., Force Majeure[means God knows who did that]
First, refuse and then accept: Always accept after you refuse it. It doesn't show that you are being too obvious to get.
Conclusion:
Mocks form a vital part of your CLAT preparation. They will tell you how to stay focused for 2 hours, tackle pressure, maximize your scores, etc. Let us remind you that low mock scores can be demotivating, but never let them drag you into the trap of thinking that you will not be able to achieve your aim of going to your dream college this year.