Nowadays, you are getting good news and surprises daily. First, we gotta know that IIFT has introduced IPM and started accepting IPMAT scores for admission in their IPM Program.
Now, there is another good news and surprise for you is that a new IPM (Integrated Programme in Management) program has been launched by the National Forensic Science University (NFSU) Gandhinagar. NFSU is an institute of national importance.
The biggest news is that the institute of national importance is launching a new IPM Program.
In this article, you will get to know all about the NFSU and the IPM Program launched by them.
About NFSC (National Forensic Science University)
The most important thing here about the NFSU is that it is an institute of National Importance, and this institute comes under the Ministry of Home Affairs.
The school of management of NFSU focuses on education in the field of management with special emphasis on security management, viz. Homeland security, healthcare management, cyber security, and fraud security.
This institute is a well-known and well-acknowledged institute in the field of management.
Now this year, this institute is starting a new program, i.e., a dual degree program of BBA + MBA.
Since this institute is coming with the IPM program, it can become your backup plan. For example, if you do not get selected in IIM Indore, you have another option, i.e., NFSU.
BBA - MBA Integrated from NFSU
The basic eligibility criteria to apply for this IPM program offered by NFSU is that the candidate should have scored a minimum of 60% marks in their 12 grade. And reserved category candidates should score a minimum of 55% marks in their 12 grade.
The tuition fee for the IPM program at NFSU is Rs. 50,000/- per semester and Rs. 5,00,000/- for the full course + another university fee.
Read more: Short trick to managing IPMAT exam and board exams
The national forensic science university (NFSU) has released only 40 seats for the IPM Program.
The course curriculum majorly involves all subjects viz. Economics, Accounts, Taxation, Foreign Language, Forensics, and Fraud Analytics.
This is the first year of this batch, so the placements facility is there, but there is no such good response for the placements because of the new launching of the course.
Note that the coaching center of SuperGards is offering an AISAT scholarship; you can get a discount for IPM Coaching 2023-2024
Also, be sure to take mock tests to know where you stand with your IPMAT preparations.
For admission to the integrated program in management (IPM), the national forensic science university will be conducting an aptitude test. In this entrance test, you will be asked 100 questions.
For these 100 questions, there will be no negative marking at all.
These 100 Aptitude based questions will be asked on topics ranging from General Knowledge, Logical Reasoning and aptitude, mathematical reasoning, Data Interpretation, Computer Technology, etc.
Read more: Right time to start preparing for the IPMAT exam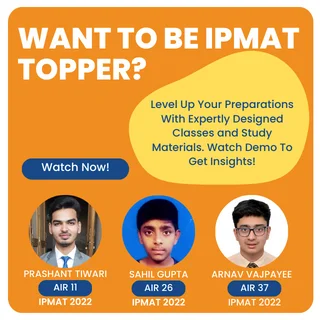 Is It Worth Joining NFSU or Not?
Yes, it is worth joining NFSC because of the following reasons mentioned below:
They have excellent MBA placements with a strongly obtained 100% placement guarantee.
But the average, highest, and median salary figures are not disclosed on the website, but when we searched on Quora, then we got very good figures.
Read more: Important topics for the IPMAT exam
It is a decent college with the tag of the institute of national importance. So, the college has to keep this name given to them as pride and will grow more in the future.
The Institute of national importance can become a good integrated MBA choice at a reasonable fee.