A conversation has been conducted in the series called to meet up with the experts—the journey of an advocate Aditya Goyal practicing as an independent practitioner at Madhya Pradesh High Court.
He shared his experience and factual points regarding this field. The law wasn't his calling or the first arena he chose, yet the law served him well.
Also, help him attain such great heights. Hence, the takeaways of this conversation seem crucial for every law aspirant and beginner in this field.
About Adv. Aditya Goyal
Aditya Goyal was in the national law university in Bhopal until 2016. He completed his graduation from there(2011-16). After that, Aditya moved here and there for a couple of years. He worked for Khetan and the company Mumbai for one year. Then he litigates in Delhi for a couple of years.
That forum where Aditya appeared was the path of his seniors in the Delhi supreme and high court. His home state is Madhya Pradesh; he essentially moved there and practiced for two years.
Read more: Law as a Career
Conversation with Adv. Aditya Goyal
In conversation with advocate Aditya Goyal, a host of things come out. The journey of law experts is not easy though your interests make you ambitious and passionate about the job.
Many questions commonly arise in the mind of a law aspirant or any other student who has made up their mind to opt for this field.
Our expert asked answers to all such questions to Aditya Goyal. Here, this article shares the best outcomes or critical takeaways of conversation. According to Aditya Goyal, it wasn't his personal choice of matter more than it was a matter of chance.
Download FREE Study Material for Law Entrance Exams by LegalEdge
The success of law aspirants is also affected by interest in social studies. The one thing he considers a guarantee of personal and professional satisfaction for anyone aspiring to the law. The positive takeaway is that mind and work development occurs in the arena.
What are the primary factors based on what aspirants can decide they should opt for law?
What are those deciding factors?
One of the factors that a student should consider is little interest in social science. Even if one has little interest in exploratory experience in sociology, it will help. Or anything similar to this context, for example, the functioning of society or the interest in constitutional laws.
Read more: Law Entrance Exams other than CLAT
Then, the law is the option an aspirant can seriously explore. It is a strong indication that can make a student go for opting law as a career option. Law firms offering oversized packages are probably not valid reasons to opt for law.
Students aspiring for natural causes will follow up with interests. And then only better consequences will occur.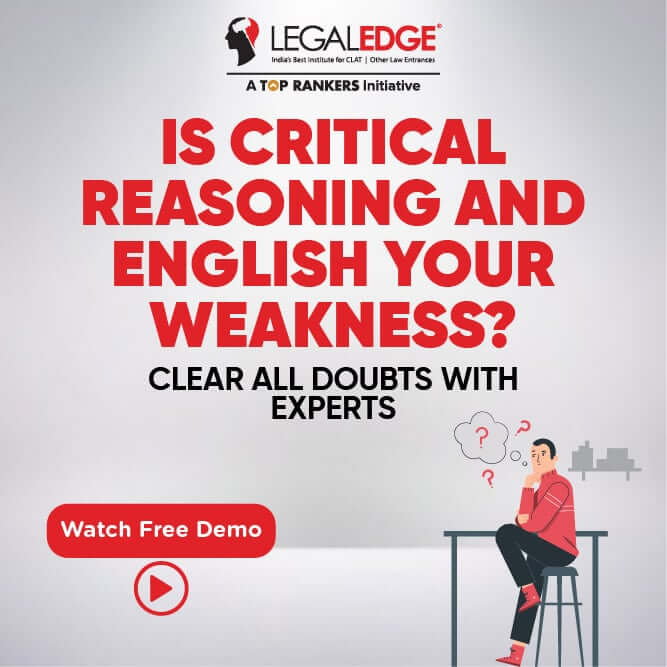 What about business law BBA LLB? Do students also need to be interested in the constitution and laws subject matter to opt for BBA LLB?
No, it is not essential. An interest in the constitution, sociology, or others in the arena to aspire for BBA LLB is not required.
Suppose student interest is refined to the extent that site inclination in their mind to do BBA/ LLB or any business law, which has a significant focus on business law.
Then, naturally, the direction of the student shifted to commercial law. For example, if a student is interested in how big MNCs manage their legal affairs. Or if they are very keenly following the TATA mystery dispute. Or
Suppose you are interested in the Amazon versus Reliance dispute. Hence, these indicate that business law appeals to you as a career option. Students used to follow that news intently and then must go to business law.
Is the court practicing differently from what is projected in the movies?
Many students or aspirants who appear for CLAT Entrance Exam have a question in mind: law practice is similar to movies. Such as the Harvey sector etc.
According to Aditya Goyal Sir, it is a more glorified version of what happens. It has a resemblance to reality yet is an exaggeration of facts. There is no problem in watching such movies by the aspirants for CLAT as well.
Of course, you may consider the fact that it is theatre. Hence, the reality is not as glorious. Though as previously said, it is satisfying after doing work.
Read more: Short tricks to prepare for Law Entrance Exams
How does a college for admission work in the field? Is it of prime importance?
The best ten national law universities, such as Bangalore, Hyderabad, Delhi, Calcutta, Jodhpur, etc., more or less offer promising opportunities for progress. It's up to students how they can utilize it. The way students work excels them.
Hence, if any student has a question in their mind, which one of the universities is better? The answer is one is where students utilize better or what they can make out of those opportunities and resources provided by the college.
Opportunities provided by law universities
A lot of opportunities are enough to overwhelm students to encourage or excel in their progress. The students can participate in a host of mood codes, debates, and competitions. Also, they can host in their colleges.
Other sports activities are also there. Internships for all places, policies, think tanks, litigation offices, corporate offices, legal research, paper writing, etc., are additional activities.
The other activity here depicts activities that function above academic work that students should do in Law Colleges in India. The more a student can utilize and participate, the more gradually develop.
It is also helpful in analyzing interest, where students' interest lies. For example, a student may be a good debater. Only the way to know this fact is by participating in the debate. Hence, it is suggested that students should explore these areas as well.
What is the importance of marks obtained in law colleges in a student's career? Does it affect students' careers, or is it just a grade?
It does affect students' careers. It will be highlighted in the profession's first three to four years. It does affect students for placement, applying for masters, and most litigation chambers. Litigation chambers review the grade of students provided by colleges. So it affects students getting into the first few opportunities after college. In general context rank, the top five rankers' options may not be equivalent to rank 50 or 55. Although, Exceptions lie everywhere.
It's evident because how recruiters may analyze 100 students of the same batch, metrics may be wrong or right, yet matter, especially in the beginning(first two-three years after graduation).
Read more: Placements at law colleges in India
How should students interpret whether they are made for litigation or corporate areas? Where do their interests lie?
There are two best ways. Firstly, they should try all kinds of internships. Secondly, try and communicate with college seniors who are coming to campus. Students can interpret only by trying their hand in all the fields.
Most colleges have few alumni working either as litigators, corporate areas, or policy theme tanks. Hence, try meeting with as many alumni as possible. They can help you a lot, especially in career guidance.