Summary: The article gives an overview of the Common University Entrance Test (CUET) and discusses whether the General Test is mandatory. It highlights the exam pattern, sections, and marking scheme of CUET. The article confirms that the General Test is compulsory and offers brief tips for exam preparation. It concludes with answers to common questions and emphasises the importance of thorough preparation for success in the CUET exam.
CUET (Common University Entrance Test) is a crucial examination for students seeking admission to undergraduate courses in various universities across India.
Aspirants often wonder is the General Test is compulsory for CUET?
In this article, we will provide a detailed overview of the CUET exam, its sections, and whether the General Test is mandatory. Additionally, we will offer valuable tips to help you prepare effectively for the CUET exam.
Let's delve into the details and clear any doubts you may have.
Sections of the CUET Exam:
The CUET exam consists of four sections:
1. Language (IA & IB): This section assesses candidates' language skills through reading comprehension and vocabulary-based questions.
2. Domain-Specific subjects (II): This section focuses on subject-specific knowledge in areas such as Accountancy, Economics, Mathematics, Physics, and more.
3. General Test (III): This section evaluates candidates' proficiency in general knowledge, current affairs, mental ability, numerical ability, and reasoning.
Read more- CUET 2024 Full Syllabus
Did You Know?
Common University Entrance Test (CUET) is a centralised entrance exam conducted by the National Testing Agency (NTA) for admission to over 240 universities across India. It provides students with an equal opportunity to showcase their abilities and opens doors to a wide range of undergraduate programs. So, gear up and make the most of this exciting opportunity to embark on your academic journey!


Is the General Test Compulsory for CUET?
Participating in the General Test CUET 2024 is obligatory for several courses, including B.A., B.Voc., and B.Com. However, the requirement to take the General Test varies depending on the specific course.
For instance:
If a candidate selects B. Tech in Information Technology at the University of Delhi, the required subject combination would be:
Any language from Section I
Mathematics
Section III
In this case, taking the General Test is compulsory.
Conversely, for a course such as B. Com. (Hons.), the subject mapping is as follows:
Any language from Section I
Mathematics or Accountancy
Any two subjects from Section II
In a nutshell, to answer the question- Is the general test compulsory for CUET 2024?, No, it is not. However, it is advisable to appear for the exam since doing so can enhance a candidate's prospects of being accepted into numerous universities and colleges.
CUET Current Affairs and GK Analysis (May 22, 2024)
Tips to Prepare for the General Test CUET 2024 Exam
Here are 4 tips to prepare for the General Test section of the CUET 2024 exam:
1. Familiarise yourself with sample papers
Practice solving CUET's previous year question papers to get a sense of the exam pattern and improve your time management skills.
2. Enhance critical thinking skills
Engage in activities that enhance your critical thinking abilities, such as solving puzzles, participating in debates, or analyzing complex problems. This will help you tackle the analytical and logical reasoning sections effectively.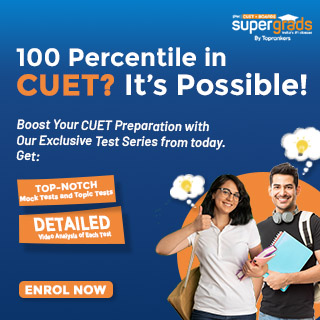 Striving for the 99th Percentile: Preparation and Strategies
3. Focus on time management
Develop effective time management strategies by practicing timed mock tests. This will enable you to allocate sufficient time to each section and complete the exam within the given timeframe.
4. Stay updated with current affairs
Regularly read newspapers, magazines, and online sources to stay informed about national and international current affairs. This will aid in answering questions related to general knowledge and current events accurately.
Most importantly, try to focus more on learning and less on rote learning. As it will help you boost your confidence, and the material will help you in the longer run.
Read more- Things to keep in mind for CUET 2024
CUET 2024 Exam Analysis by SuperGrads
Conclusion
The General Test isn't compulsory for the CUET exam. However, aspirants must prepare diligently for all sections to maximise their chances of success. By understanding the exam pattern, creating a study plan, and practising mock tests, you can enhance your overall performance and achieve a competitive edge. Now that you have an answer to- 'Is the General Test Compulsory for CUET?' Gear up and start preparing!