Now that the CUET 2024 exam has already commenced, students are worried and have many doubts about the examination. But let me clear a point, now that the exam has already begun; you have no time left to prepare and revise. Whatever your CUET 2024 preparations are, you have to appear with that knowledge in your mind and do your best in the exams.
However, this is a proven fact that many tips, as said by our expert faculty team and verified by many excellent rank holders, helped them excel in the examinations apart from their actual preparations. And thanks to Lokesh Sir, who conducted a live session on our Youtube channel CUET Preparations With Supergrads and revealed all those simple tricks for you to understand and follow in the actual scenario.
Moving forward with the tips, we will briefly explain each and every point so that you can quickly grab it and follow it.
Let's check what are the things to keep in mind for CUET 2024.
CUET 2024 Exam What To Do
It would be best if you kept a few things in mind while attempting the paper that will help you positively and excel in the examination. Here are some of the important do's that you must follow while appearing for CUET 2024-
Things to keep in mind for CUET 2024!
Stay Calm- Believe that the paper is going to be easy. If you believe that, you will already feel that the paper is easy. Also, it is the first time NTA is conducting CUET so it will be easy.
Revision In Mind- Just think that you are already prepared for everything. As you know, all the questions are going to be MCQs, so you know you have the answers in front; you just have to remember and choose them. Try thinking, 'I have read it somewhere,' and trust me, this helps a lot.
Have Patience- Do not be too quick to answer anything. Use your time wisely and have patience while attempting all those questions.
Answer Confidence- Remember that you have been to a board exam where you must remember and write the answers. Here you have the question as well as the answer on the same screen; all you need to do is pick the right one. So have confidence and answer it.
Fluke Smartly- Every student flukes in exams but never tries to fluke each and every question. Use smart ways like the elimination method to eliminate one or two wrong answers. This will leave you with fewer options and more chances to get it right.
Drink Water- Keep yourselves hydrated; drink enough water before or while attempting the paper. Water also helps you calm down so you can think better.
Read All The Instructions Carefully- Try to read all the instructions with patience and care. Please don't skip any part of the instruction, as it will let you know what you can do and what not. Carry two copies of photographs, two pens, two pencils and any other thing necessary with a backup.
Attempt Questions With Confidence- Never attempt all 40 questions in the beginning, as you might get better questions among the last 10. And you will have to come back to uncheck the fluked questions taking more of your time. You have to attempt 40 out of 50 questions. So make sure to attempt each of them confidently; this will also make you leave some of the questions unattempted while, in the end, you may get questions you know.


During preparation, Do not forget to analyze the previous year's papers. Know the CUET exam pattern and syllabus.
Take as many mocks as possible.
There are no preparations without attending mock tests.
CUET 2024 Exam What Not To Do
Now that you know what are the things you should do better to improve your overall performance in the CUET 2024 Exam. Now let's talk about what are the things you should not do while sitting for the CUET 2024 examination.
Here are some points you should remember not to do while you get seated for the examination-
Don't listen to others while you are in the exam hall.
Don't restrict yourselves from asking questions from the invigilators.
Don't wait for tech issues to solve automatically, as you don't have enough time for your exams. Immediately inform your invigilators and get it solved instantly.
Don't panic while attempting or having any kind of issue with your system. Tech problem is the responsibility of the exam authority, so it's not your fault.
Don't be tired while attempting the exam. There are Lakhs of students just like you appearing for the same examination. You have to pick your strength and attempt every paper with the same energy from the beginning to the end.
Don't leave the exam hall early. This is not your board exam; here, you will not have enough time to attempt 40 questions. So don't be in a hurry to leave the exam hall early, be patient, take your time and attempt all that you know.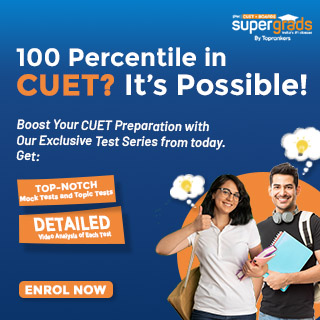 Conclusion
Make sure to follow these tips as these will really help you a lot in the exam hall, and make sure to be prepared with everything required. Do check your CUET Exam Dates as mentioned on the admit card and other relevant details. Have confidence and excitement as you are the first batch to attempt this examination. We hope for your best and wish you good luck with all your exams.
Check: CUET Online Coaching