CUET is a centralised entrance test designed to give students nationwide an equal and consistent chance for UG admissions. More than 100 institutions will participate in CUET 2023, with UG admissions dependent only on candidates' CUET scores.
CUET will include 47 central universities, including DU, BHU, JNU, AU, and many more, among the 100+. CUET would provide a single platform and fair opportunities to candidates nationwide with one centralised exam.
NTA, the conducting authority of CUET, has announced the syllabus for Physics, and it will remain the same as the previous year. The syllabus will only have the content from the NCERT class 12 syllabus, as announced by the NTA. Physics is an important domain subject that is required for all engineering and most science courses.
Nevertheless, this article will detail the syllabus, exam pattern and preparation tips so that you ace your CUET Physics exam!
Physics CUET Exam Paper Pattern
Before going into the preparation, it is important to understand the exam pattern on the examination. As per the CUET exam pattern, there will be only one question paper with no sections. It will have 50 questions, out of which 40 must be answered.
Examination Medium
English, Hindi, Assamese, Tamil, Telugu, Kannada, Malayalam, Odia, Bengali, Marathi, Gujarati, Punjabi and Urdu
Total Questions asked
50
Questions needed to be answered
40
Total Marks in Psychology
200
Marking Scheme
5 marks for each right answer
-1 for each wrong answer
Question Type
MCQ
Exam time duration
45-minute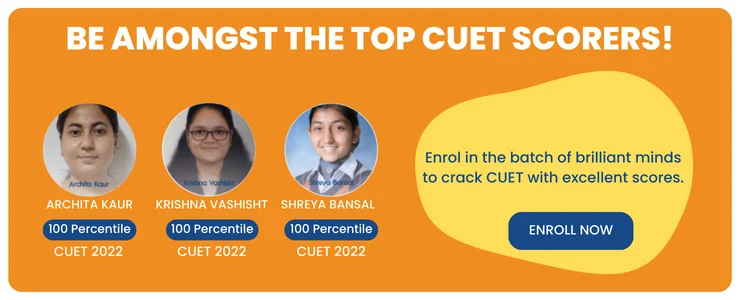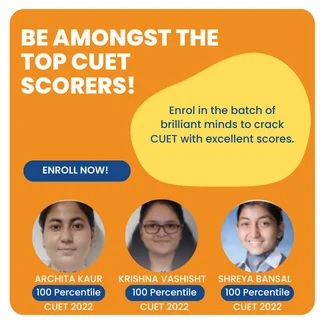 CUET Physics Syllabus
There are 10 units, each with a specific domain. The CUET syllabus given is very detailed and will help you prepare well.
Unit I: Electrostatics
Unit II: Current Electricity
Unit III: Magnetic Effects of Current and Magnetism
Unit IV: Electromagnetic Induction and Alternating Currents
Unit V: Electromagnetic Waves
Unit VI: Optics
Unit VII: Dual Nature of Matter and Radiation
Unit VIII: Atoms and Nuclei
Unit IX: Electronic Devices
Unit X: Communication Systems
How to prepare for CUET Physics
Physics is an important subject, and emphasis must be given to the CUET syllabus. Understanding the syllabus is of utmost importance because it will tell you exactly what to study and what not.
There are 10 units, each dealing with a different aspect of the subject. Pick up the units you are good at or are easier when preparing. The first priority is to strengthen your strong topics.
Important Things to Remember
Analysing the CUET 2023 physics paper, the most important topics are Electrostatics (Unit 1) and Magnetic Effects of Current and Magnetism (Unit 3). Two of these topics combined comprise about 40% of the Physics exam.
Electrostatic Potential and Capacitance (Chapter 2) and Current Electricity (Chapter 3) are the chapters that may carry a major chunk of the exam.
Topics related to electricity and magnetism might be the majority of the portion of the paper pattern will be similar to last year. However, it is important to remember that CUET is a new exam and exam patterns differ. Do not place too much importance on the previous year's paper pattern.
Write down every important theory, conceptual diagram and formula. Make a habit of noting down everything in a disciplined manner
The syllabus will be from the NCERT class 12 textbook. Make sure to read the complete textbook thoroughly. If you are prepared with the NCERT textbook, you will be mostly done with your Physics preparation.
Check: Best Science Colleges For CUET
Brief preparation strategy for CUET Physics:
Understand the syllabus thoroughly
CUET Physics can be daunting, but it is neatly divided into units and sections. Always begin by properly reviewing the syllabus and practising with some sample question papers. This will assist you in understanding the syllabus's topics and the importance/weightage of each subject. A thorough understanding of the syllabus can help you organise your preparation strategy.
If you prefer to study from other books, you should be careful. Too many sources can easily confuse and distract you from the syllabus. Be certain that you completely adhere to the syllabus provided.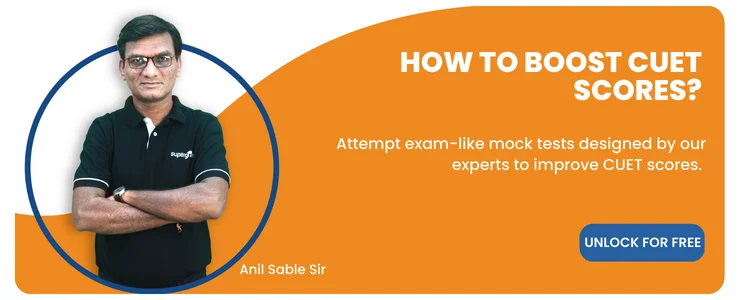 Having a proper plan
Time management is the most important component in ensuring you never fall behind schedule. One of the essential values demanded of every aspirant is the ability to manage your time wisely.
The simplest way to manage your time properly is to adhere to your timetable firmly. Assess your strong and weak topics to create a timetable that allows you to cover all the topics on time while leaving time for practice and revision.
Check: How to prepare Business Studies for CUET
Keep notes and have a planned approach to completing the syllabus
Your NCERT book is an amazing guide to the basics of the subject; it is important to get that right first. For physics, it is essential to keep writing notes for key concepts, important theories, diagrams and formulae in each section of the topic.
The notes you maintain will be useful for revision after you complete the syllabus. Keep notes handy when you are practising from mock tests.
Linearly go through each unit and complete everything that feels easy. After you finish the easier topics, jump to the ones you feel are difficult. If you think something is taking a very long time, skip it for now and complete the maximum syllabus possible.
Check: CUET Syllabus for General Test 2023
Practice with mock tests and previous year's question papers
To understand the questions that could appear on the exam, look at the question papers from previous years. It's a decent approach to gauge the general format of the question paper, but don't count on the pattern to repeat exactly.
Take as many practice exams as you can. You may evaluate your abilities in numerous subjects through CUET mock exams. Your areas of weakness are where you should focus your efforts. For learning and progressing in a topic, mock exams are crucial.
Revise, Revise and Revise
You must often revisit the concepts in this course, especially the more challenging ones. It is essential to keep things fresh in the memory because the subject is vast and has much to grasp.
Check: CUET BCA Syllabus 2023
Study material for CUET Physics
As mentioned earlier, it is crucial not to stray from the syllabus based on NCERT class 12. Be careful not to stray from the primary syllabus when using other books. Use them as secondary help and to gain a better understanding of topics.
NCERT Class 12th Physics Books
Concepts of Physics (HC Verma)
Objective Physics (D.C. Pandey)
Fundamentals of Physic (Halliday, Resnick, and Walker)
Check: How To Prepare For CUET Psychology
Conclusion
Physics is a highly theoretical subject with a lengthy syllabus. The most crucial element of preparing for the psychology CUET is the syllabus. Pay close attention to the syllabus since it will specify what to study.
The provided curriculum is in-depth and covers every subject you need to understand. For Physics, you must keep notes. Divide the notes according to each unit and ensure that you cover everything. Review practice exams and test questions from prior years to finish.
If you approach the preparation methodically, you'll be one step ahead of the game and more likely to succeed on the test.