Summary: This article is aimed to give you a comprehensive guide to help prepare for the CUET Physical Education exam! With very few days of CUET, get started with your revision process.
Are you preparing to take the CUET Physical Education Test?
This article will provide tips and strategies to help you prepare for the test.
We will discuss different physical activities you can practice, the importance of a healthy diet, good study habits, and adequate rest.
By following these steps, you will be well-prepared to tackle the test and achieve your desired results.
Physical Education CUET Exam Paper Pattern
Before going into the preparation, it is important to understand the exam pattern on the examination.
As per the CUET exam pattern, there will be only one question paper with no sections.
It will have 50 questions, out of which 40 must be answered.
Examination Medium
English, Hindi, Assamese, Tamil, Telugu, Kannada, Malayalam, Odia, Bengali, Marathi, Gujarati, Punjabi and Urdu
Total Questions asked
50
Questions needed to be answered
40
Total Marks in Physical Education
200
Marking Scheme
5 marks for each right answer
-1 for each wrong answer
Question Type
MCQ
Exam time duration
45-minute


>
CUET Physical Education Syllabus
There are 9 units, each focusing on one aspect of physical education.
The CUET syllabus given is very detailed and will help you prepare well.
Unit
Topics

Sociological Aspects of Physical Education

Games and sports as man's cultural heritage.
Development of the individual through games and sports
Role of Physical Education in promoting national integration.
Physical Education and personality development.

Training Methods

Meaning and Importance of Sports Training
Methods of training
Isometric and Isotonic exercises.
Circuit Training.
Weight Training

Career Aspects in Physical Education

Career Options in Physical Education
Important Institutions of Physical Education in India

Career Aspects in Physical Education

Tournaments and types of tournaments.
Difference between Professional and Amateur Players.

Health Education & Health Problems

Meaning and definition of 'Health and Health Education'
Principles and importance of Health Education. Health problems and the role of Health Education in solving them.
Disability and Rehabilitation.
Posture
Personal hygiene and sleep requirements
Substance Abuse

Sports Injuries and First Aid

Sports-related injuries
Role of a sportsperson in the prevention of sports-related accidents.
First Aid

Test & Measurement in Sports

Motor Fitness Test
General Motor Fitness
Measurement of Cardio-Vascular Fitness
Rikli & Jones - Senior Citizen Fitness Test
Biomechanics & Sports
Meaning and Importance of Biomechanics in Sports

Types of movements (Flexion, Extension, Abduction & Adduction)

Newton's Law of Motion & its Application in sports

Friction & Sport
Psychology & Sports
Personality; its definition & types – Trait & Types (Sheldon & Jung Classification) & Big Five Theory

Motivation, its type & techniques

Exercise Adherence; Reasons to Exercise, Benefits of Exercise

Strategies for Enhancing Adherence to Exercise

Meaning, Concept & Types of Aggressions in Sports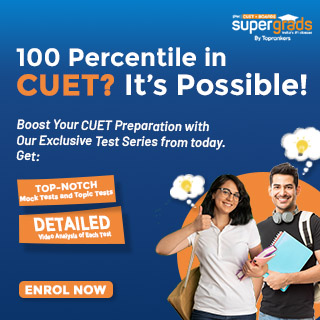 How to prepare for CUET Physical Education
Physical Education is an important course for students who want to pursue a fitness career. Prepare extensively for Social Aspects of Physical Education, Training Techniques, Career Aspects of Physical Education, Health Education & Health Issues.
There are 10 units, each dealing with a different aspect of the subject. Pick up the units you are good at or are easier when preparing. The priority is to strengthen your strong topics.
Check: CUET Preparation Books
Brief preparation strategy for CUET Physical Education
Step-by-step prep tips:
Understand the syllabus thoroughly
CUET Physical education can be daunting, but it is neatly divided into units and sections. Always begin by properly reviewing the syllabus and practising with some sample question papers. This will assist you in understanding the syllabus's topics and the importance/weightage of each subject. A thorough understanding of the syllabus can help you organise your preparation strategy.
If you prefer to study from other books, you should be careful. Too many sources can easily confuse and distract you from the syllabus. Be certain that you completely adhere to the syllabus provided.
Check: CUET Preparation Process 2024
Stick to your preparation timetable
Sticking to a schedule is critical for efficient preparation. More crucial is that you follow it with timeliness and stick to it. A good timeline accomplishes nearly half of your work by making your approach systematic and disciplined. You should constantly verify that your timeline is goal-oriented and not misplaced. Following it carefully will bring you closer to your objective and help you attain it easily.
You are also less likely to get distracted and waste time when you strictly follow your planned timetable.
Check: How To Prepare For CUET Chemistry 2024
Keep notes and have a planned approach to completing the syllabus
This is critical; you should remember it while planning your schedule. You cannot afford to waste any time at this point.
You should exert measured effort and consider how you may spend the remainder of your available time most productively. Taking some supervision and expert help would be beneficial in this situation.
Check: Best Science Colleges For CUET
Practice with mock tests and previous year's question papers
To understand the questions that could appear on the exam, look at the question papers from previous years. It's a decent approach to gauge the general format of the question paper, but don't count on the pattern to repeat exactly.
Take as many practice exams as you can. You may evaluate your abilities in numerous subjects through mock exams. Your areas of weakness are where you should focus your efforts. For learning and progressing in a topic, mock exams are crucial.
Check: CUET BCA Syllabus 2024
Revise, Revise and Revise
You must often revisit the concepts in this course, especially the more challenging ones.
It is essential to keep things fresh in the memory because the subject is vast and has much to grasp.
Check: CUET Exam Pattern 2024
Conclusion
Physical Education is unlike other subjects as there are no difficult formulae or theories to remember.
It is fairly easy, and the given syllabus is a great help since it is well-organised. Ensure you are well-versed with the syllabus as you prepare for the exam.
Give enough time for preparation, read through all the topics, make notes and practice with mock tests.
Doing this will complete most of your preparation and make the exam feel like a breeze.