Summary: The general Knowledge section is designed to test your awareness of India's legal and socio-political affairs. Clearing the General Knowledge for MH CET Law 2023 exam determines your ability to handle the complex legal questions asked in the exam.
General is tagged along with current affairs; therefore, prepare GK questions with current affairs, legal and social issues, international affairs, and Indian history.
The official website has uploaded a PDF in which you can see the important topics to prepare for each section, which will also be covered in this article.
The article guides you with the sectional marks for GK, preparation tips and important as per the official notice released by the Maharashtra State CET Cell.
Important topics to focus on for General Knowledge for MH CET Law 2023
For the General Knowledge and Current Affairs, the conducting body has provided a list of topics you must focus on while preparing for this section.
The topics as per the general knowledge questions for the LLB entrance pdf are as follows:
History (Ancient, Medieval and Modern)
Geography
General Science
Economics
Civics
The subject is to assess the knowledge of recent happening and world awareness.
You can prepare for these topics static GK for MH CET Law exam and practise questions as per the topics listed in the static GK for the MH CET law pdf.
Marks Distribution for MH CET Law GK section
The MH CET Law GK section has good weightage; therefore, scoring well in this section is important.
The marks distribution is listed in the table below:
| | | | |
| --- | --- | --- | --- |
| Section | No of Questions | Marks per Question | Total Marks |
| GK and Current Affairs | 30 | 1 | 30 |
Note that there is no negative marking therefore attempt all questions in the paper.
Check: MH CET general knowledge questions
How to prepare for the General Knowledge section in the MH CET law test 2023?
Good planning is half done! So having a good strategy to crack GK is important.
With the exam being conducted in April and May. You have hardly 3-4 months to prepare for GK and current affairs.
Time Table
You can follow the following timetable for GK in 4 months.
Months
Current Affairs
Static GK
January 2023
Cover Awards and Honours
Cover national parks, rivers, power projects and multipurpose project
February 2023
Cover Recent Budget Important Points
Indian Polity, UN Bodies and international organizations
March 2023
Cover Oscar and film fair awards, Nobel prizes etc.
Cover topics from Economics and Geography
April 2023
Cover Game and Sports
Cover Government schemes Books and Authors At least 3 months important dates Complete remaining topic
May 2023
Revision
Check: How to Prepare for MH CET Law Exam?
Other Important Topics for General Knowledge in MH CET Law Exam
Economics - MPC, Export, Import, RBI
General Science - ISRO, NASA
Politics - Important and recent laws
Ancient, Medieval, Modern and World History - Study from textbooks
Science and Technology
National and International Burning Topics
Books and Authors - International Books and Prize
Major Industries in India
Awards and Achievements - Nobel Peace prize etc.
Agriculture
Industries - Mergers of Companies
Environment and Ecology
Check: MH CET Law Result
GK and Current Affairs Preparations happen simultaneously
Make a list of current affairs you need to know and become familiar with them through newspapers and online resources.
You can refer to our daily, weekly and monthly current affairs page.
The best way is to read everything that's published every week or month and then study it thoroughly.
You can also look at the news daily on television, social media apps, and newspapers so that your mind will be kept active about what is happening worldwide.
Check: MH CET Law Syllabus 2023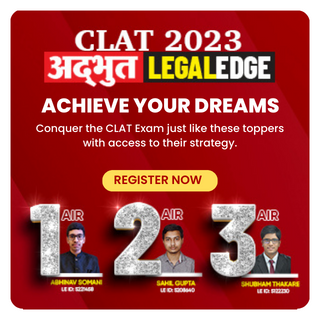 Mind Mapping
This section deals with basic concepts such as law, history, geography etc., and these are memory-based subjects, so mind-mapping techniques will be helpful in remembering important events.
You must be familiar with these topics in order to answer questions easily.
Knowledge of the basics and interlinking the events or dates through Mind Mapping will help you solve questions quickly and also help you to break down a question into simpler parts for easy understanding.
Make reading GK books and Newspaper a Habit
Reading GK books and Newspapers helps you stay informed about world events and be up to date on current affairs.
It can also help you improve your vocabulary and knowledge of different topics for the English Section.
Reading GK books and newspapers can also help you develop critical thinking skills and give you the confidence to ace the preparation for this section.
Check: MH CET exam preparation
Previous year's papers and Mocks
This is the most important part of your preparations that adds value.
Taking mocks and solving previous years' papers will familiarise you with the type of questions asked and the difficulty level of the exam.
There is no point in preparing the syllabus and not testing yourself. So frequently, taking mocks and assessing yourself is extremely important.
This helps them in strategizing their preparation better.
It also allows you to identify areas where you need improvement. Solve more questions around the weaker areas and keep tracking your progress.
As the exam is nearing and on covering the syllabus, start solving more mocks.
Check: MH CET Law Admit Card
Revision
Revision is important in preparing for the GK and current affairs section since it requires memory-based learning.
You must memorise answers, which requires a lot of revision before your exams.
It is important to revise your General Knowledge as it helps to refresh your memory and recall the information that you have studied.
It also helps to identify any gaps in your knowledge and allows you to focus on those areas. Revision allows you to assess your progress and ensure you are well-prepared for the exam.
Additionally, it helps to boost your confidence and prepare you mentally for the exam.
MH CET Law Books 2023 for GK and Current Affairs
You can refer to the General Knowledge for MH CET Law exam Books below:
Yearly General Knowledge Book by Pearson
Daily Newspaper of The Hindu/Indian Express/The Telegraph
Toprankers - Daily, weekly and Monthly current affairs
General Knowledge books by Lucent Book House
Check: MH CET Law Eligibility
Conclusion
General Knowledge questions will help to gauge how well you have prepared for the exam and how well you can apply your knowledge to the legal field.
The section is neither difficult nor easy, so prioritise the section and dedicate an hour daily to this section.
Since it has good weightage, scoring well in this section can help you crack MH CET Law with good scores.