Summary: Knowing what topics are covered in the CLAT Maths Syllabus 2024 will help students focus their time on the topics they need to study and practice more. It also allows students to identify their strengths and weaknesses in each topic, so they can plan their timetable accordingly. Knowing the CLAT Maths Syllabus 2024 will also help students know what type of questions to expect, giving them an edge in the exam.
As we all know, mathematics is one of the most scoring sections of the CLAT exam. The questions are designed to test you on elementary mathematics, i.e., basic maths you learned until class 10.
Therefore, knowing the CLAT Maths syllabus 2024 and the exam pattern is most important to succeed. To know the important CLAT Maths topics, you must go through the detailed syllabus provided in this post.
Are you looking for a detailed syllabus of mathematics? Well, read through the post that will give a complete insight into CLAT Mathematics Syllabus 2024, essential topics, and more.
CLAT Mathematics Syllabus 2024 Chapter-Wise
The entire CLAT Maths syllabus 2024 is based on the 10th standard. Most CLAT Entrance Exam questions are simple formula-based and can be easily solved if memorized.
The concepts are divided into five categories under the elementary mathematics syllabus for CLAT: Arithmetic, Commercial Mathematics, Mensuration, Modern Mathematics, and Data Interpretation.
In CLAT Exam, the quant section holds just 10% weightage, but it is essential to answer all the questions correctly.
You can increase your overall score by securing full marks in this section.
When you begin preparing, understand the concepts and practice problems from the recommended books.
Important Topics in CLAT Maths Syllabus 2024
Here is the list of sub-topics that need to be studied under each CLAT 2024 elementary mathematics numerical ability syllabus category.
Check out the detailed CLAT Syllabus before proceeding with preparation.
| | |
| --- | --- |
| Topic | Sub-Topics |
| Arithmetic | Number System, HCF & LCM, Time & Work, Average, Ratio & Proportion, Simplification, Fractions & Functions, Logarithms & Functions |
| Commercial Mathematics | Percentage, Interest, Profit & Loss, Partnership |
| Mensuration | Volume, Areas |
| Modern Mathematics | Probability, Clocks & Calendar |
| Data Interpretation | Data Tables, Data Charts, Bar Diagrams, Charts (Simple, Stacked, Composite Chart Bar, Pie Chart), Graphs (Line X-Y graphs), Data Analysis & Data Comparison, Caselet Based Data |
What type of Questions are asked from the CLAT Maths Syllabus 2024 section?
The entire question paper includes comprehension-based passages followed by 4-5 multiple-choice questions.
Solve these questions along with the previous year's CLAT Question Paper to understand the difficulty level of the exam and the questions asked.
You are given data that must be read and analyzed in the maths section. Following the data, you must answer the respective questions.
You can come across different topic-based questions in one passage, like profit and loss, discount, algebra, time, speed, and more.
In the previous year's CLAT Exam, the mathematics section included data interpretation-based questions.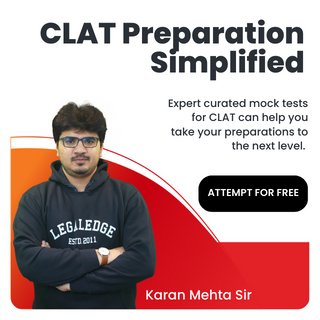 Recommended Materials to cover CLAT Maths Syllabus 2024
You can refer to the following books while preparing for CLAT Maths Syllabus 2024.
Opting for the best books for CLAT will help you cover all the topics as per the latest syllabus.
| | |
| --- | --- |
| Book name | Author/Publisher |
| Fast Track Objective Arithmetic | Arihant Publication |
| Quantitative Aptitude | Pearson |
| Quantitative Aptitude for Competitive Examinations (English) | RS Aggarwal |
| 30 Days wonder for Maths | S.Chand |