Summary: One of the major reasons why most students fail in the IPMAT interview round is the lack of Communication skills. Having good communication skills and vocabulary is very important if you are aiming for exams like IPMAT. So here we are to lessen your worries with five exclusive tips on improving your vocabulary and communication skills. Go through the article to find these amazing tips that will help you improve and master your communication and vocabulary skills.
Vocabulary and communication skills are crucial parts of your preparations if you are aiming for the IPMAT 2023 exam.
Before moving to the tips, let's look at some of the major issues that affect vocabulary and communication skills-
Most of the students today speak broken English, like using the words uh, ah, and you know. This directly impacts the interviews.
Weak vocabulary directly impacts your comprehension, and comprehension directly impacts your verbal ability section.
Recently it has been noted that the verbal ability section's cutoff is drastically increasing. So if you perform well in this section, you have the chance to get into IIM Indore.
Vocabulary, comprehension, and speech are the three paramount requisites. You are definitely going to need them at some point.
Ways To Improve Communication and Vocabulary Skills
So coming to the point where you desperately need tips to improve your communication and vocabulary skills. Let's not waste any more time and dive into it-
Read, Read And Only Read
With the heading above, you will surely ask, 'what to read?' So you only need to read two things newspaper and books.
Newspaper
While reading the newspaper, do not go for any newspaper and read everything printed on that. Get The Hindu newspaper, either offline or online, and make a habit of reading it daily. Make friends with the editorial page; this will surely help you improve your reading comprehension and find new words every day to improve your vocabulary. Reading comprehension is a matter of time; if you are a good reader, you will save a lot of time answering questions.
Books
In books, you need to read fictional and non-fictional books. Basically, any book you come across will surely help you improve your reading comprehension.
Read more: Right time to start preparing for the IPMAT exam
Entertain and Learn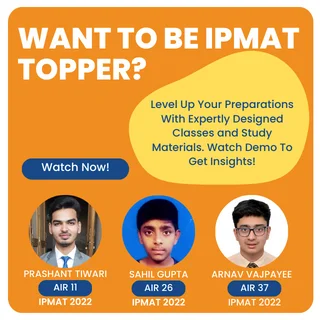 The concept here is to learn while entertaining yourself. Be it reality shows, movies, or songs; you can go for anything but the catch here is to watch or listen to them with subtitles. Shows like stand-up comedy, shark tank, etc., will help you improve your knowledge and vocabulary skills.
Movies and web series with subtitles can be good options to gradually increase your reach in the English language.
If you love listening to songs, make sure it's from Hollywood or in English.
Vocabulary Notebook
Here you need to have an English dictionary application downloaded on your device. This will help you keep an eye on what new words you have learned. You can separate that into 3 segments vocabulary, idioms and phrases, and root words.
Wherever you get a new word, make sure to note it down with its synonyms and meaning. While if you encounter a new idiom and phrase, do the same and note it down in the respective section. If you are going through your lecture and encounter a root word, make sure to note it down in the respective section.
This will eventually become a good notebook for you to revise at any time you wish.
Read more: IPMAT Fee structure and scholarships
Language Circle
This means all those family and friends with whom you are going to share all your learning experiences. With them, you must connect, share, watch movies, listen to music and talk in English. If you are able to build this, you won't have to look for another source to improve your vocabulary and communication skills. This is one of the best tips you can adapt to, and it will help you, along with simultaneously improving the other person's comprehension and vocabulary skills.
Mirror Practice
Mirror practice effectively reduces the rate of your broken English speech. This immensely benefits you with your micro presentations interviews. You will learn where you are lagging and will have the best reflection to improve yourself in that area.
The way to successfully achieve this is to pick any topic and write down all the important points regarding that. Now you have to speak it aloud infront of the mirror to check your fluency. Rate your fluency honestly each time you practice this, and watch how you improve.
*Bonus Tip - Record and rate your videos
In this era, you have the best technologies available to you. You can check your fluency and your gestures and easily work on that to improve.
Read More: Tips to Solve Verbal Ability for IPMAT
Conclusion
These tips are hand-picked by our experts and will surely help you achieve your goal of cracking IPMAT. If you are dedicated enough, you will surely try and follow these tips to improve your communication and vocabulary skills.
However, if you are still unable to do so, SuperGrads is always there to help you out. You can easily join us and learn from expert minds, grinding through the industry for years. With the best faculties, you will have enough sources to easily crack the IPMAT exam and sit in your dream IIM.