Summary: Choosing the right book plays a significant role in your IPMAT preparations. It can help you prepare effectively, maximize your chances of success, and ensure that you are well-prepared for the exam. This article brings you the list of the best books for IPMAT 2023 preparation.
With so many prep books available in the market, choosing the right books that suit your preparations can be confusing.
Here are a few reminders before you pick the right IPMAT prep books.
It is essential to go through the book's description to understand the topics included.
Read the review before buying the book.
Look for books published by renowned publications.
Opt for books that provide practice questions at the end of each chapter.
Let's dive into the post to learn the subject-wise IPMAT preparation books.
Best Books for IPMAT 2023 Preparation
According to the experts, choosing the books that provide Sample Questions and Practice Question Papers for IPMAT at the end of each topic is essential.
Check the table below for the most recommended books to prepare for the IIM IPM aptitude test.
| | |
| --- | --- |
| Book Name | Description |
| Brush up your English by ST Imam | This is a fabulous book for grammar practice. You can refer to this book if you do not have much time for preparation. |
| Logical Reasoning and interpretation for CAT | You can skip the logical reasoning part if you are not giving IPM Rohtak or JIPMAT exam. This book will help you with DI-related questions. |
| Magical Book on Quicker Maths by M.Tyra | This book will help you learn solutions quickly for all the problems and help improve your speed. |
| ML Agarwal for Classes 11th and 12th (ICSE Course Books) | You can refer to this book for the mathematics portion of IPM Indore. |
Opting for the books that provide previous year's papers will help you know the difficulty level of the exam and the type of questions asked in the exam.
To understand basic concepts of Mathematics, you can refer to the 10th and 12th NCERT books.
What are the Specific Books for IPM 2023 Preparation?
For adequate preparation for the Integrated Program Management Aptitude Test, you can refer to the following books in the table below.
| | | |
| --- | --- | --- |
| Book Name | Author/Publisher | Price |
| Comprehension Guide for IPM (IIM Indore) Entrance Exam 2020 with five online tests | Disha Experts | Rs. 500 |
| IIM IPMAT Preparation Guide | Stalwart Career Institute | Rs. 1599 |
| Complete Companion for IIM Indore IPM | Due North academy | Rs. 524 |
| IIM Indore IPM Full-length Test Series | Due North academy | Rs. 449 |
Which are the Best Subject-wise Books for IPMAT 2023?
The IPM exam mainly includes two sections:
Go through the subject-wise essential books to prepare for the IPMAT 2023 in the post below.
IPMAT Books for Quantitative Ability
The quantitative ability section includes questions from topics of class 12.
The questions test your problem-solving ability skills in this section.
Check the table below for the best books to enhance your IPMAT Maths Preparation.
| | | | |
| --- | --- | --- | --- |
| Book Name | Author/Publisher | Description | Price |
| Quantitative Aptitude for Competitive Exams | R.S. Aggarwal | The book provides formulas and solved examples for each chapter, and it also has more than 5500 questions with answers. | Rs. 501 |
| Class XI and XII Mathematics | R.D. Sharma | This book explains the concepts with detailed illustrations and summarizes formulas and theories at the end of each chapter. | Rs. 830 |
| How to Prepare for Quantitative Aptitude for CAT | Arun Sharma | This book covers all the topics per the latest syllabus | Rs. 618 |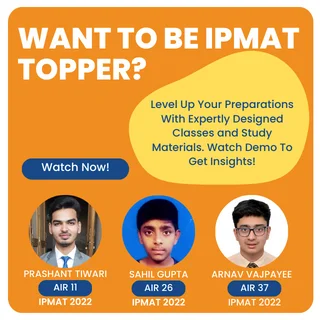 Verbal Ability Books for IPMAT 2023
The following books cover topics as per the syllabus and provide practice question papers.
Read More: Short Tricks to solve verbal ability questions in IPMAT
Book Name
Author/Publisher
Description
Price
Better English
Norman Lewis
The book provides grammar, pronunciation, and spelling lessons and offers various practical examples at the end of each chapter.
Rs. 139
Word Power Made Easy
Norman Lewis
This book is broadly divided into three sections. There is a review exercise at the end of each chapter and easy tips for improving vocabulary and word skills.
Rs. 127
English Grammar and Composition
Wren and Martin
This book provides guidance and practice in sentence building, correct usage, comprehension, and composition.
Rs. 264
The practice of Reading Comprehension Questions
SuperGrads Study Material
Reading Comprehension
Editorial pages of Newspapers like the Hindu
Read more: IPMAT Previous Year Question Papers With Solution PDF
Conclusion
Talk to your teachers, seniors and friends about the IPMAT books they refer to.
Besides understanding the concepts from textbooks, ensure you also practise mock tests.
Practise puts brains in your muscles ~ Sam Snead