Summary: Cracking CUET is tough, but you can easily ace the exam with the right preparations. Here you will get to know five important rules for CUET preparation that you should follow. Go through the article to learn more in detail.
As we all know, the CUET 2023 exam dates are already out.
Per the notification, the exam will be held between 21st and 31 May 2023.
Students appearing for the board exam this year will have their practicals and assignment submissions going on. And the board's exams are also expected to be held around the first week of March.
So you will have approximately two months to prepare for the CUET examination. This means-
Your preparation should be highly precise and cover all important topics first.
You need to dedicate all your time to the preparations.
You need to strategize your preparation to achieve maximum results.
You must keep these five rules in mind to ensure you are well-prepared for the exam.
So let's not waste any time and jump to the important rules.
1- Know Your Exam Pattern
The thing you should check out even before the exam preparation is the exam pattern. The CUET exam pattern consists of three important sections-
Section 1- Section 1 is further subdivided into Section 1A and Section 1B. Section 1A contains 20 language subjects, and Section 1B consists of 13 language subjects. Here you need to choose only one subject.
Section 2- Section 2 of the CUET exam consists of 27 Domain-based subjects. In this section, you can choose a maximum of 6 subjects.
Section 3- Section 3 of the CUET exam consists of the subject General Test.
Now the combination of the subjects you need to choose as your domain subject can be understood below-
Science Students- For science students, the combination can be Physics-Chemistry-Maths and Physics-Chemistry-Biology.
Commerce Students- For Commerce students, the combination can be Accountancy-Business Studies-Maths and Accountancy-Business Studies-Economics.
Humanities Students- For Humanities students, the combination can be History-Geography-Political Science, History-Geography-Sociology, History-Geography-Psychology and many other combinations.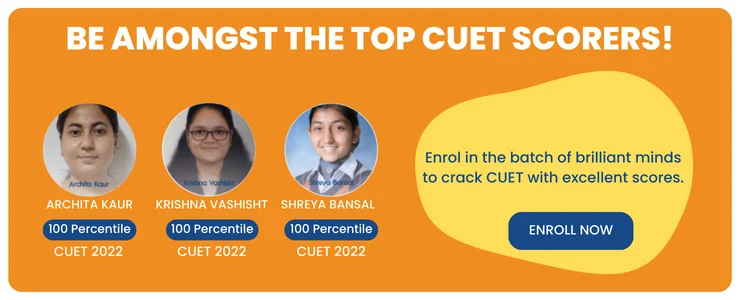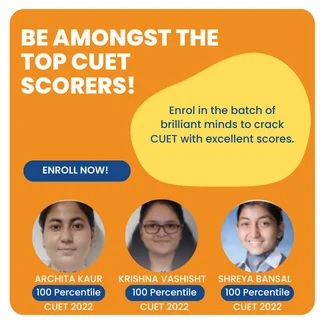 2- Marks To Target
Most of the students prepare for CUET, hoping to secure a maximum of 750 marks. But as you all know, the highest number of students appearing for CUET target colleges under Delhi University. Although CUET preparation is tough this time.
Most of the top colleges under DU have fewer seats, and even if you target 750 marks, you might not land in one of those colleges.
So, why not target 800/800? Yes, according to the new trend and increased competition, you must target 800 marks in total to secure good marks to get into your desired college.
For instance, the cut-off for Hindu College for CUET 2022 was 797.8 for BA(Hons) Political Science course.
The cut-off for Lady Shri Ram College for CUET 2022 was 795.8 for BA(Hons) Psychology course.
So your target must be set to 800/800 for the CUET 2023 exam.
3- Course To Target
If you are still confused about which courses you are eligible for, then this is for you. All the courses mentioned for you can be available provided that you have appeared for the CUET exam choosing the subjects you had in your 12th standard.
For Science Students- You are eligible for admission into courses from Science, Arts and Commerce streams. You must have chosen the PCM combination for this. If you have PCB, you are eligible for all the courses in the Science stream and some courses in Arts and Commerce stream.
For Commerce Students- You are eligible for admission to all the courses in Commerce and Arts streams.
For Arts Students- You are eligible for admission to all the courses in Arts and Commerce streams.
4- From Where To Study?
Preparing for CUET is not an easy task, and if you can find the right sources to help you boost your preparations, it would be wonderful. However, here we have listed some important points you should consider while preparing.
Look out for sources providing exam-oriented study and preparations.
Make sure whatever you are studying is completely based on NCERT.
Study materials that help you prepare for Language, General Tests, Domain, and your 12th boards.
Read more- Download CUET Admit Card
5- Attempt Loads Of Mocks
Mocks are the building blocks of your way towards excelling CUET exam. If you are preparing well but haven't attempted any mock tests yet, your preparation is incomplete.
SuperGrads has an excellent series of mocks designed by faculties having 10+ years of experience. All the questions are based on the CUET exam pattern and the CUET syllabus as well.
So this is the best place you can go for an affordable price.
Make sure you solve 2-3 mocks weekly and analyse your scores afterwards. This will help you find your weak spots, and accordingly, you can work to improve them.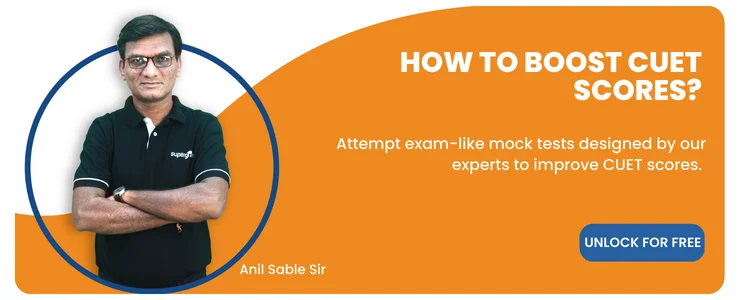 Conclusion
The CUET exam dates are close, and you need to gear up for the examination. This year the CUET exam will be tougher than before; however, it will still be from the NCERT books itself. So if you are well-versed in the NCERT books, you can easily ace the examination.