Overview: Discover the key insights from a top Judiciary achiever's interview on acing the Chhattisgarh Judicial Service Exam. Uncover strategies, tips, and personal experiences that can pave your path to success. Dive into the article to gain valuable exam-cracking wisdom.
Judiciary Gold was in conversation with Mr. Ajay Singh Meena, a law graduate from Barkatullah University, Bhopal, who hails from Madhya Pradesh. He secured AIR 13 in the Chhattisgarh Civil Judge Examination in 2019.
In this article, we will cover:
How did Mr. Ajay Singh Meena start his preparation for the Judiciary?
What made him choose the Chhattisgarh Judiciary?
Insights from Mr Ajay Singh Meena on how you can prepare for Judiciary.
Top tips from him on how he cleared Chhattisgarh Judiciary Examination:
Download FREE Study Material for Chhattisgarh Judiciary Exam by Judiciary Gold
1. When should one start preparing for the Chhattisgarh Judiciary?
Mr. Ajay Singh Meena: Your preparation for Judiciary can be initiated from the very first day of your Law School. Start working on your concepts from day one. You can start by analysing the PYPs of various Judiciary exams taken by different states; it will help you crack the exam assuredly.
2. Why did you decide to pursue a Judiciary Examination?
Mr. Ajay Singh Meena: As my father is also in Judicial services, I got inspired by him and chose to follow in his footsteps and clear this exam.
3. How did you motivate yourself while preparing for the Chhattisgarh Judiciary examination?
Mr. Ajay Singh Meena: I believe that there are 2 keys. One is with me, and the other is with God, and both keys must work together to achieve success. These keys are hard work and Luck; if both work together, it will bring success. Focus on your dream, and motivation will come automatically.
Chhattisgarh Judiciary Exam Preparation Tips
4. How do you decide which state Judiciary Examination to be targeted?
Mr. Ajay Singh Meena: Look at the syllabus of all the states you think you can appear for, especially if you are from a Hindi-speaking background. You have to select the three states you want to target by finding all the states with similar Judiciary syllabus. Start preparing for those states together. Focus on local and major laws while preparing for prelims and mains together. I also appeared for the MP Judiciary, Rajasthan, UP Judiciary, and Bihar Judiciary exam patterns. Focus on the syllabus and not on vacancies.
5. What was your strategy for the Chhattisgarh Judiciary Preliminary Examination?
Mr. Ajay Singh Meena: Preliminary exams are qualifying in nature. Check the cutoff marks of previous years Chhattisgarh Judiciary Preliminary Examination, understand the pattern and syllabus and prepare accordingly and keep a target to achieve maximum marks in the prelims, which helps in mains and interviews too.
6. Are Chhattisgarh Judiciary Preliminary examination papers based directly on Bare Acts?
Mr. Ajay Singh Meena: For the maximum states, you would find the preliminary exams are Bare Act based, but for the recent 2 to 3 years, the trend has changed. It is better to follow a few websites for Current Legal Updates and relevant case laws that can help you score better in the Chhattisgarh Judiciary Examination. In a few states, you will find GS and GK questions as well. You must focus on that, too. Also, update yourself with the new and old landmark case laws and list the main topics while preparing the Case Laws.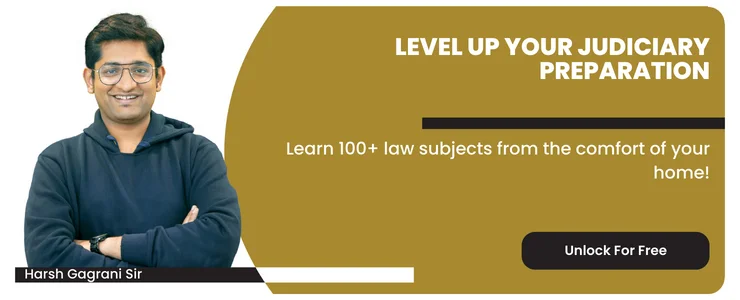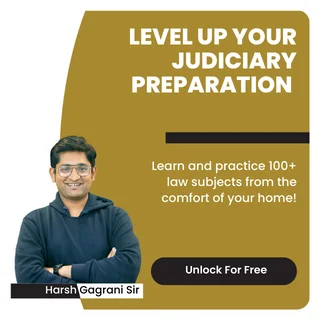 7. What were your strategies for the Chhattisgarh Mains Examination?
Mr. Ajay Singh Meena: 1st paper, Judgement Writing and Translation. Prepare old Judgement papers and analyse them. Check where you are making mistakes and rectify those mistakes while keeping proper track of your progress. Also, keep in mind the time, which is 3 hours. Practice with a stopwatch so that you can keep track of your time. You must write 2 questions in Judgement Writing and 2 questions on Translations. While translating, pick up difficult words and build your vocab; give 2 hours each day for translation and rest to Judgement Writing. You must make a list of Hindi and English words and revise them regularly for translation. The focus should be given to the previous year's questions and how to answer them, prepare, practice and analyse.
8. How to prepare for the Chhattisgarh Judiciary Final Interview?
Mr. Ajay Singh Meena: Don't stop your preparation, even after clearing Mains. Mains boosts confidence as you prepare yourself for a mock interview. Both legal and personal questions will be asked in your Chhattisgarh Judiciary Interview. Don't lose your confidence if you are unable to answer a question. Focus on the next question. Understand the questions and then answer them. Also, prepare to answer and don't hesitate to ask the question if you haven't understood the question. Also, do not try to fool the interviewer; if you do not know an answer, admit it and let them ask another question.
Chhattisgarh Judiciary Syllabus 2024
9. What kind of questions were asked from you in Chhattisgarh Judiciary Personal Interview?
Mr. Ajay Singh Meena: Questions were asked directly from the Preamble and my specialisation in law, Human Rights. I was asked questions based on Human Rights law, the Indian Constitution, and Minor Acts. Note that the questions will keep changing in the interview. The interviewer wants to know everything about you, including your background, character and approach towards the Indian Judiciary, so be prepared and stay calm as you prepare for the interview.
10. What is your advice on the Judiciary Exam for the Aspirants?
Mr. Ajay Singh Meena: Start your day with meditation. Keep yourself motivated and calm. Your approach towards and seriousness will greatly help you acing the Chhattisgarh Judiciary Interview. For your overall preparation as well, while you are preparing for Prelims and Mains, plan your day and follow your schedule. Have daily realistic and achievable goals and track your schedule. Also, try to save time and analyse your mistakes.
Key Takeaways from Mr Ajay Singh Meena for Chhattisgarh Judiciary 2023:
Initiate Judiciary preparation during Law School years to establish a strong foundation.
Blend hard work and Luck for assured success; focus on your dream for inherent motivation.
Target multiple state Judiciary exams with similar syllabus for comprehensive preparation.
Ace prelims by exceeding cutoffs, emphasising both old and recent case laws.
Focusing on Bare Acts is a must; the majority of questions are asked directly from Bare Act itself.
Adapt to changing trends in preliminary paper patterns and focus on GS and GK of diverse states.
Master judgment writing and translation for mains; practice and analyse old papers.
Calmly face interview questions on personal background, character, and legal approach.
Begin each day with meditation for a composed mindset.
Strategically plan study schedules, save time, and learn from mistakes.
Success hinges on consistent effort, strategic planning, and adaptability.