The Verbal Ability section holds equal and high priority just like the quantitative ability in the IPMAT exam paper.
To be eligible for the next round of selection, you must score qualifying sectional IPMAT Cut-Off marks in all sections.
Even 1 mark can increase your rank drastically, therefore focusing on the Verbal ability section is extremely important.
To score 100 marks in this section needs some strategic planning!
As Verbal ability is the last section in the IPMAT paper, students tend to rush to complete the exam. However, remember to stay calm, focused, and patient throughout answering your paper.
Continue reading the article to ace and understand How do you score above 100 on the verbal IPMAT?
IPMAT Verbal Ability Weightage 2024
The weightage of verbal ability and highlights are mentioned below:
| | |
| --- | --- |
| Sections | Verbal Ability Section |
| Question Type | RC and Objective Type Questions (MCQ) |
| Number of Questions | 40 |
| Maximum Marks | 160 |
| Time Duration | 40 mins |

Important IPMAT Verbal Ability Topics to Focus 2024
To sure to prepare for the topics below thoroughly.
IPMAT Indore Verbal Ability Syllabus
Topic
Sub-Topics
Vocabulary
Synonyms
Antonyms
Spelling Errors
Idioms & Phrases
One Word Substitution
Odd one out
Foreign Words
Word Usage
-
Grammar
Noun
Pronoun
Prepositions
Verb
Adverb
Conjunctions
Direct & Indirect Speech
Figures of Speech
Phrasal Verbs
Tenses
Etymology & Roots
Articles
Active Voice
Passive Voice
Deductive Reasoning
Subject-Verb Agreement
Verbal Ability
Error Spotting
Fill in the blanks
Sentence Completion
Para jumbles
Sentence Improvement
Analogies
Reading Comprehension
Synonym & Antonym (the meaning of a particular word used in the passage)
Inference based questions
Assumption based questions
Check: When To Start Preparing For IPMAT
IPMAT Rohtak Verbal Ability Syllabus
| | | | |
| --- | --- | --- | --- |
| Vocabulary (including Synonyms & Antonyms) | Reading Comprehension | Grammar | Sentence Rearrangement |
| Sentence Correction | Sentence Completion | Correct Usage of words and phrases | Verbal Analogies |
| Logical Consistency | Deductive Reasoning | Inference based passages | Prepositions |
| Conjunctions | Tenses | Modifiers & Parallelism | Noun & Pronoun Errors |
Check: IPMAT Colleges
It's important to have knowledge of exam patterns and syllabus before starting your preparations.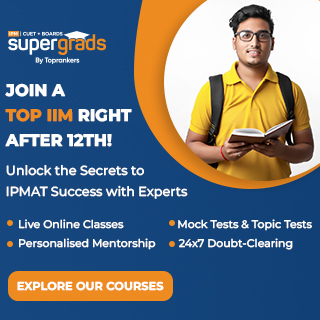 IPMAT Verbal Ability Preparations 2024
50% weightage is given to this section from the academic year 2022. And here are a few tips to help you with your IPMAT preparation.
Key areas you are going to be tested are topics like Para Jumbles, Reading Comprehension, Word usage, Idioms and Phrases, Vocabulary, and Grammer. The whole Verbal Ability Section is based on these concepts and their application.
Start your preparation along with your board exam, allot 30% of your time in your timetable only for preparing the verbal ability section.
For verbal ability preparation, reading plays a very important role.
Read literature or a good book after you are bored of continuously studying the same topic. Doing so will help you push away your boredom and also helps you prepare for verbal ability.
Read articles, magazines, and newspapers to improve your vocabulary, make sure you prepare for 1.5-2 hours only for verbal ability. Out of which 30-40 minutes you can allocate for general reading.
30-40 must give for grammar preparations like grammar rules, choose one topic every day.
Simultaneously, you are preparing for boards and verbal ability.
Make sure with your board preparations that IPMAT preparations are also completed such that you can entirely focus on only one revision to score 100 marks in verbal ability.
The verbal ability you must check several previous year's verbal section analyses and practice as many mocks as possible.
It's very important to balance your boards and IPMAT papers.
Check out the video where our expert from Supergrads is revising the Verbal Ability section for IPMAT Indore 2022.
Check: IPMAT Study Plan & Preparation Strategy
IPMAT Verbal Ability Books 2024
Refer to the standard books for the IPMAT Verbal Ability section;
Word Power Made Easy.
English Grammar and Composition by Wren and Martin
Objective English by R.S. Agarwal.
The practice of Reading Comprehension Questions by SuperGrads
Better English by Norman Lewis
Reading Comprehension from Editorial pages of Newspapers like the Hindu
Check: How to Solve Para Jumbles for IPMAT?
Start your preparations early to be ahead in the race!