This time is crucial, and you must utilize every second of the time available with a systematic schedule to yield a fruitful output. The catch is that you have an ample amount of time if you know how to prepare within this deadline.
Respecting the time limit we have been provided, we can follow some strategies to enhance our productivity better. However, you will have to follow these sincerely as you are the one who's going to question yourselves why you want to crack CUET. Which dream college do you want to get admitted into?
If you can answer these questions coming to your mind, you are already mentally prepared. All you need is a plan for these last 20 days that will help in your CUET preparations and make your dream come true.
The article further discusses how to prepare for CUET in 20 days?
Set A Goal!
Let's discuss a few steps on how to prepare for CUET in 20 days?
This is the first and foremost task you need to figure out. Without a goal in your mind, you are not going anywhere. You will get distracted easily away from your focus, and keeping a goal in mind will constantly remind you of it and help you focus on it.
So ask yourself, "Why do I need to crack CUET?". Either you want to get admitted to a top-ranking college, or you want a particular stream; whatever may be the case, if you are clear about your goals it will be easier for you to focus on your performance.
Now, why is setting a goal important?
If this question arises, just imagine this scenario: if you didn't get admitted to your preferred college, you would have to settle for another college that you never thought of attending. This will automatically run through your body as goosebumps. Actually, no one wants to settle for something good when they can achieve the best. So
Set your goals
Write it down on a paper
Keep reminding yourself of that goal from time to time
Work accordingly


How To Study Your Subjects?
Talking specifically about Commerce students, as you know, the syllabus for your CUET exams consists of Economics, Accounts, and Business Studies. Some students might not have completed studying any of these subjects or might be weak at it, while others might have already completed and also revised that subject. So, the point is you have to specify your timetable for each subject according to your strengths and weaknesses for CUET preparation.
You might be aware that Business Studies is basically a theoretical subject so you can cover it up faster than others.
This will lighten your burden and focus well on the rest of the two.
Give 1-2 hours in the morning daily for Business Studies.
Don't misjudge Economics as an easy subject, as confusion is created when everything seems similar.
In entrance exams, the options for MCQs will be very similar so revise again and again even if it seems easy.
Give 2-3 hours per day to Economics.
Now finally you need to lower your burden and focus mostly on Accounting.
Maximum weightage in CUET is focused on Accounting so prepare well for it.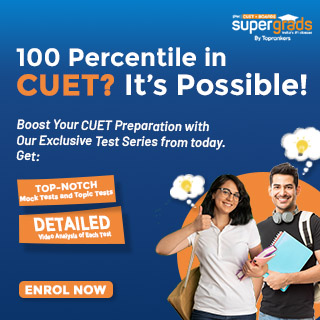 Classify Your Weakness and Strength
Grab your books and make a list of all the chapters, now start classifying them according to how clear the chapters are to you and how difficult you think the chapters are.
Now when you are done, with the chapters you are strong at, do these-
Revise concepts for each and every topic
Practice solving questions
Create important notes
Cover all the topics
Reduce timings accordingly
And with the chapters you are weak at, do these-
Watch lectures / attend classes and clarify each and every topic
Try and cover important topics first
Attend doubt clearing sessions
Practice MCQ-based questions
Solve mock tests regularly
Check: CUET Online Coaching 2024
How To Clarify Each And Every Topic?
You should have some subject topic that is crystal clear in your mind, and if asked about it you can easily answer and even explain it to anyone. So now we are going to plan a strategy on how to do the same for all the topics, and even the ones you are really weak on. So do these stepwise to gain maximum benefit-
Theory- Each concept or topic has a theory related to it. So you have to learn the theory clearly.
Conceptual Clarity- After your theory gets strong, you will develop clarity for that concept.
Topicwise Questions- Then, try solving questions on that particular topic that you have just learned.
MCQs- Try solving MCQs for that particular topic.
Mock Test/Sample Papers- Finally, when all your topics are covered in the above manner, it's time to test where you stand. Try solving as many mock tests and sample papers as you can get your hands on.
How To Create Analysis For 20 Days?
Work on your strong areas in the first week to get the confidence of what you can easily cover.
Then for the next two weeks, keep working on your weak areas and strengthen them with the strategies mentioned above.
Keep your focus on the goals you have set for yourselves.
Check: Tripura University CUET Exam Pattern 2024
Conclusion
Now let's conclude with some great and motivating lines that will help you boost your morale. Always try to create your own motivation instead of finding motivation from others. Look at your goal every day, visualize it and keep your focus clearly on it.
It doesn't matter if you crack the exam or not; all you need to do is work hard for it. If you give 100% of your energy and time to it, you have already passed, no matter what your scores will be.
Believe in yourself and do your best and you will ultimately see good results on your way. So good luck to everyone with their CUET preparations, and wish you a bright future ahead.