Reader's Digest: Wondering how to prepare for AILET and CLAT together? Are AILET and CLAT the syllabus same? Should I prepare for CLAT or AILET? Which is easy, CLAT or AILET? If you are searching for all these questions, you are at the right destination! Read this blog post to get detailed subject-wise strategies to clear both CLAT and AILET exams. Discover the toppers' tips to ace logical reasoning, English, General Knowledge, and more!
CLAT and AILET Exam 2024 Highlights
The CLAT and AILET exams are considered as the most prestigious law entrance exams in India. CLAT allows admission to renowned National Law Universities (NLUs) across the country, while AILET is specifically designed for Delhi Law University.
The syllabus for AILET closely resembles that of CLAT. Therefore, by following a comprehensive preparation strategy, you can aim to excel in the common sections of both exams and achieve high scores.
To help you with smooth preparation for CLAT and AILET, our experts from the LegalEdge team have provided tips and tricks. Before you proceed with preparation, understand the pattern and syllabus of both exams.
Here are the highlights of the highly competitive law entrance examination. There are a few differences between CLAT and AILET. However, the syllabus is the same for both of them.
CLAT and AILET include 150 questions in the question paper for 150 marks.
Both exams include some of the same sections: Logical Reasoning, English Language, General Knowledge, and Current Affairs.
Whereas the CLAT syllabus also includes: Legal Aptitude, Mathematics
Though the weightage of questions might vary, the syllabus remains mostly the same.
Out of all sections for CLAT, Mathematics has the least weightage.
By applying for CLAT, you can get admission into 22 NLUs, while through AILET, you can get admission into only NLU Delhi.
How to Prepare for CLAT and AILET Together?
As both exams include the same sections, the preparation strategy shall be the same. Follow the below-mentioned tips and tricks for smooth preparation:
It is essential to prepare a good study plan at your convenience.
You might still be studying in college and preparing for the law entrance examination; hence the study plan plays an important role.
Allot time to study each subject and reserve for revision at least two months before the exam.
Be thorough with the exam pattern and syllabus. Know the essential topics from each subject and study accordingly.
Make sure you study each topic assigned every day without postponing.
Refer to the

best books for CLAT

that cover the entire syllabus with detailed explanations.
Note down essential terms or highlight the terms while studying so that it helps in the revision period.
Solve as many question papers as possible to understand the exam's difficulty level and know which questions are asked in the exam.
Also, attempt mock tests to test your preparation levels.
As you have gone through essential preparation tips for the Common Law Admission Test and All India Law Entrance Test, let us know the subject-wise tips below.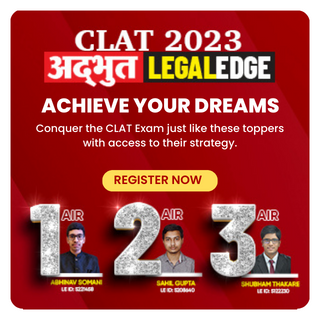 How to Prepare Logical Reasoning for CLAT and AILET?
Read the following points to prepare the logical reasoning section for the CLAT and AILET.
Reading and understanding the given question is essential for this section.
Questions mainly test your logical abilities, like understanding logical links, identifying patterns, and correcting inconsistent statements through questions.
Solving puzzles can help in better preparation and understanding of the topic. Also, try to

solve critical reasoning questions

to get an idea about the difficulty level of questions.
Questions from areas like coding, directions, blood relations, and syllogisms can be easily solved if you know the basics of these topics and identify the correct pattern.
Learn short tricks and tips to attempt questions in this section easily.
How to Prepare Legal Aptitude for CLAT?
If you want to prepare legal aptitude, go through the following points below.
Begin with the theory first and then move on to practice questions.
Read legal theory: torts, constitutional law, and criminal laws.
Focus on improving your language skills.
Prepare well on legal terminologies and foreign phrases.
Every 15 days, do your revision to remember whatever you have studied.
Follow the order like Principle-Fact-Option-Double check the language of the correct option with principle and mark for solving questions.
How to Prepare English for CLAT and AILET?
Read the following pointers to prepare English for CLAT and AILET.
A good vocabulary and reading skills play an important role in cracking the section with a high score.
Getting a grip on grammatical rules would be best, as this will help you tackle error detection-based questions.
For reading comprehension, ensure to read the given passage carefully and proceed to answer the questions.
Practice more and more

Question Papers for CLAT Exam

to get an idea about the difficulty level of questions.
How to Prepare for General Knowledge and Current Affairs?
Go through the following tips to prepare for the current affairs for the CLAT and AILET.
Make it a habit of reading daily newspapers to know what is happening across the globe.
Read

Daily Current Affairs

to know the latest issues in various fields.
Do not cram dates or events. Instead, understand why something happened. Get an idea behind these matters.
Watch News Channels for at least 40 minutes per day.
You can also note important dates, events, names of famous personalities, and essential terminologies. This can help during your revision.
How to Prepare for Mathematics?
Refer to the tips mentioned below to prepare for the CLAT Mathematics section:
Solving more and more problems is the trick to cracking this section with a high score.
Learn formulas to attempt the questions easily in less time.
Be thorough with the basic concepts before you proceed with solving any problem.
Attempting mock tests is one of the best to know which type of questions are asked from each section.
Summing Up - Now, you know all the brilliant tips and tricks to prepare for the CLAT and AILET together. Have a separate section-wise approach for Mathematics, General Knowledge, Logical Reasoning, and Current Affairs. Good Luck with your CLAT and AILET preparation! Happy Reading!
"There are no secrets to success, and it is the result of preparation, hard work, and learning from failure."