Most aspirants preparing for the Delhi Judicial Services Exam take the English language as granted, thinking that the language paper doesn't need much attention compared to other law subjects.
But, this is a misconception! In the Delhi Civil Judge Exam, you can expect around 35 questions from this subject, which means 17-18% of the questions paper will have questions from English.
Therefore, having strong communication skills will help you stand out from the crowd and achieve your goal. In terms of preparation, it is easy if your fundamentals are clear and the syllabus is also not vast.
Are you finding difficulty in preparing the English language? Well, this post shall walk you through some tips and tricks that will help you better understand how to prepare English for Delhi Judiciary Exam 2022, best books, and more.
What Can You Expect from English in Delhi Judiciary Exam 2022?
Generally, you can expect English questions both in prelims and mains exams of the Delhi Civil Judge Exam.
In the prelims exams, you will be tested on the following topics:
Grammar-Prepositions, tenses, error spotting, etc.
Vocabulary, Synonyms, antonyms, idioms & phrases, etc.
Download FREE Study Material for Delhi Judiciary Exam by Judiciary Gold
In the mains exam, you will have a separate English language paper where you will be tested on your vocabulary, essay, precis writing, and translation.
The English essay writing mainly depends on two parameters: your command of the language and how much you know about the topic.
Delhi Judiciary English Preparation Tips 2022
Before learning the English preparation tips, you must understand that everyone has a different study strategy and it also depends on how quickly you grasp things.
Imagine, you must have done with all the concepts of English. However, you are making silly mistakes while solving the questions from the previous year's question papers for Delhi Judiciary Exam.
So, here what you need to do is revise all the grammar rules once again and start conversation practice with someone who has good language skills.
Here are a few English preparation tips that you can follow to score well in the upcoming Delhi Judicial Service exam.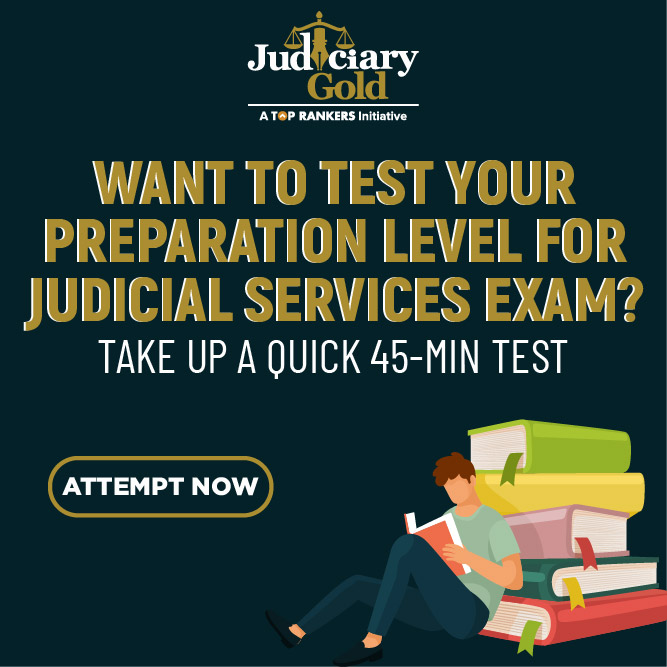 Understand the Exam Pattern
To succeed better in the exam, you must have a clear idea of the Delhi Judiciary Exam Pattern.
It will help you understand the pattern of questions asked in the English language test and marking scheme.
For this, you must look up the previous year's question papers to decode the exam pattern and know the weightage so that you can strategize your path more simply.
Improve Vocabulary
The English language relies heavily on vocabulary. As per the Delhi Judiciary Syllabus, the majority of the questions in the vocabulary part are about synonyms, antonyms, idioms, spellcheck, fill in the blanks, and other related subjects.
Learn at least 20 new English words daily. Note down the meaning of each word you find unfamiliar or difficult to remember. This is the best way to cover Synonymsa nd Antonyms.
Before going to bed, try to write down how your day was altogether in one sentence in English.
Focus on Grammar Rules
Imagine, you meant to write something, but a slight mistake in grammar changed the meaning of your complete sentence.
Remember, grammatical errors can have a massive and negative impact on your marks or a chance of cracking the exam itself. Hence, you must learn all the grammar rules in order to avoid making mistakes in the exam.
Identify the differences between the choices and eliminate those that offer less effective or grammatically incorrect alternatives. This is one of the best ways to enhance your Delhi Judiciary Exam Preparation.
Reading Comprehension
You can score good marks in this section if you do substantial practice and improve your speed. In order to improve the speed, you are advised to read at least one article a day.
Reading the newspaper daily will not improve your reading comprehension skills, but also, helps to improve your General knowledge.
For most of the students, understanding the question won't be tricky. However, solving the question in less time would be difficult.
To score well in this section, you should be able to read at least 220 words per minute.
Make a Habit of Reading Newspaper
Making a habit of reading the newspaper not only helps improve your language skills. But will also help to solve questions quickly in the exam.
The following are some of the tips that will help you better understand how to read the newspaper for the Delhi Judiciary exam.
Start with your area of interest, which means you have to start with the article or the newspaper headline that you like more for one hour.
Newspapers will always have fresh content from different journals by different writers every day. So, the newspaper is one source that you can rely on.
Stay away from a particular type of writing.
The Conversation is the Key!
Whatever form of conversation you are having with your friends or family members, try to have it in the English language.
If you are taking yourself or writing something in your diary, try to avoid writing or talking in your mother tongue. Instead, start talking to yourself in English.
In this way, you can enhance your vocabulary skills and communication skills.
Try to use the new words you learned when conversing with people around you.
How to Prepare English for Delhi Judiciary Exam 2022 - Sample Questions
To help you get an idea about the type of questions asked in the Delhi Judiciary Exam 2022, we have provided a few sample questions that are curated from the previous year's papers.
Along with these questions, you are advised to solve Delhi Judiciary Mock Tests regularly to analyze your preparation levels.
Q) Fill in the blank with the most suitable option:
The words Equal Justice under Law_____above the main entrance to the supreme court.
a) is carved
b) carved
c) has been carved
d) are carved
Q) Identify the part that has a grammatical error. In case the sentence has no error, mark 0 as your answer.
Richard was not sure if (1) he should buy his new cellular phone now (2) or wait till he receives his next bonus (3).
Q) Choose the best option for the underlined part:
When making a cheese cake, only the best ingredients should be used.
a) only the best ingredients should be used
b) you should use only the best ingredients
c) the best ingredients only should be used
d) one should have used only the best ingredients
Q) Find the correct option from the following:
a) a hand that rocks the cradle, rules the world
b) the hand that rocks the cradle, rules the world
c) a hand which rocks the cradle, rules a world
d) all of the above