Have you committed mistakes while filling out the online application form for entrance exams? Have you filled your form for CLAT for Form and have committed some mistakes? Entered wrong details in the application form? Thinking about how to Cancel Registration Form?
Wondering how to correct the application form? Don't worry, we have it all sorted for you. Read through the post that will give you complete details on how to correct details in the application form.
How to Cancel CLAT Registration 2024?
If you wish to cancel the registration form due to some errors then you must know that a few errors can be corrected and you needn't cancel the form. For cancellation, two activities can be done. One can be contacting the authorities and letting them know the reason for cancellation.
You won't get any fee refund in any case, however, if the reason is genuine you can try. For errors that cannot be corrected, you can resubmit a new form which shall encourage the authorities to reject the older application and accept the new one.
There isn't any policy of acceptance of multiple applications by a single student.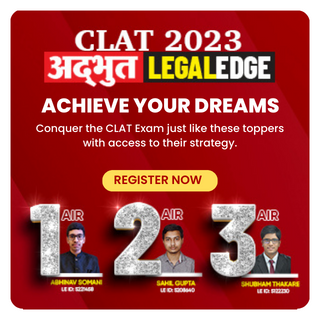 Reasons for Cancellation of CLAT Registration 2024
The following are some of the reasons for the cancellation of your registration form:
Incomplete information in the application form
Application fee not paid within the deadline
A mismatch between the information
Incorrect information provided at the time of registration
Submission of multiple application forms
CLAT Scholarship Test 2024 by LegalEdge - Get up to 100% Off
Is It Possible to Resubmit the CLAT Application Form 2024?
In case if you commit any mistake in the online registration form, you will be required to fill the new application by submitting the fee again.
However, you must make sure not to submit multiple applications. On submitting multiple applications, only the last online submitted application form will be accepted by the authorities and no refund will be provided for previously submitted applications.
How to Correct Errors in CLAT Application Form?
As per the references from the last year, it is not possible to make any changes to the application form after the final submission. Even if the correct window is opened, you cannot edit the form completely.
You will be allowed to edit certain fields only. So, it is advised for all of you to keep an eye while filling the CLAT Registration Online Form 2024.
Note that changes cannot be made into the program, caste category and BPL option after payment is done. In order to make corrections in your application form, you can follow the steps given below:
Visit the Official website of CLAT i.e. consortiumofnlus.ac.in
On the Home page, click on the CLAT 2024 button
Log in to your portal using your Registration ID and password
Click on the "Edit your application form" tab
Make the required changes and "Click" on the submit button
Save the application for future reference