Reader's Digest: Are you aspiring to become a civil judge in MP and looking for guidance? Then you are at the right place. From Exam to Eligibility and Perks to challenges, we have it all here. 
Have you ever wondered what it takes to don the black robe and wield the gavel as a Civil Judge in Madhya Pradesh? Well, you're in the right place!
So buckle up, and let's dive into the common questions on how to become a Civil Judge in MP:
What are the primary eligibility criteria for becoming a Civil Judge in MP?

You'll need a law degree (LLB) from a recognized university between 21-35 years old

How do I apply for the Civil Judge exam in Madhya Pradesh?

Keep an eye on the official website of the Madhya Pradesh High Court for notifications, and apply online when registration opens.

What's the selection process like for Civil Judges in MP?

It's a three-stage process: the Preliminary Exam, Mains Exam, and a face-to-face Interview.

Can you give me a quick overview of the syllabus for the Civil Judge exam?

The exam covers many topics, including the Constitution, Civil and Criminal Law, Indian Penal Code, and more.
MPCJ Selection Process
You plan to plunge into the sea on the voyage of becoming a Civil Judge in MP. You must note down all the steps and processes involved in it.
 The Civil Judge position is usually offered through 2 more: Direct Recruitment and Promotion. You must have the experience to acquire this position via promotion.
While for direct recruitment, the freshers are also eligible to apply if they meet the eligibility parameters set by the High Court/authority responsible for recruitment. 
The recruitment process includes 3 stages: the preliminary exam/screening, the main examination, and the Viva. Once you clear all three of these, you will be offered the position of a Civil Judge in the District Court of Madhya Pradesh.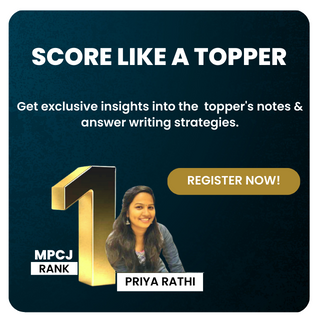 Eligibility Criteria to Become a Civil Judge in MP
Just like any other professional domain, becoming a civil judge also calls for a set of qualities. MP eligibility involves educational qualification, nationality, age as well as experience.
Although the former three are important for direct recruitment, the latter is required for promotional purposes. Now let's have an overview of these parameters in detail. 
Educational Qualification
The best news is that there are no restrictions on the number of chances you may attempt to participate in the Madhya Pradesh Judiciary Exam until you surpass the age cap specified by the Madhya Pradesh Public Service Commission.
This implies that if you are in a general category, you are restricted to participating until age 35, whereas SC/ST members may submit applications until year 38. 
Nationality
Nationalities, like age and qualifications, are important factors in District Judge test qualification in Madhya Pradesh. So, much like the other areas of eligibility, you must use caution. You must keep in mind the following:
You must be an Indian citizen. 
You should not be an NRI; even if you were in the past, you must reclaim your Indian Citizenship. 
Age
The age limit plays a pivotal role in your qualifying and disqualification process. Madhya Pradesh has set a minimum and maximum age limit. The lower limit is 21 years, while the upper age limit is 35 years. However, there is a provision for age relaxation based on the state rules of category reservation.
Let's check the table below to know the Judiciary Exams Eligibility:
| | |
| --- | --- |
| Criteria  | Age relaxation as per MP state laws |
| OBC/SC/ST | 3 years  |
| Permanent/Temporary recruits of MP | 3 years |
| Applicants with Disability  | 3 years  |
Experience
There are no formal requirements for expertise for appointment as a District Judge in Madhya Pradesh. As a result, anyone recently earning their graduation (LLB) is just as qualified as those working as advocates.
Nevertheless, you must register with the state bar association, or the nomination may be withdrawn. However, if you are looking forward to acquiring this position via the promotion path, you must have at least 7 years of experience. 
Number of Attempts in MP Civil Judge Exam 2023
In this regard, the information is that there are restrictions on the total number of chances you may attempt to take part in the Madhya Pradesh Judiciary Exams.
Hence until you go over the age cap specified by the Madhya Pradesh Public Service Commission, you can make 6 attempts to qualify for this examination.
Also, if you are in the Regular category, you can only participate until age 35, whereas SC/ST voters are eligible until age 38. 
How to Apply to Become a Civil Judge in MP?
Every examination process begins with an application. So if you want to participate in the Civil Judge Examination in MP, you need to know the application process.
MP Judiciary Application Form consists of four phases: signing up online, completing the application form, attaching documentation, and depositing the application cost.
You need to initiate the process with the one-time registration. 
Now begin your Application process by clicking on the "Apply" button. 
You will be sent to another page with an enrollment option on your right.
Click that link and enter the data that is required.
Please give a valid cellphone number and email address since any future information will be sent to the mobile phone number registered and e-mail address.
Don't be hurried; type carefully to prevent mistakes because you can't alter this data afterwards.
Double-check the information you entered in the submission form before hitting the last "Submit" button to prevent rejection.
Then, on the form for registration, you must upload a few papers.
The last phase is to make the payment.
Notes: The Application amount differs from category to category. It means everyone doesn't have to pay the same amount for an application. For instance, the General, EWS, and OBC must pay INR 1047/-. While the SC, ST, and PwD must pay INR 647/- .
Exam Pattern to Become a Civil Judge in MP
The selection process includes three stages, the Screening, the mains, and the interview. All these stages have their pattern and separate Judiciary Exam syllabus. You must deal with all of these to qualify for the examination. 
Judiciary Exam Syllabus for Preliminary Paper
| | |
| --- | --- |
| PCS J Syllabus  | Number of Questions |
| Indian Constitution  | 10 |
| Civil Procedure Code,1908 | 15 |
| Transfer of Property Act, 1882 | 7 |
| Limitation Act | 6 |
| Specific relief act | 8 |
| Accommodation Control Act, 1961 | 4 |
| Land Revenue Law (MP) 1959 | 5 |
| Indian Evidence Act 1872 | 5 |
| IPL (Indian Penal Code) 1861 | 15 |
| Code of Criminal Procedure, 1973 | 15 |
| Instruments Act (Negotiable), 1881 | 5 |
| GK | 20 |
| IT & Computer  | 10 |
| English language and Comprehension  | 10 |
Notes: You will be given 150 minutes to solve these Questions. 
Judiciary Exam Syllabus for Mains Paper
| | | |
| --- | --- | --- |
| Paper 1 (Civil Law and Procedures)  | Paper 2 (Essay and Writing)  | Paper 3 (Criminal Law and Procedures) |
| Specific Relief Act, 1963 | Essays (On social & Legal issues) | IPL (Indian Penal Code) 1861 |
| Contract Act | Precis Writing | Code of Criminal Procedure, 1973 |
| Inheritance and Transfer of Property Act, 1882 | Translation ( Hindi-English & English-Hindi) | Instruments Act (Negotiable), 1881 |
| Civil Procedure Code 1908 | - | Accommodation Control Act, 1961 |
| Indian Constitution | - | Land Revenue Law (MP) 1959 |
| Limitation Act, 1963 | - | - |
Judiciary Exam Syllabus for Interview Paper
The total weightage of the interview round is 50 marks which will be added up to your main examination score.
The merit list will be prepared by combining both scores, and the selection will be made accordingly. 
Preparation Strategy to Become a Civil Judge in MP: Tips & Tricks
When planning an examination, you must take the right path and adopt a strategy for cracking the examination and making the Judiciary preparation process more impactful. Here are some toppers tips for you. 
Concentrate on information built around data and statistics: 
The Prelims assessment is an MCQ-based question, with queries based on data and statistics. 
So, rather than reading extensive texts, collect all the information and figures since they tend to be more significant. 
Persistence will assist you in going a long way: 
Invest at least 8-9 hours daily on the prep work without any large breaks. 
It will assist you in maintaining sobriety in the preparation and helps cover the curriculum.  
For solving your prelims test, use the recommended elimination method:
In the preliminary round, you will be given four choices for every question. The ideal strategy to answer such queries is to find the best rather than the perfect response. 
Learn to comprehend the circumstances of the question and use an elimination procedure to select your response. It will lower your likelihood of marking incorrect responses. 
For the mains, practice drafting rigorously:  
Long-form questions will be on your Mains paper. Your writing abilities and knowledge will determine the rating you receive. Your drafting ability will be scrutinised in the PCS J Mains.
 You must also be extremely fast. So, write daily to strengthen your writing abilities and essay drafting procedures.
Practice different forms of writing:
Based on the questions in the examination, you may be required to incorporate a descriptive, narrative, critical, or analytical form of writing in the Mains. 
Also, well-drafted fusion writing is usually appreciated. As a result, practice diverse types of writing to ace your Mains and language papers. 
Utilise mock tests regularly: 
Mock tests, as we have emphasized multiple times, can greatly impact your preparations. Think about mocks. 
Analyze your preparations, strengthen your weakest link, retry, and win. 
Also, don't forget to practice the previous year's questions because they will lead to questions in your forthcoming exams. 
Interview Preparation to Become a Civil Judge in MP: Useful Tips
Here are some tips to prepare for an interview for the Civil Judge Examination:
Improve your self-esteem and communication abilities:
Presenting a cool, composed, and relaxed attitude in the interview process will show that you can deal with every scenario in a legal setting. 
You must also have an excellent speech for your speech to be persuasive. These characteristics will position you as a legal expert.
Improve your social cohesiveness skills:
Social cohesion refers to the durability of associations and solidarity among congregational members. 
Instilling an attribute of social cohesiveness will assist you in establishing yourself as someone who understands how to develop relationships and can operate amicably without big problems.
Maintain good body language : 
Our body is the primary nonverbal communication tool. Hence, you must maintain a good body posture and confidence during your interview. 
To express your points, sit up straight ahead, make eye contact, and utilize suitable gestures. Resist trembling, bending over, or folding your arms, as these behaviours may indicate uneasiness or defensiveness.
Ace current national and international events:
Keep abreast of all the national news or events relevant to the region you appear in.
You should also be familiar with the seminal case statutes of the Supreme Court and the High Court under which you will appear for the face-to-face round. 
Practice some personal and skill-based questions: 
Interview rounds often begin with the personal question round and sometimes upon the skill you have acquired. Hence, you need to practice those questions as well. 
Common Interview Questions 
Personal 
Gentlemen, could you introduce yourselves?
Please tell us about your family's heritage.
What inspired you to pursue a civil/criminal justice profession?
What made you believe you're eligible for this job?
What are your strong and weak points, and how have you addressed them?
Professional 
What are the grounds for granting or denying bail?
What is the intended use of 22A CPC?
In India, how can an overseas judgment be implemented?
How can the legal system offer preventive relief?
When is it OK to ask the leading question?
Career Prospects After Becoming a Civil Judge in MP
The career of a civil judge follows a positive growth trajectory. It has multiple scopes and opportunities once you acquire the position of a Civil Judge at the District level.
So how can you grow your career as a civil judge? The promotion follows the sequence given below:
Civil Judge (Junior)➡️ Civil Judge (Senior)➡️ District Court ➡️ High Court ➡️ Supreme Court
Also, Civil Judges are responsible for upholding law and order and ensuring that justice prevails in the court and everyone is treated equally in front of the law and legal system.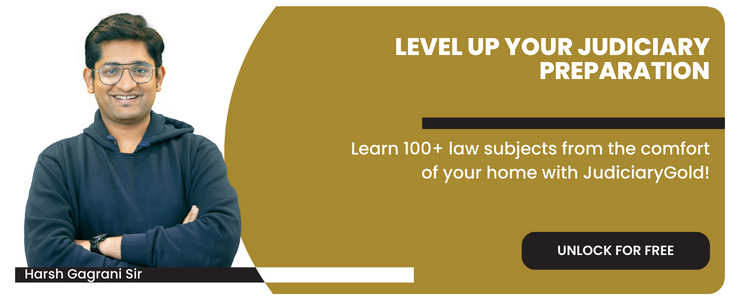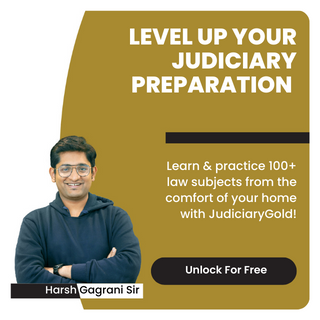 Conclusion
This blog encapsulates all the information on how you can become a civil judge in Madhya Pradesh. You can have an overview of the syllabus, exam pattern, examination preparation tips, and whatnot. Therefore we wish you to crack this Civil Judge Examination and acquire your dream job. Good luck!! 
Law is not law if it violates the principle of Eternal Justice  - Lydia Maria Child