Summary: The strategy for cracking IPMAT 2024 differs for 12th-appearing and 12th-passed-out students. The strategy is almost the same, but the time you need to invest in the preparations varies. Here you will clearly understand how the two strategies are different from each other.
Being an IIM aspirant is tough, as you have to go through rigorous hard work and grinding to achieve your goal finally. IIMs are not for the ones finding excuses not to prepare; it's for the people who dedicate each of their second thinking and preparing for the exams.
The term 'IPMAT 2024 strategy for droppers Vs. Freshers are not a subject of debate, but they explain the strategy differences between each set of students. Here we will learn how a fresher needs to prepare for IPMAT and, on the other hand, how a dropper needs to prepare for the IPMAT exam.
So without wasting time, let's dive into the deep understanding of the differences in the strategy for freshers and droppers for IPMAT 2024.
Factors Affecting the Strategies
While you are in different stages, the overall preparation strategy would be slightly different than the other. Mostly the students appearing for 12th have an advantage in that they are already familiar with the core subjects. However, the droppers have the advantage that they can easily cover the core subjects having extra time in their hands.

Time in Hand
Time is the biggest factor initiating the major difference between the freshers and the droppers.
Freshers- There is a vast difference between the time a 12th-appearing student have and a 12th-passed-out student has.
Students who are going to appear for the 12th board exam and simultaneously prepare for the IPMAT exam will definitely have less time to prepare for the IPMAT exam. Due to classes, tuition, and assignments at home, they can hardly pull out 2-3 hours for the preparations.
It is advised for 12th students not to look at the small number on a daily basis; instead, look at the bigger picture that they have 20-25 hours per week to prepare for the IPMAT exams. This will also help them regain their confidence.
Droppers- Students who have passed out of 12th and are preparing for the IPMAT examination have enough time to dedicate to IPMAT preparations. Mostly they attend coaching classes; rather than that, they do not have any other tasks for the day, so they can easily dedicate 8-10 hours to the day.
Looking at the bigger picture, they will have almost 50-60 hours a week to prepare for IPMAT exams.
Course Completion
Without your courses being complete, you won't be able to fully utilize the time you have.
Freshers- Looking at the time available for you per week, what should be the priority for a fresher? As the exam is tough, having a look at the weightage of the topics, you can create a plan with high weightage topics as a priority. Before the end of January 2024, you should be conceptually clear, practice a lot, and clear all your doubts. At this point, you need to aim for a 40% syllabus that consists of 70% weightage. Then your preparation is on the right track.
Droppers- As a dropper with ample time per week, prepare a plan that will cover the entire syllabus covering all the topics in it. Till the end of January 2024, you aim should be to complete atleast all the syllabus for Maths and English. If you are able to achieve so, you are on the right track.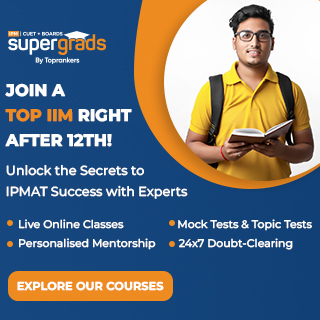 Study Material and Resources
Study materials and external resource plays an important role in the preparation process.
Freshers- Even if you are attending classes for 12th, you are somehow boosting your preparations for IPMAT. Rely on the class notes, worksheets, and whatever books you refer to. Do not refer to many resources for your studies, as one reference book is enough to help you. Going through lots of reference books will eventually confuse you without any help.
Droppers- For droppers, you need to follow the same pattern as the freshers. Apart from that, you have an extra amount of time compared to the 12th students, so you should take up the responsibility to aid your preparation with least referring to two reference books simultaneously. Especially for maths, you should do a lot of practice referring to Arun Sharma's book.
Testing
Testing is a vital role in analysing your overall preparation and performance.
Freshers- This is the most important part of your preparation. In order to analyze your preparations and determine the weak points and your progress, you need to constantly attempt the previous year's papers, mocks, and test series.
For 12th students, you need to focus more on the part test(topic test) and sectional test(like Maths, LR, English, etc.). Due to the time limitation, students can not attempt mocks frequently however, you should try attempting mocks once or twice a month.
Droppers- For the droppers, the mocks are even more important, and as they have probably attempted the exam once, they are also aware of the pattern and question types.
The constant practice of part and sectional tests is compulsory for droppers but at a higher frequency than the freshers. Apart from that, you must attempt full-length mocks more often, mostly once a week, as you have more time in hand than the freshers.
Feb-May Strategy
During this crucial month, the 12th fresher and droppers and create a major gap between their preparations.
Freshers- During this month, the freshers are mostly occupied by the board's preparation and series of exams. So they will probably be unable to dedicate even the 2-hour time for IPMAT preparations, which is normal. During that time, at least dedicate one hour for practice and revisions or pick up easy topics left out earlier. Also, try to stick to your strategy of attempting mocks monthly.
After the 12th board, you will suddenly have enough time, expectedly 40-50 days, and you can dedicate all the time to IPMAT preparation. Do accelerate to full throttle during this time, which is crucial for your final preparations. Utilize each and every second for your preparations.
Droppers- Droppers during this month should accelerate their preparation pace with revisions, clearing any doubt regarding any concept and attempting lots of mocks. Go through a thorough revision process to clear out each and every topic.
While 12th students are busy with their boards, take advantage to get a step ahead and boost your preparations. In the last months, stop revising, attempt only mock tests, and keep analyzing your scores after each and every mock test.
Conclusion
Now you must be clear on how a 12th student should approach the IPMAT exams Vs how a dropper student should approach the IPMAT exams. This difference is mainly focused on the time difference both the category of students have and helping them understand the respective set of preparation strategies they must go through to clear the IPMAT exams successfully. Regarding preparation, SuperGrads is the pioneer in management entrance coaching and has helped hundreds of students get into their dream college, IIM. With the best faculties, advanced amenities and clear vision, SuperGrads is one of the best coaching institutes in India one can opt for.