Do you want to pass the CUET 2023 test and then go on to get a B.S. or M.S. degree in Physics as part of your post-secondary education? If this is the case, it is absolutely necessary to maintain an up-to-date knowledge of the CUET 2023 Physics syllabus and study according to it.
The CUET syllabus 2023, which is managed by the National Testing Agency, features a methodical organization of both practical and theoretical subject matter in a logical progression.
You have to familiarise yourself with all the important areas to succeed in the CUET 2023 examination with excellent scores and gain admission to prestigious central institutions. You will get knowledge regarding the CUET UG 2023 Physics syllabus as well as its examination format by reading this post.
You should create a study plan tailored to the curriculum and the test format.
Download Free Study Material for NTA CUET Exam 2023 by Super Grads
What exactly is CUET?
The Common University Entrance Exam, or CUET for short, is a test that is administered all throughout India to determine which students would be admitted to various levels of study, including undergraduate, graduate, integrated, certificate, and diploma programs.
The National Testing Agency (NTA) will manage the examination as an independent and self-sufficient testing institution.
The examination will allow candidates to enter institutions that are participants in the CUET, including Central and Private universities. It will be carried out in a total of thirteen different languages.
The CUET examination will be divided into three sections:
Section IA
Section IB
Section II, and Section III.
The language exam is included in Sections IA and IB, the test of knowledge specific to the area is in Section II, and Section III will consist of a general test.
There are 27 different domain specificity topics covered in section II. As a means of assisting the applicants who have selected Physics as one of their domain topic options, the focus of this post will be on CUET 2023 Physics and the issues that are connected to it.
The National Testing Agency (NTA) has included physics as one of the 27 domain disciplines that will be tested in the CUET 2023.
The Physics exam will consist of a total of fifty questions in its multiple-choice portion.
Candidates will be given the opportunity to answer forty questions worth five marks; incorrect responses will result in a deduction of one mark. The NTA will distribute a physics curriculum, and all the questions will be multiple choice or objective style questions based on that CUET syllabus.
When doing the preparation, one must remember to begin with the most crucial themes at all times. The CUET 2023 Physics curriculum covers a lot of ground.
You could have trouble determining where to begin the CUET application process. In light of this, we have outlined below the CUET 2023 Physics Important Topics and their respective weights and strategies for preparation.
CUET 2023 Physics Exam Study Guide
In this part of the post, we will concentrate on several suggestions for the preparation process.
The candidates will be able to develop an efficient preparation approach for the CUET 2023 Physics domain by following the hints that are provided below:
Acquaint yourself with the CUET Physics Syllabus
It is important to grasp the CUET Physics Syllabus. If one has a complete comprehension of the course outline, they will be able to determine what they should read, what they are supposed to learn, and how they should study it. Several colleges offer bachelor's in Physics, for which you must prepare by referring to the CUET syllabus for B.Sc Physics.
Aside from that, you will learn which topics are the most vital to address, which issues are less significant, and which topics have not been explored previously. In light of this, you will be able to begin your preparation.
Make a plan for your studies
After the course outline has been read and comprehended, one should begin to formulate a study plan. It is necessary to design it to consider the available time, the curriculum, the student's current level of comprehension, and any other activities.
Always begin by learning about brand new topics and then move on to practicing a wide variety of questions based on those themes.
Only once the majority of the topics have been mastered, and the structure of questions has been comprehended will the mock examinations be administered.
Make Some Quick Notes
Make quick notes while you're studying.
Take notes on the essential ideas and briefly describe the factors that underlie them.
Including answers to topics that are regularly inquired about in the brief notes will bring about an additional advantage.
When it comes to the editing process, it would be beneficial.
Participate in Mock Examinations
You may get the CUET Mock Test 2023 on the NTA's website at https://www.nta.ac.in/Quiz.
One is able to participate in further online mock exams as well.
Participating in the practice exams is a great way to understand the material better.
In addition to that, applicants will have the opportunity to identify their weaknesses and strengths and adjust their degree of preparation accordingly.
Check: SuperGrads CUET Scholarship Test
Develop Time-Management Skill
The only method to improve one's ability to manage time effectively is to practice solving sample problems. One may learn new things and increase their speed and accuracy while working through the exercises.
There is no correlation between studying hard and remembering what you've learned for the CUET 2023 Physics exam and achieving a high mark. It also is contingent on the manner in which the answers are completed within the allotted time. As a result, the management of one's time also needs to be a primary concern.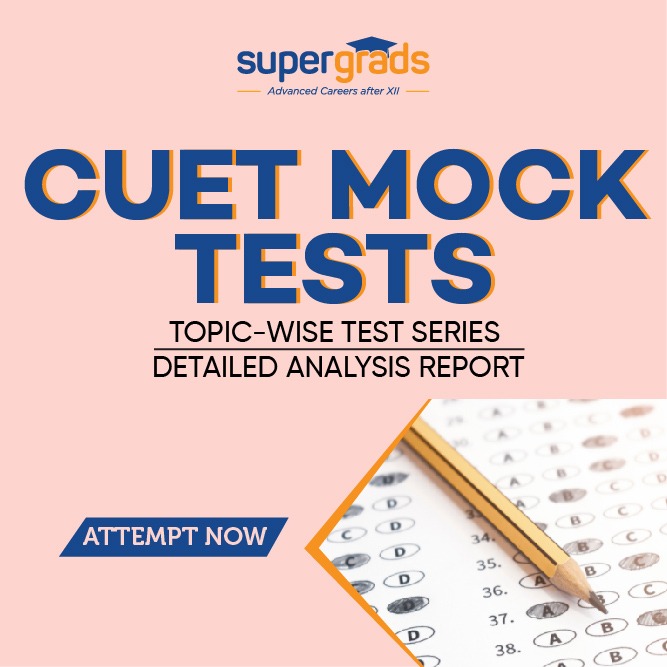 CUET Physics Syllabus
Note: There will be one Question Paper with 50 questions, out of which 40 must be attempted.
Unit I: Electrostatics
Charges for electricity and its conservation. Coulomb's law - force between two point charges, the force between numerous charges, the superposition principle, and continuous charge distribution.
Electric field, electric field resulting from a point charge, electric field lines; electric dipole, electric field resulting from a dipole; dipole torque in a uniform electric field.
Electric flux, formulation of Gauss's theorem, and its applications to determine the field due to an indefinitely long straight wire, an infinitely charged plane sheet, and an infinitely charged thin spherical shell (field inside and outside).
Electric potential, potential difference, electric potential resulting from a point charge, dipole, and system of charges; equipotential surfaces, the electrical potential energy of a system of two point charges, and electric dipoles in an electrostatic field.
Conductors and insulators, as well as free and bound charges, can be found within a conductor. Dielectrics and electric polarization, capacitors, and capacitance, series and parallel combinations of capacitors, the capacitance of a parallel plate capacitor with and without dielectric material between the plates, energy stored in a capacitor, Van de Graaff generator.
Unit II: Electrical Current
Electric current, electric charge flow in a metallic conductor, drift velocity and mobility, and their relationship to an electric current; Ohm's law, electrical resistance, V-I characteristics (linear and non-linear), electrical energy and power, electrical resistivity and conductivity.
Carbon resistors, color coding for carbon resistors; series and parallel combinations of resistors; resistance temperature dependency.
Internal resistance, potential difference, and electromotive force of a cell, series, and parallel cell combinations.
The laws of Kirchhoff and their straightforward applications. Wheatstone bridge, meter bridge.
Principle and applications of the potentiometer for measuring potential difference and comparing the electromotive forces of two cells; measurement of the internal resistance of a cell.
Unit III: Magnetic Effects of Current and Magnetism
The magnetic field concept and Oersted's experiment. The application of the Biot-Savart law to a current-carrying circular loop.
The application of Ampere's law to indefinitely long straight wires and straight and toroidal solenoids. Force exerted on a moving charge in magnetic and electric fields of uniform uniformity. Cyclotron.
The force exerted on a conductor carrying a current in a uniform magnetic field. Force exerted by parallel currents
transporting conductors – ampere's definition. Torque is experienced by a current loop in a magnetic field, the current sensitivity, and conversion of a moving coil galvanometer to an ammeter and voltmeter.
The current loop is shown as a magnetic dipole and its magnetic dipole moment. The magnetic dipole moment of an electron that is rotating. Magnetic field strength is along and perpendicular to a magnetic dipole's axis (bar magnet). Torque on a magnetic dipole (bar magnet) in a homogenous magnetic field; bar magnet as an analogous solenoid, magnetic field lines; Earth's magnetic field and magnetic components.
Examples of para-, dia-, and ferromagnetic compounds Electromagnets and the factors that influence their strengths. Permanent magnets.
Unit IV: Electromagnetic Induction and Alternating Currents
Magnetic induction; Faraday's law; induced emf and current; Lenz's law; Eddy currents. Individual and mutual induction.
Alternating currents, peak and RMS value of alternating current/voltage; reactance and impedance; LC oscillations (qualitative treatment only), LCR series circuit, resonance; AC power, wattless current. AC generator and transformer.
Unit V: Electromagnetic Waves
The requirement for displacement current. electromagnetic radiation and its properties (qualitative ideas only). The longitudinal character of electromagnetic waves.
The electromagnetic spectrum (radio waves, microwaves, infrared, visible, ultraviolet, x-rays, and gamma rays) as well as basic information regarding its applications.
Section VI: Optics
Light reflection, spherical mirrors, and the mirror formula. Refraction of light, total internal reflection and its uses, optical fibers, refraction at spherical surfaces, lenses, the formula for the thin lens, and a formula for lens maker. Magnification, lens power, and the combination of thin lenses in contact with a lens and a mirror to create a contact lens. Light's refraction and dispersion through a prism.
Dispersion of the sky's light–blue hue and the reddish look of the sun during sunrise and dusk.
Optical instruments: Human eye, image production and accommodation, lens-based treatment of visual abnormalities (myopia and hyperopia).
Microscopes and (reflecting and refracting) astronomical telescopes and their magnification powers.
Optics and waves Using wavefronts to explain Huygens' principle, reflection, and refraction of a plane wave at a flat surface.
The rules of reflection and refraction are demonstrated using Huygens' concept.
Interference, Young's double-hole experiment, and the equation for fringe width, coherent sources, and persistent interference of light.
Diffraction is caused by a single slit, central maximum width.
Understanding the capabilities of microscopes and astronomy telescopes Polarization, plane polarized light, Brewster's law, plane polarized light applications, and Polaroids.
Unit VII: The Dual Nature of Matter and Radiation
The photoelectric effect, the observations of Hertz and Lenard, and Einstein's photoelectric equation – the particle nature of light.
Matter waves - particle-wave nature, de Broglie connection. Davisson-Germer investigation (experimental details should be omitted; only the conclusion should be explained.)
Unit VIII: Atoms and Nuclei
Alpha - particle scattering experiment; Rutherford's atomic model; the Bohr model, energy levels, and the hydrogen spectrum. Nucleus composition and size, atomic masses, isotopes, isobars, and isotones.
The properties of alpha, beta, and gamma particles/rays; the law of radioactive decay. Relationship between mass and energy, mass defect; binding energy per nucleon and its dependence on nucleon number; nuclear fission and fusion.
Unit IX: Electronic Devices
Energy bands in solids (only qualitative concepts), conductors, insulators, and semiconductors; semiconductor diode – I-V characteristics in forward and reverse bias, diode as a rectifier; I-V characteristics of LED, photodiode, solar cell, and Zener diode; Zener diode as a voltage regulator. Transistor junction, transistor action, and transistor characteristics; the transistor as an amplifier (common emitter configuration) and oscillator. The logic gates (OR, AND, NOT, NAND and NOR). As a switch, a transistor is utilized.
Unit X: Communication Systems
Elements of a communication system (only block diagram); signal bandwidth (voice, TV, and digital data); transmission medium bandwidth. Propagation of electromagnetic waves through the atmosphere, the sky, and into space. Required modulation The generation and detection of an amplitude-modulated signal.
Exam Format for the CUET 2023 Physics Exam
The following is a summary of the most important aspects of the test format for the CUET 2023 Physics:
The first portion will consist of 25 questions that test either your verbal skills or your ability to understand language.
The second question will contain a total of 75 questions based on the undergraduate physics curriculum.
Each of the questions in the two parts will be worth a total of four marks.
Every incorrect response will result in the loss of one point.
There will be no mark given for any questions left unanswered.
Conclusion
In conclusion, the CUET 2023 test pattern consists of three portions for the undergraduate program and two sections for the graduate program.
For students to be admitted to the school of their choice, they have to pass all the individual tests and do well on them. The 10 modules that make up the CUET 2023 Physics syllabus cover concepts that were previously covered in the 12th syllabus.
Because the topics are the same as those covered in the 12th-grade curriculum, students can begin their preparation for the CUET 2023 Physics examination as early as the plus two levels and become proficient in the fundamental ideas well in advance. Students who begin preparing for the CUET as soon as possible will have enough time to go over the content a second time.