Summary: Get access to CUET Last Week Strategy for General Test 2024 prep tips and important GT questions in this article.
As you know, the General Test is a crucial part of the exam, containing maximum marks amongst all the three sections in CUET. Top universities like DU encourage every student to write the general test for DU UG admission, although it is not compulsory for all UG programs.
You are not expected to mess up this section at any cost.
And that is why we are here with last week's preparation strategy for General Test.
The video below gives an insight into CUET Last Week's Preparation Strategy for General Test 2024!
"Watch the Youtube video for CUET Preparation with SuperGrads hosted by Mayur Sir, explaining the CUET Last Week Strategy for General Test 2024."
CUET Last Week Strategy for General Test 2024
The CUET last week strategy for General Test will help you ace the exams with flying colours. Our expert faculty devise the strategy below for CUET Last Week Strategy for General Test 2024-
Sample Mock Released by NTA - You will find the official notification for the sample paper released by NTA. You will find the released information on the left-hand side in the Public Notice section. Try solving the paper.
As per the new CUET exam pattern, there will be a total of 60 questions, of which you have to attempt only 50 questions.
You will be provided 60 minutes for the General Test section. The sample paper clearly reveals, per the CUET syllabus, that there will be 30 questions appearing from Current Affairs and GK. Current affairs must be prioritized.
The Logical Reasoning section consists of 23 questions.
The last one is the Quantitive Technique consisting of 22 questions.


Try to solve the Mock Test released by NTA to get an overview of what you can expect in the exam.
Purchase separate series for CUET General Test Mock and solve them to expand your knowledge.
We have a series of videos covering a wide range of topics for Logical Reasoning on the Supergrads CUET Youtube.
Check: CUET Coaching 2024
Here are CUET Last Week Strategy for General Test 2024 -
1. Revise Current Affairs of the Last 6-8 Months During The Last Week
It is not necessary to go through everything but do try to cover as much as possible during the last few days.
You can take the help of

GK Today

and ensure to watch as many videos as you can

.

SuperGrads is dedicated to creating a series of Current Affairs videos where we will discuss all the daily CA in detail.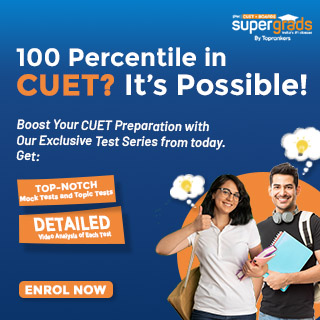 2. Logical Reasoning Concept
One of our best faculty, Nikhil Sir, has covered the logical reasoning part in a very informative way.
Try to clear the concepts of LR.
Refer to our Youtube Channel - Supergrads CUET.
3. Attempt Loads of Mocks
It is crucial to take many mocks.
This is due to the fact that you only have 60 minutes to attempt 50 questions, and only through practice will you be able to accomplish this.
Through our website Toprankers, you can conveniently purchase practice exams and attempt free mocks as well.
Be sure to complete as many CUET general test practice papers as you can.
Check: Tripura University CUET Exam Pattern 2024
4. Lastly, revise, revise and revise!
The CUET last week's strategy for General Test will be your ultimate weapon for excelling in General Test papers, and that is through revision.
CUET Last Week Strategy for General Test 2024 Sample Questions for Practise
1. Who is the author of Wings of Fire?
Ans. APJ Abdul Kalam
2. Which of the following is not the state:
(a) Manipur
(b) Ladakh
(c) UP
(d) Gujarat
Ans. b
3. When did the Quit India Movement happen?
Ans. 1942
Check: CUET General Test Syllabus
4. A man walks 5 km toward the South and then turns right. After walking 3 km, he turns left and walks 5 km. Now
in which direction is he from the starting place?
(a) West
(b) South
(c) North-East
(d) South-West
Ans. d
5. Who wrote Panchvati?
Ans. Maithili Sharan Gupt
Check: CUET Colleges
6. Where is Kanha National Park Located?
Ans. Madhya Pradesh
7. City and their nicknames (match the following)
(a) Jaipur–Golden City
(b) Nagpur–Pink City
(c) Jodhpur–Orange City
(d) Amritsar–Blue City
Answer:
Jaipur – Pink City
Nagpur – Orange City
Jodhpur – Blue City
Amritsar – Golden City
Check: CUET Counselling Process
8. All students of a class are standing in a line. A is 21st in order from both ends. How many boys are there in the class?
(a) 31
(b) 41
(c) 40
(d) 30
Ans. b
9. Who is the founder of ISRO?
Ans. Vikram Sarabhai
10. Area of a rhombus is 63 square cm. If the length of one of the diagonals is 9 cm, find the length of the other diagonal
Ans. 14 cm
Check: CUET Courses
Conclusion
Remember, CUET Last Week Strategy for General Test 2024 is about fine-tuning your skills, reinforcing your strengths, and building confidence. A balanced approach to revision and effective time management will enable you to perform at your best on the day of the General Test. Good luck!