Reader's Digest: Are you an aspirant for CUET 2024? Have you chosen Accountancy as your domain? But, worried about how to prepare to get admission into your dream college? Calm down, my friend! Read this article to learn the sure-shot tricks to score 100/100 in Accountancy for CUET 2024. Get insights into the score booster strategies used by CUET toppers and more.
Savvy Tricks to Score 100 Percentile in Accountancy for CUET 2024
Go through the following tricks recommended by CUET experts to gain maximum results in Accountancy.
Change your thinking perspective.
Most aspirants think of a strategy to prepare for the Board exam with CUET, and this is, in fact, not an appropriate approach.
Reverse your thought process. And, think like 'how to prepare CUET with Boards.' Learn to prioritize CUET 2024.
For instance, if you are preparing for the Accountancy domain, study from the perspective of mastering your domain knowledge.
This way, you will be able to score good marks in both CUET 2024 and CBSE Boards 2024.
Start with similar topics.
Each state board has a different syllabus for Accountancy, which leaves thousands of students in the dilemma of preparing for Accountancy as per the syllabus of CUET or the state boards.
In this case, start with the common subjects. The common topics among all state boards for Accountancy are as follows.
Accounting For Partnership Firm
Nature & Valuation of Goodwill
Change In Profit Sharing Ratio
Admission to A Partnership Firm
Retirement of A Partnership Firm Death of A Partner
Dissolution of A Partnership Firm
Issue of Shares
Issue of Debentures
Financial Statement of A Company Financial Analysis
Cash Flow Statement
Accounting Ratio
Understand the CUET exam pattern
Know the latest marking scheme and exam pattern for the CUET 2024.
One of the significant changes in the CUET exam pattern 2024 is that the number of one-markers has increased tremendously.
This will give you a definite path to walk on. You will know how to prioritize and what to prioritize.
GENERAL INSTRUCTIONS for CUET 2024:
1. This question paper contains 34 questions. All questions are compulsory.
2. This question paper is divided into parts A and B.
3. Part-A is compulsory for all candidates.
4. Part B has two options, i.e., Analysis of Financial Statements and Computerised Accounting. Students must attempt only one of the given options.
5. Question 1 to 16 and 27 to 30 carries one mark each.
6. Questions 17 to 20 31and 32 carry three marks each.
7. Questions from 21,22 and 33 carry four marks each
8. Questions from 23 to 26 and 34 carry six marks each.
9. There is no overall choice. However, an internal choice has been provided in 7 questions of one mark, two of three marks, 1 question of four marks, and two questions of six marks.


Study similar topics in both subjective and objective way
Read, study, learn, and practice the topics of Accountancy for CUET 2024 and Boards combined.
For instance, if you are studying the topic 'Cash Flow Statement,' first understand the core concepts.
Practice the subjective questions. Next, go for the objective questions for CUET 2024.
During the revision, do a mix of subjective and objective questions.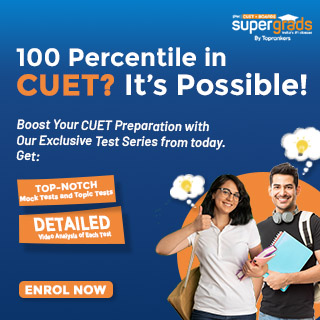 Read the new topics of Accountancy for CUET 2024 at last.
Once you are done with similar topics, go for the new topics of Accountancy.
Refer to the list of the newly added topics as per the latest curriculum of Accountancy for CUET 2024.
Non Profit Organisation
Redemption Of Debentures Comparative & Common Science
Computerized Accounting: Overview Of Computerised Accounting System
Using a Computerised Accounting System
Accounting Using Database Management System
Accounting Application Of Electronic Spreadsheet
Note - Almost 4-5 questions were asked from Computerised Accounting. So, prioritize this topic to maximize your CUET score in 2024.
Practice, Practice, and Practice
The total duration of CUET 2024 is 60 minutes. Out of which, the potential time of attempting the exam is 40-45 minutes.
So, you will have an average time of 60 seconds to attempt each question of the CUET Exam. Plan the questions wisely. Choose the most straightforward topics, firstly.
If your practice is up to the mark, then you will be easily able to choose the best questions to attempt in the CUET Exam 2024.
How to Prepare Accountancy for CUET 2024?
Follow the below-mentioned strategy to ace the Accountancy domain for CUET.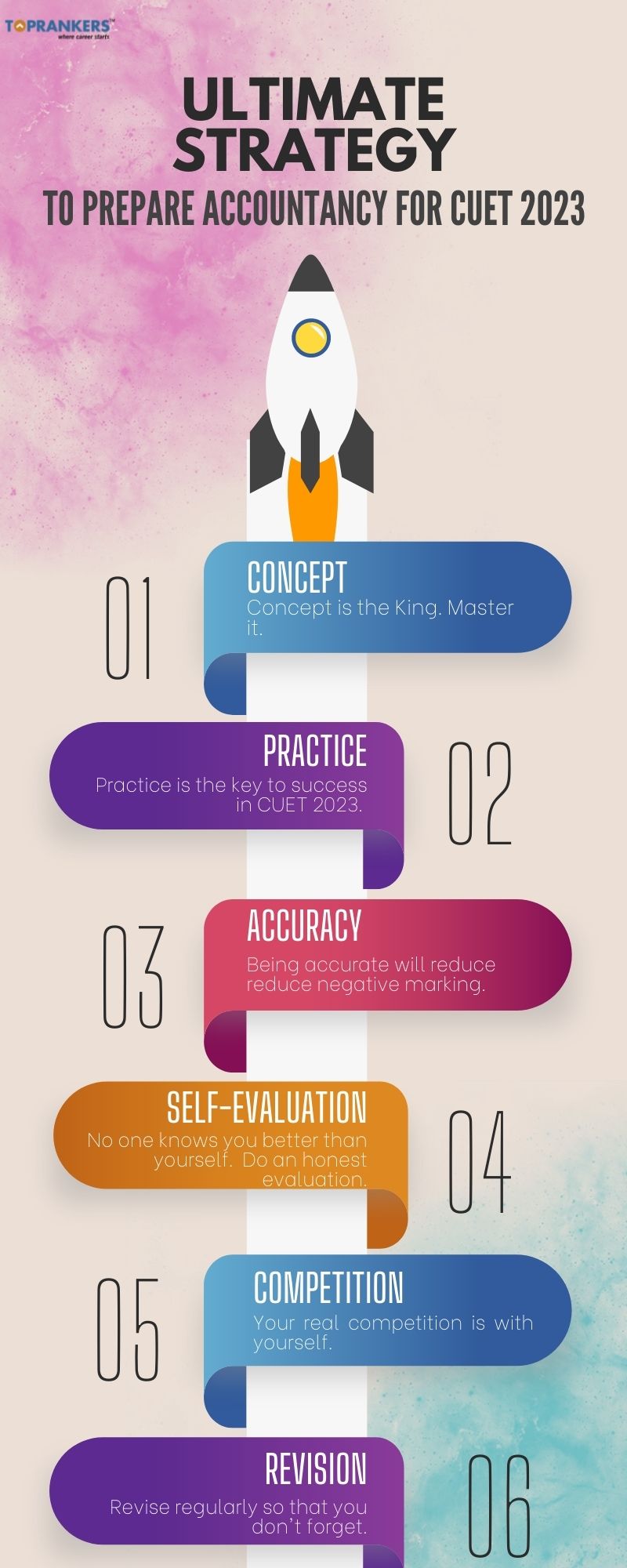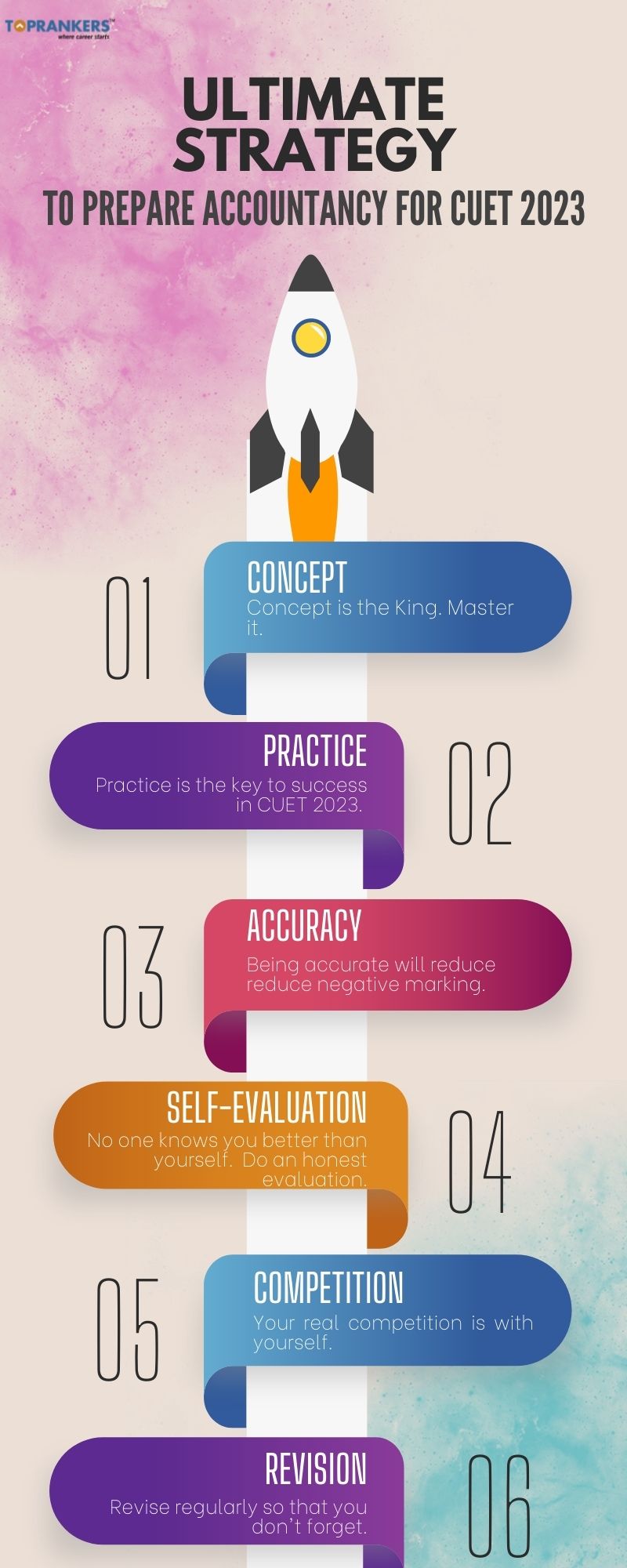 Step 1 - Concept
Focus on conceptual learning. It will enable you to draw useful information from what you have learned and use it to grasp new topics.
It will help you to develop a deep understanding of how the Accountancy concepts inter-relate with each other.
You will be able to build an exemplar that will empower you throughout their CUET and boards preparation.
Step 2 - Practice
Practice various types of questions from the MCQ-type format. More practice will help you in time management.
Practicing regularly helps to maximize the impact of previously learned concepts of Accountancy for CUET 2024.
Practice the mock tests in a real-time exam environment. Strictly adhere to the timings.
Step 3 - Accuracy
Accuracy is essential for success, providing a high level of quality and precision.
Achieving accuracy while practicing questions will give you confidence.
And once you are confident with CUET preparation, you will be able to solve even the most challenging questions with ease.
Step 4 - Self-Evaluation
During self-analysis, you become an active participant in your evaluation.
Your involvement enables you to assess your strengths and areas you need to improve.
Analyze every mock test of CUET for at least 15 minutes. Evaluate your strengths and weaknesses.
Note down or mark the questions in which you repeatedly face the problem.
Step 5 - Competition
All those appearing for the competitive exam are more prone to becoming nervous in the CUET 2024.
Prepare yourself mentally to sit for the examination. Acquaint yourself with exam day instructions.
Do not stress over what you have not studied. Try to be calm and composed.
Step 6 - Revision
During revision, students have the opportunity to reflect on what they've written. It is through revising that we learn about the craft of writing.
When revising a piece conceptually, students must be able to reflect on whether their message is aligned with their writing goal.
Revision is the ultimate game-changer that will help you admit to your favorite college.
How to Reach the Goal of Scoring More in Accountancy for CUET 2024
Your goal is to maximize your score in the domain of Accountancy. Follow the points mentioned below to reach your target destination.
Begin - Start your preparation as soon as possible. Don't delay the CUET preparation until later than October.
Selection - Decide who you want to study. Prioritize the most scoring and frequently asked topics in CUET Exam. Select the best study resources.
Clarity - Clear your concepts because the concepts are the king.
Consistency - Being consistent means dedicating yourself to your study goals, staying focused on scoring the minimum cut-off marks, and finally making it to the final merit list for the CUET Exam.
Believe - Believe in yourself. You know that you have done hard work and will definitely succeed.