Summary: When the CLAT PG paper's difficulty level is relatively high, company law sections become the deciding factor of your score and hold the utmost importance. So, here is an effective CLAT PG preparation strategy for Company Law.
As per previous year's papers, the CLAT PG paper had 10 questions being asked from the Company Law section. On analysis of the paper, it was found that only 4-5 questions were good attempts, and overall the section was difficult.
While you can wish the section might turn out to be easy next year, it's wise to stay fully prepared.
This article helps you with an effective CLAT PG preparation strategy for Company Law.
What to Study in Company Law for CLAT PG?
You do not have to go in-depth about company law from an exam point of view.
What topics and sub-topics are to be covered in company law questions in CLAT PG? These are explained below.
Introduction to Company that includes types of company, definition, number of minimum and maximum membership, company registration and corporation, session requirements, new amendments
Shares and debentures: Difference between them, their overview, and types of shares.
Prepare concepts like MOA, AOA, Prospectus, Inc Association, and Conversion certifications who create the prospectus.
Types of Companies - Private and Public - must be covered.
Even though the Corporate veil is an old topic, questions based on it appeared even in the recent CLAT PG exam.
Directors and meetings - In 2013, one person company was introduced, a female director provision was introduced, relevant sections of the board of directors, and new amendments must be covered.
CSR and Miscellaneous Provision- What actions should be considered a CSR?
Mergers and Acquisitions - It's the most important topic. Keep an eye on the legal issues of the new mergers and acquisitions.
You can study the basics of mergers and acquisitions, winding up, liquidation, the partnership Act 1932, and Limited liability partnership, 2008.
5 Suggestive Tips to ace Company Law Questions in CLAT PG
Company law in itself has a very vast syllabus to cover the entire company law topic.
Most students' major challenge is not knowing what to study from an exam point of view from this sea of syllabi.
So let's check how much you gotta study to ace your company law preparations.
1 - Brief of the subject
Note that you need not cover each and every section/provision-wise in company law.
All you need is to understand the brief overview of the fundamental knowledge.
You might have passages appearing from this section regarding the contemporary case.
Check: Preparation Strategy for Criminal Law for CLAT PG Exam
2 - Major Amendments
Preparing for Major Amendment is extremely important if the major amendment has appeared in any rules, bylaws, or legislation.
3 - Basic Concepts
It is important to understand the basics of MOA, AOA, relevant doctrines, etc. You do not have to study the concepts in depth.
4 - Contemporary Topics
Keep track of the following to prepare for contemporary -
Big mergers and acquisitions challenges
Rules and regulations around mergers and acquisitions
Any fraud or liabilities against the company and its director
Legal GK
Current judgments for agents
NI Act, Company laws for agent r director responsibilities
Understand the overview of the above topics.
Check: Important Concepts of Family Law for CLAT PG Exam
5 - Topics covered in Landmark judgment
Any topic appears in Landmark judgment, for example, Landmark judgment sighted in a contemporary case. In this, you must prepare simultaneously for Contemporary and Landmark judgments simultaneously.
The difficulty level of the Company Law section in CLAT PG 2024
What not do while preparing for Company Law?
Do not skip the section discussed in contemporary judgments of the apex or the high court related to corporate law.
While studying any topic, ensure that you learn and understand the judgment thoroughly, and it's okay not to remember the judgment name if you come across any judgment.
Study the section in detail.
Phases of Preparation for Company Law and An Effective Study Plan
Phase 1 - Books - Gather the right resources to prepare for Company law
Phase 2 - Weightage - Gather the topics to study in order of their priority (or weightage); once you know the topics, set targets to complete studying them.
Phase 3 - Previous Year Papers - Once you cover any topic from company law, start solving previous year/ sample papers having questions related to it.
Phase 4 - Mock Tests - Solve several mock tests and read newspaper articles to learn about recent mergers and acquisitions that might appear under the Company Law section.
Phase 5 - Online coaching - Do not wait until the last moment to decide whether you want to coach. If you need help, make sure you join the coaching classes. Check out the CLAT PG 2024 Comprehensive Course Batch 2.
Note that you can spend 3 months covering the company law syllabus. Do not wait to complete the syllabus to start taking your mocks. Once you complete a chapter, start attempting mocks for the relevant topics.
Check: Best CLAT PG Online Coaching 2024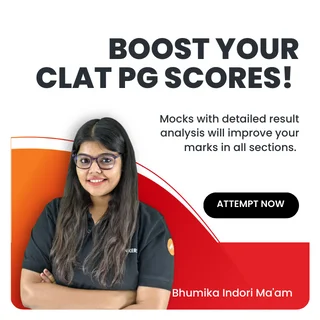 Where to Study CLAT PG Company Law From?
You can rely on the books for company law preparation as the entire syllabus can be covered from the legal subjects of your graduation-level books.
You can refer to CLAT PG books to ace your exam preparations.
If you need further assistance, check CLAT PG coaching services. You receive notes prepared by our experts from LegalEdge after college that will suffice and prepare you for the CLAT LLM exam.
How to Make Effective Revision Notes for Company Law?
Start your preparation with important topics; since company law is mostly about understanding concepts, use codes or short symbols to remember the merges and acquisitions names, etc.
If possible (and it doesn't consume much of your time), try using different colours for different topics. This will help you reach the right topic when you revise.
Write down the steps of how to analyze and solve a passage in the CLAT PG exam.
Lastly, we highly recommend you check out the youtube channel for LegalEdge After College; our experts have developed strategies you can implement to ace your CLAT PG preparation.
You can follow the steps mentioned in the article and also refer to the toppers strategy to ace your Company Law preparations.