The application for the CLAT PG 2023 is now open, and the exam will be conducted on 18 December 2022. Every year, NLUs (The Consortium of National Law Universities) publish guidelines that every student should follow while taking the examination. If you are taking the national level law entrance test, make sure to adhere to CLAT PG exam day instructions 2023 and exam day norms compulsorily.
The applications are open for the CLAT PG 2023, and the exam is scheduled to be conducted shortly. Candidates taking the CLAT exam should adhere to the exam day instructions to guarantee a smooth admission into the exam center.
At the time of the CLAT test, fill out a medical self-declaration document that is linked to your admission card.
CLAT PG Exam Day Instructions 2023 are not to be taken lightly; therefore, read through the entire article to learn about the CLAT 2023 exam day rules, instructions, and more.
CLAT PG Exam Day Instructions 2023
CLAT 2023 will be held offline, and the application has to be submitted online through the official website. The test will be on18 December 2022 from 2 PM to 4 PM. (It is subject to changes)
You should review the code of conduct listed below and adhere to it without fail in order for the law entrance examination to run smoothly.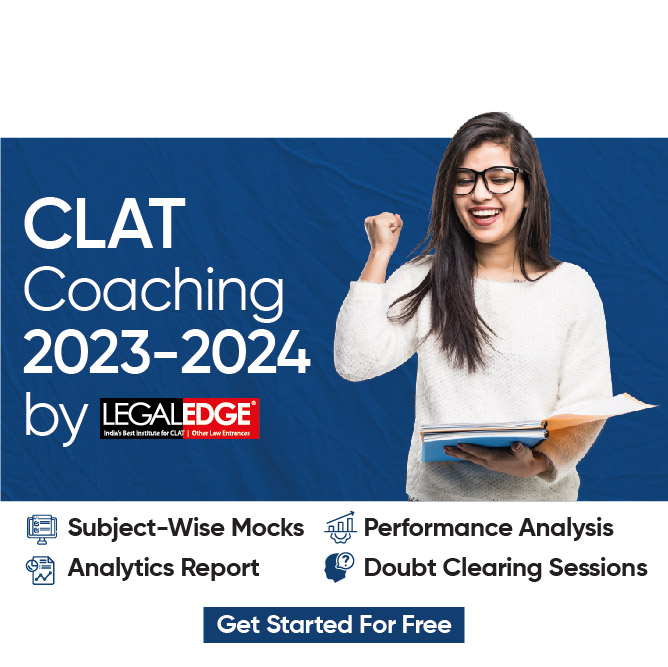 General CLAT PG 2023 Guidelines
At the exam center, candidates must have their CLAT 2023 admit card as well as a government-issued picture ID.
You must abide by all social distance norms and laws and avoid establishing groupings.
You should provide your support to the authorities in order to perform thermal screening and other COVID-related safety measures.
Do not bring any forbidden items, such as electrical devices, smartwatches, calculators, etc.
Enter the premises of respective test centers by 1 p.m. and be seated in your respective seats by 1:30 p.m.
After 2.15 p.m., you will not be able to enter the test hall.
Only after the last long bell at 4 p.m can you exit the test hall.
Ace your preparations with the best CLAT PG online coaching center and take mock tests to know where you stand with your preparations.
Download FREE Study Material for CLAT PG 2023 by LegalEdge After College
CLAT PG Exam Day Instructions 2023: Bell timings during CLAT PG 2023
| | | |
| --- | --- | --- |
| 1:30 pm | Long bell | Candidates' entry into the main hall |
| 1:50 pm | Short bell | Transparent sealed envelopes containing question booklets and OMR response sheets were distributed. At this point, invigilators will also issue vital instructions to the applicants. |
| 2:00 pm | Long bell | CLAT 2023 begins, and candidates can open the sealed packets. |
| 2:15 pm | Short bell | After this time, no candidate will be given entry to the exam hall |
| 2:30 pm | Short bell | Marks the first half hour of the exam |
| 3:00 pm | Sort bell | Marks the first hour of the exam |
| 3.30 pm | Short bell | Marks the completion of one and half hour |
| 3:50 pm | Short bell | The warning bell indicates that only 10 minutes remain before the exam ends. |
| 4:00 pm | Long bell | The test has ended |
You have a few months left for your CLAT 2023 preparations; if you find yourself with little time to prepare, do not hesitate to seek help. CLAT Exam Day Guidelines: Medical Instructions
CLAT PG Code of Conduct 2023
If you are taking CLAT 2023, adhere to the guidelines provided on their admit card and the instructions provided by the Consortium of NLUs on their official website.
CLAT Code of Conduct 2023 will be very similar to the previous year's. Some of the CLAT Exam Day guidelines you must follow at the exam center are as follows.
Before leaving the examination room, write your roll number on the top of the rough page and place it in the drop-box.
You will be excluded from the exam if you are caught copying, receiving, or assisting others.
Bring no electronic gadgets into the examination center.
Avoid conversing in the exam room.
If you test positive and are under medical supervision or in isolation, you will not be permitted to take the exam.
Only essential items such as a mask, gloves, a transparent water bottle, personal hand sanitizer (50 ml), and test-related papers (admit card, ID card, etc.) will be permitted to be brought into the exam hall.
If you find yourself in a short time to prepare for the CLAT exam 2023, do not hesitate to seek help!
Take the LegalEdge After College AISAT 2022 scholarship test to get a discount on the CLAT coaching classes conducted by the experts at LegalEdge after College.
CLAT PG Code of Conduct: Dress Code
You must make every attempt to follow the dress code. If you do not follow the dress code on exam day, you will be rejected on the spot. Last year's dress code guidelines are as follows.
Wearing light clothes eliminates the potential of concealing any cheating material.
It is preferable to wear a half-sleeved blouse or t-shirt with no large buttons or symbols.
You must wear just slippers or sandals, as indicated, and no other shoes are permitted in the testing facility.
Avoid bringing objects that are not permitted in the Examination Center.
Ladies should not wear rings, nose pins, chains, badges, or other jewelry within the exam room.

Following are the things that are not allowed into the examination hall:
Shoes
Burka, Cap, Kurta Pajama
Watches
Sunglasses
Bracelets
Saree (Married or Unmarried)
Full Sleeves Shirt or T-Shirts
Big buttons, brooch/badge T-Shirts
Rings/ Chain/ Necklace etc. (any jewelry or ornaments)
Bangles are not allowed (only married can wear them)
Hair Clips/ Big Rubber Bands etc.
Food products
Items made of metal
Electronic items like cellphones, Bluetooth headphones, headsets, cameras, pagers, microphones, health bands, and other electronic devices are prohibited.
Items such as goggles, handbags, caps, wallets, belts, and so on are prohibited.
Stationery items like Textual material, Pencil Box, Calculator, Geometry, Pen/Pencil, Plastic Pouch, Writing Pad, Scanner, Eraser, Scale, Pen Drive, Log Table, pieces of paper, and Electronic Pen, are also not allowed.
Check: CLAT PG Constitutional Law
CLAT PG Exam Day Instructions 2023: Misconduct Rules
To begin, you should avoid causing any disruption in the exam center. If you are detected misbehaving during the exam, you will face the repercussions.
If you are found guilty of any of the following offenses, you will be disqualified immediately:
Use any prohibited objects in the hall.
Attempting to imitate or emulate someone.
Misbehaving throughout the examination.
In any case, using the candidacy in the incorrect way.
Check: How to Prepare for CLAT PG Exam in One Month 2023
CLAT PG 2023 Exam Day Guidelines: Important Points to Remember
CLAT PG 2023's syllabus will comprise:
Constitutional Law
Other areas of law such as Jurisprudence, Administrative Law, Law of Contract, Torts, Family Law, Criminal Law, Property Law, Company Law, Public International Law, Tax Law, Environmental Law, and Labour & Industrial Law.
The test will consist of 120 multiple-choice questions from the disciplines listed above.
Candidates in CLAT UG will receive 1 mark for each correct answer and a 0.25 mark penalty for each wrong response according to the CLAT 2023 test pattern.
Take enough rest before the examination day to perform at your best. Remember to carry all required documents like admit card and government-issued ID and double-check to avoid any grievances at the examination.
Have prior knowledge about your examination test center to avoid last-minute hassles. Arrive at the location well in advance to accommodate any potential problems. You must be present at the exam hall by 1.30 pm.
Prepare well, rest well and appear for the test. All the best! Do not wait to start your preparations until you finish applying for CLAT 2023. Go through the exam pattern and CLAT PG Syllabus