Summary: Preparing for AIBE? Which AIBE books should you refer to? We will surely answer this in this post. To start your AIBE preparations, you need to refer to books with simple language and a complete syllabus. Here in this post, we have mentioned some of the best books for AIBE preparations.
The AIBE exam is one of the most important exams for advocates opting for the Certificate of Practice(COP).
To begin the preparations, you first must select the best books available in the most understandable language.
Some good points you need to consider before choosing any book-
Updated syllabus
Complete syllabus
Verified books from famous authors or publication houses
Ample amount of practice questions
These few points make up for a good and referrable book. Never go for multiple books at once, do a one-by-one trick to keep concepts easy to understand.
AIBE Best Books 2023
Here are some of the best AIBE exam preparation books you must consider while preparing for the AIBE examination:
| | |
| --- | --- |
| AIBE Books | Author/Publication |
| Fundamental Rights | Uday Raj Raj |
| Guide to All India Bar Exam | PK Pandey |
| Intellectual Property Law | Private Publication |
| Patents Act-1970 | Taxman |
| Civil Practice and Procedure Manual | Sarkar's |
| Criminal Manual | Universal's |
| Other Bare Acts | Universal Law Publishing Co Pvt Ltd. |
| Constitution of India | Durga DasBasu |
| Company Law and Practice | AK Majumdar/Dr GK Kapoor |
| Civil Procedure with Limitation Act | CK Takwani |
| Guide to All India Bar Examination | Universal's |
| Sure Success AIBE & JCJ | DV Rao |
| All India Bar Examination Guide | Shambhu Prasad Choudhary |
| The Constitution of India Bare Act with short notes | Universal's |
| Public International Law | VK Ahuja |
| Human Rights | HO Agarwal |
| Law Exam Times | PK Pandey |
| Central Law Agency All India Bar Examination (AIBE) Guide | SM Ranjan and PK Jain |
| AIBE Solved papers (2011-2021) | Lovedeep Bangia |
| AIBE – Previous years solved papers | Thakral Law Publications |
Check: AIBE 17 Syllabus
How To Select A Good Book?
Considering the fact that you are new to the AIBE preparation, here are a few pointers that will help you choose the right book-
The book must be revised and updated to the latest syllabus patterns.
The book must be in simple language, free of grammatical errors.
The book must be based on the complete AIBE syllabus.
The legal concepts must be explained elaborately.
There must be case law and examples to understand the concepts better.
The books must be written by famous authors or must be verified by one of them.
It must contain an adequate amount of practice questions and the previous year's questions for practice.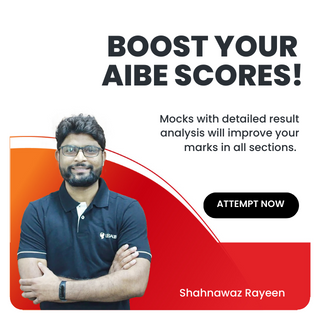 AIBE Preparation Tips 2023
The major factor in preparation for the AIBE exam is the book you study from. If you can find the best book you can refer to, all you will have to do is these two things-
Time Management
Your ability to manage time effectively is the most important factor in whatever AIBE preparation 2022 you make.
As soon as the candidate has a thorough knowledge of both the curriculum and the examination format, he or she may begin to divide the subjects into weekly chunks to prepare for the exam.
Making efficient use of the time given for the AIBE Exam is one of the most important steps in achieving a satisfactory outcome on the test.
Check: AIBE Previous Year Question Paper
You have access to many sources; thus, they need to pick reputable sources to study for the exam fully.
A candidate can get an edge over other candidates by reviewing the papers from the previous year, doing a suitable number of practice tests, and working through sample papers.
AIBE Syllabus
To check the validity of any book you refer to, compare it with the AIBE Syllabus. This will help you to choose the most suitable book to refer to for AIBE preparations.
The marking scheme and weightage for the AIBE exam are shown in the table below:
| | |
| --- | --- |
| Subject | No. Of Questions |
| Limitation Act | 2 |
| Corporate Social Responsibility | 2 |
| Family Law | 2 |
| Jurisprudence | 3 |
| Administration Law | 3 |
| Professional Ethics & Cases of Professional misconduct under B.C.I rule | 4 |
| ADR + Arbitration Act | 4 |
| Company Law (2013) | 4 |
| Constitutional Law | 5 |
| Environmental Law | 5 |
| C.P.C | 5 |
| Public International Law | 5 |
| Cyber Law – 05 | 5 |
| I.P.C | 6 |
| Labour + Industrial Law | 6 |
| Law of Tort, including Motor Vehicle Accidents and Consumer Protection Law | 6 |
| Evidence | 8 |
| Cr. P.C | 10 |
| Law of Contract, Specific Relief, Prop Laws, Spl Contract N. I Act | 15 |
| Total | 100 |
Check: Bare Acts for AIBE Exam
Conclusion
Why should you refer to the AIBE books mentioned above? Well, these AIBE exam preparation books have concepts explained in such a way that it's easy to understand and backed by examples. Some of these top AIBE exam books are from renowned authors and publications recognised worldwide.
Are you still lagging behind in AIBE preparations? LegalEdge After College provides a headstart and helps you prepare for the AIBE exam in no time.
Check: AIBE Exam Patter