Reader's Digest - Are you ready to take the AIBE? Don't worry if you haven't started preparing - it's never too late! But don't forget to stock up on the essentials: a good night's sleep, a cup of coffee, and an absolute guide on how to prepare for AIBE exam.

Are you looking to become an advocate in India? If so, the AIBE preparation strategy is an essential part of the process.
AIBE 2023 (All India Bar Examination) will be conducted shortly. It is a rigorous examination that tests your knowledge of the Indian legal system and ability to apply the law to various situations.
Preparing for the AIBE is a challenging process that can be rewarding when done correctly. It requires a lot of hard work and dedication to prepare for the exam fully.
However, with the right strategy and guidance, you can make sure you are well-prepared and ready to ace the AIBE.
AIBE Preparation Strategy - Overview
Once upon a time, a young lawyer was determined to pass the AIBE exam. She had been studying diligently for months but still felt like she was not adequately prepared.
One day, a wise old lawyer came to her and said, "My child, if you truly want to pass the AIBE exam, you must first prepare your mind."
The young lawyer was surprised by this advice, but she knew the old lawyer was right. She began to think about how she could mentally prepare for the exam. She decided that the best way to do this was to make an AIBE preparation strategy.
Finally, the young lawyer was ready to take the AIBE exam. On the day of the exam, she was confident and prepared.
She knew that if she followed her AIBE preparation strategy, she could pass the exam with flying colours. And that is exactly what she did! The young lawyer passed the AIBE exam and became a successful lawyer.
Moral of the story: Preparation is key to success. If you are determined and put in the effort to prepare for the AIBE exam, you will be successful.
AIBE Preparation Strategy 2023
Do you want to know how to prepare AIBE Exam? If yes, see here! Passing the AIBE is a requirement for practising law in the country, and it is important to take the necessary steps to ensure success.
Here is a comprehensive guide to preparing for the AIBE.
Step 1: Understand the AIBE Exam Pattern
Before beginning the preparation process, it is important to understand the

format of the AIBE

.
The exam consists of 100 multiple-choice questions and is divided into two sections: the substantive law questions and the procedural law questions.
The substantive law questions are designed to test the examinee's knowledge of the principles of law.
While the procedural law questions are designed to test the examinee's understanding of the legal process.
Step 2: Familiarize Yourself With the AIBE Syllabus 2023
The

syllabus for the AIBE

is divided into 10 different subjects.
It is important to familiarise yourself with the syllabus and the types of questions that will be asked in each subject.
This will help you focus your preparation and ensure that you are well-prepared for the exam.
Step 3: Set a Study Schedule
Once you have familiarised yourself with the syllabus, it is important to set a study schedule.
This will help you stay on track and ensure that you are dedicating enough time to each subject.
It is a good idea to set a goal of studying for at least two hours each day.
Read More: AIBE Previous Year Question Paper
Step 4: Use the Right Study Materials
There are many free resources available for preparing for the AIBE.
Using the right study materials is important to ensure that you are adequately prepared for the exam.
Books, online courses, practice tests, and other resources are available to help you prepare.
Step 5: Practice & Analyse Mock Exams
Practising with mock exams is an important part of the AIBE preparation process.
Taking mock exams will help you get used to the format of the exam, as well as give you an idea of the types of questions that will be asked.
It is a good idea to take at least one mock exam before the real exam to ensure that you are adequately prepared.
Check Now - AIBE Preparation Books 2023
Step 6: Take Care of Yourself
Preparing for the AIBE is stressful, and taking care of yourself during the preparation process is important.
Make sure to get enough sleep and exercise, as this will help you stay focused and energised.
It is also important to take breaks and give yourself time to relax and unwind.
Achieving success on the AIBE is possible with the right preparation strategy.
By following these steps, you will be well on your way to passing the exam and becoming a practising lawyer in India.
Ultimate Tips for Success in AIBE 2023
How to pass AIBE exam is the trending question these days. In spite of the fact that there is not much time left for the students to study, the candidates are strongly urged to have a look at AIBE exam tips that can aid them in acing the exam.
Here are some of the AIBE preparation tips candidates can follow:
Don't Miss: Upcoming Law PG exams 2023
Practice Time Management
Time management is an important part of the AIBE preparation strategy.
As soon as the candidate has a thorough knowledge of the curriculum and the examination format, he or she may begin to divide the subjects into weekly chunks to prepare for the exam.
It is important to allocate a certain amount of time for each section and to stick to the schedule.
Prepare Customised Timetable
One of the most crucial things that every individual who wants to pass the AIBE needs to do is plan out their exam schedule.
It is important to map out all of the study portions that are required to be covered for the entrance examination before beginning to create a study plan for the AIBE.
Once this has been accomplished, a schedule can be created detailing what, when, and how many topics need to be studied each day.
You refer to this timetable to know how to study for AIBE Exam
Monday
9 am-12 pm: Constitution of India
12.30 pm-3.30 pm: Civil Procedure Code
Tuesday
9 am-12 pm: Indian Contract Act
12.30 pm-3.30 pm: Code of Criminal Procedure
Wednesday
9 am-12 pm: Transfer of Property Act
12.30 pm-3.30 pm: Evidence Act
Thursday
9 am-12 pm: Professional Ethics and Professional Accounting System
12.30 pm-3.30 pm: Law of Limitation and Law of Torts
Friday
9 am-12 pm: Indian Penal Code
12.30 pm-3.30 pm: Law of Arbitration and Conciliation
Saturday
9 am-12 pm: Indian Evidence Act
12.30 pm-3.30 pm: Indian Contract Act
Sunday
9 am-12 pm: Revision & Mock Test
Choose Topper's Recommended AIBE Books
To succeed in AIBE, candidates must consult and rely on some of the most reputable study tools and publications available.
The quality of the study material and books you use is directly proportional to how well you perform on the AIBE test.
The AIBE is an open-book entrance examination, which means candidates can bring books and other preparation materials into the testing room.
As a result, candidates need to emphasise selecting the appropriate types of books to use throughout their studies.
Download Now: AIBE 2023 Admit Card
Pay Attention High Scoring Marks
Candidates must get a score of at least 40% on the AIBE entrance test in order to be considered for admission.
As a result, the applicants need to concentrate their efforts solely on the topics that would allow them to earn the highest possible score on the admission test.
By checking the syllabus, candidates can discover a list of the major subjects encompassing at least 60% of the AIBE curriculum.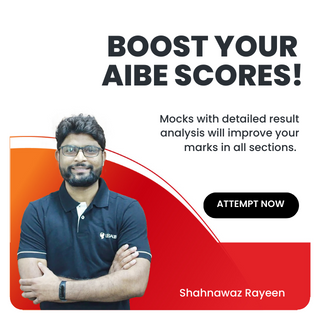 Participate in AIBE Practice Exams
Candidates are required to practice taking AIBE mock examinations once they have finished the entirety of the AIBE curriculum.
Candidates have the opportunity to evaluate their speed and accuracy in problem-solving, as well as identify and improve upon any areas of weakness while practising for mock exams.
Therefore, it is recommended that applicants take a variety of mock exams before completing their entrance examination.
Not only is this a helpful method to evaluate your level of preparation and track your progress, but it is also a wonderful approach to boost your confidence.
Check Out: Bare Acts for AIBE Exam 2023
Revise Before Taking AIBE
Rereading material is one of the most important things you can do to succeed in any admission exam.
Candidates can store more material in their memories for longer if they revise.
Therefore, reviewing previously learned material is the most crucial aspect of test preparation.
Before taking the entrance test, candidates must review their notes at least twice, preferably three times.
It is essential and crucial that you review what you have learned at frequent intervals in order to retain the information.
Conclusion
We hope this knowledge clears all your doubts about the AIBE preparation strategy. Happy Reading!
"Don't settle for average. Bring your best to the moment. Then, whether it fails or succeeds, at least you know you gave all you had." —Angela Bassett