Summary: What would be better than a topper's tips on how to crack IPMAT? Yes, here we have curated tips and tricks to help you easily ace the IPMAT exam. Here we hand-picked all the necessary and important tips IPM alumni gave during an interview and presented them to you in a simple and digestible manner. Go through the article to learn everything in detail.
Do you wish to know- how to crack IPMAT exam and study at an IIM? There is no hard and fast rule to Preparing and excelling in IPMAT, provided you have the right preparation strategy, discipline, and adequate preparation with the knowledge about the new exam pattern.
To help you reach your desired goal, this post provides toppers, tricks, and trips on how to crack IPMAT. Though each one of your preparation strategies may vary, you can get guidance on how to plan your preparation and secure a high score.
So, what are you waiting for? Scroll down and read the complete post to learn tricks on how to crack IPMAT.
Topper's Tips on How to Crack IPMAT
Begin the preparation for the exam as quickly as possible. This will help you develop your concepts and to score well in the IPMAT and other similar exams.
Understand the comprehensive

IPMAT syllabus

before beginning their preparation. It will help you to know the challenging and simple topics from the exam's point of view. Prepare and begin your preparation with a study plan as per the syllabus.
Secondly, applicants must go through the IPMAT Exam Pattern after studying the syllabus. Knowing the exam pattern will allow you to know the total number of questions for each section, the marking scheme, and the length of each section.
Go through previous year's papers to understand what is prominent.
Do a smart analysis of sectional Cutoffs but do not rely entirely on it.
Questions based on the application of concepts are very important.
Short answers to

Questions about Quantitative Aptitude

need different practice questions.
IPM Journey with Alumni
As you have understood the tips and tricks by toppers, let us now check out the success stories of IPM Alumni. Know their journey at IPM, how they cracked IPMAT, how SuperGrads benefited from their success, and their career growth after completing the IPM course.
One of the subject matter experts from Supergrads, Rahul Vaswani, had a discussion with IIM IPM Indore Alumni: Navya, Manik, and Anusha. These three have successfully completed the IPM Program at IIM Indore and now working in prestigious firms across India.
Here are a few highlights of the Interview with the Alumni listed. You can also watch out the video for a detailed discussion.
All three of them quoted, "IPM Program at IIM Indore is the best course." Many things learned during the course include professional aspects, specific skills like soft skills, how you talk, and how you present.
They have seen a drastic change in themselves during the course.
Most of you might think it's difficult for middle-class students to study at IIM Indore, but it's just a misconception. Navya Singhal said, "IIM Indore offers a student loan facility, which is a great advantage for all aspirants."
If you are worried about how I can study in such a huge Institute, the Institute gives a warm welcome, and all students are helpful. The lecturers are very friendly and easy to cope with.
You are open to exploring various fields rather than just focusing on the curriculum.
How to Prepare for IPMAT Exam?
IPMAT preparation is one of the challenges for the students studying for the board exams and other post-12th level entrances. And topper's tips on how to crack IPMAT will surely be a remedy for all aspirants. If you plan your schedule according to your school, take classes, prepare for your boards and save about 2-3 hours a day and a little more time during the weekend(plus some time to read the newspaper), then it's manageable.
To help candidates, we have provided comprehensive preparation tips for IPMAT, which are required for both the long and short-run in this post.
Candidates can go through the expert-recommended Tips for IPMAT Exam and plan their preparation accordingly.
Reading Newspapers regularly
According to the previous year's papers, it's obvious that most of the questions in the verbal ability section are comprehension-based.
The basic thing to attempt comprehension-based questions with ease is to read many newspaper articles, editorials, etc., but the important question is how to read them. Because continuously reading and reading is not going to help you.
While reading, you must remember the examination for which you read that passage.
Make a habit of reading newspapers for at least 1 - 1.5 hours, preferably from the editorial section of The Hindu. Read Editorials within the specified limit to prepare you for the time management required in the exam.
While reading, underline the important things and try to think about the theme and interference because when you read and think simultaneously about the possible questions, you will become more clear and confident while attempting the question. This will also help you save a lot of time.
Newspapers are also helpful in increasing vocabulary; note down the unknown words in a register to enhance vocabulary.
Reading newspapers will also increase your awareness, which will help you in your PI and WAT.
Handy Revision Notebook
Make short notes that provide key details and basic formulas while studying daily from lectures, study material, books, etc.. An excellent set of study notes will make the revision process quick and easy and may also help you score well in the exam.
Apart from notes, making a handy revision notebook is also necessary. This revision register should be organized according to the study methodology and distributed into five sections.
The first sections should include word meanings of the difficult words that you have noted while reading newspapers or while attempting mocks to increase your vocabulary.
The second section should include idioms, proverbs, and phrases based on section one.
Section three should consist of grammar rules; when you are studying grammar, note down all the important rules to help you remember them before the exam.
The first three sections are intended to cover your verbal ability revision process.
Section four should consist of

math formulas and concepts

. Every time you read from a book or in class, you come across a new formula or concept note in this section.
Segment 5 is denoted logical reasoning and consists of all important LR techniques.
Now comes the important question, how to revise & how to crack IPMAT? To make proper utilization revise sections 4 and 5 thoroughly every time you prepare for a mock.
Revise sections 1 and 2 whenever you come across an idiom or word you think you have read before but cannot recall. Following the above methods will help you grasp all important concepts for QA and Verbal ability at the tip.

Developing Sectional Command
It is important for candidates to know their weaknesses and strengths throughout the planning process.
It will help build strong areas and understand the weak areas requiring more attention. Candidates are advised to analyze their level of preparation using the following ways mentioned below:-
After completing any topic or section, make it mandatory to give sectional or topic-specific mock.
This will help you improve your concepts in a gradual manner by making mistakes and then learning from them, which is the most important step.
Analyze what went wrong, revisit everything that could be improved, and find alternative methods to increase your speed and efficiency.
Make sure you follow up on your study plan regularly; consistency and perseverance are of the utmost importance to excel in IPMAT.
Completion of Syllabus
The IPMAT examination is not going to test your memory-based knowledge, so you cannot excel in it using rote memorization; it's an application-based examination that can be cracked only by the practice of application-based questions.
So once you have gone through the complete syllabus of IPMAT and concepts, you can move forward towards your goal by practising and building an aptitude for questions.
Syllabus completion is the first milestone; the actual journey of practising and building a strategy for solving tough questions begins when you have completed your syllabus.
SuperGrads also adopt this strategy of completing the entire syllabus within 5-6 months and then focussing on rigorous practice sessions.
Once you have completed your syllabus, you have reached your first step towards your goal. Now you must pick up topics every week and thoroughly review them by practising questions from study material and previous year's questions. Try solving at least 2 to 3 mocks of that section that week.
Just make sure you practice at least fifty questions per week for quantitative ability and ask doubts from your mentors about questions you cannot solve. For questions, you can find alternative approaches that can save time easily.
This will help you build a strong base of concepts required for excelling at IPMAT.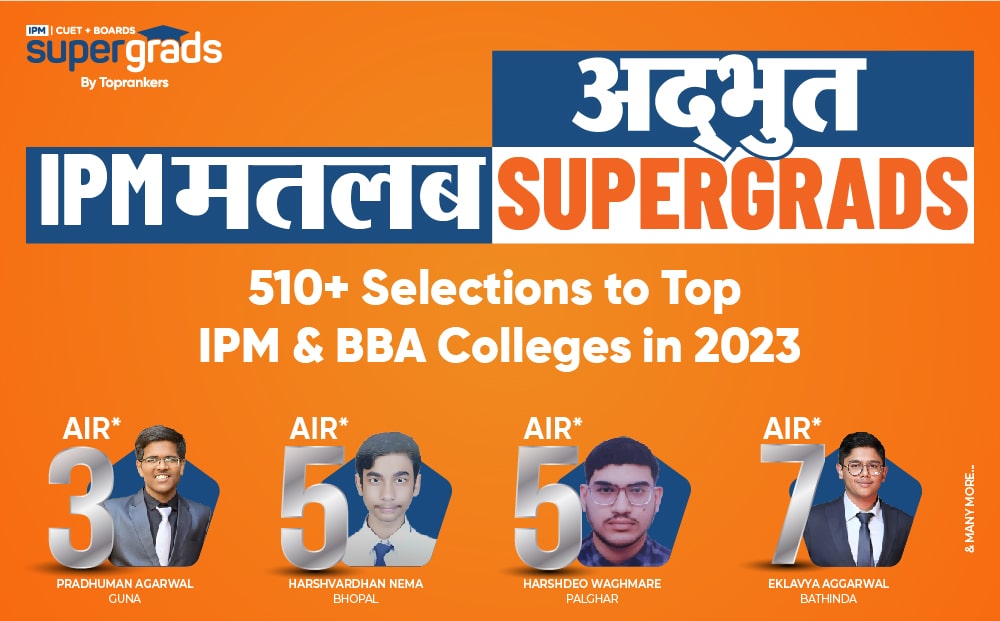 Segregation of Questions
One of the most important aspects required to stand out in the competition is to think of ways to improve time management in the examination. While practising Question Papers of IPMAT, you must segregate questions based on their difficulty level into easy, moderate, or tough.
Questions that you can solve without any help are easy questions.
Questions requiring you to revisit concepts or seek extra help should be considered the moderate question.
Questions you cannot solve even after revisiting concepts should be considered tough.
As you progress, solving questions that you have marked moderate will become easy, and the tough questions will become moderate with practice.
This will help you in managing time during the examination. The questions you think are easy should be solved in the first go, and the ones that you think are moderate should be given one try on the first attempt.
If you can solve it well and well; otherwise, mark it for solving in the second pass if possible.
Then in the last pass, go for tough questions; with this strategy, you can manage time efficiently. Try implementing this strategy in mocks so that you are confident about your actions.
This is one of the best strategies to clear the cutoff, as solving easy or tough questions will give you the same marks.
The analysis is more important than an Attempt
Candidates must practice as many mock and previous year papers as possible to crack the exam comfortably. Also, a set of repeated questions will be asked each year in the exam from the previous year's papers, so it will be easier to score marks in the exam.
Attempting a Mock Test for IPMAT will help you build confidence, improve your temperament and understand the type of questions asked in the examination. Now comes the most important thing, which is to analyze your progress.
Analyzing a mock will help you build new concepts and correct conceptual and silly mistakes.
Opt for a mock test series that consists of updated short answer questions based on the new examination pattern with a balance of the previous year's questions.
Graphical representation of your scores, time taken per section, performance, etc. All India Rank in Full-Length Tests to allow you to compete with students from all over India.
Realizing time and performance Analysis, as provided by Supergrads, is really important for increasing your overall score.
Early Preparation for Interview
It is really important for students to understand that self-assessment holds a major weight and should not be left to be prepared after the examination. Building self-confidence, personality, and a good academic record is a gradual process that requires time. PI and WAT cannot be prepared in 15 to 20 days.
You must start preparing by practising presenting yourself in front of a mirror. Watch Interviews, improve your presentation skills, prepare for all the expected questions, frame the finest answers, and write them.
We also encourage students to get two to three certifications to help them improve their resumes.
Read More: IPM Coaching 2024
Study Material and Reference Books
The most critical element while preparing for the IPMAT is choosing the right study material. Candidates should select the best study material, like supergrads study material, that covers all the topics according to the newly updated syllabus.
While selecting the books, candidates should be very careful because their entire preparation process will depend on it.
Apart from academic books, reference books like Word Power Made Easy by Normal Lewis, and Martin English Grammar and Composition would definitely provide you with a plus point in the Verbal Ability section.
Building a strong vocabulary is a gradual process that cannot be learned in a week; you have to start early and make a weekly routine for reading these books.
As Quantitative Aptitude consists of two sections, a reference book like Magical book on quicker maths by M Tyra would help you learn tricks to solve mathematical calculations faster using mental calculations.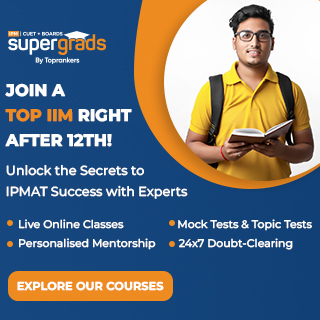 Time management and Scheduling
Candidates aspiring to clear the IPMAT Exam must prepare simultaneously for boards and entrance. You cannot be lenient towards your 12th scores as a good amount of weightage is given to past academics by IIMs.
Preparation for the IPMAT is one of the challenges for the students studying for the board exams and other post-12th level entrances. Therefore, it is very important for candidates to make a proper study plan and start their preparation following the topper's tips on how to crack IPMAT.
Write your everyday tasks, stick to them with full determination, check growth, and check your improvements based on full-length mocks.
Make your own study plan according to your grasping capacity; no study plan works for all.
To make your own study plan, first analyze the syllabus, weightage, and difficulty level of the different topics of the exam.
Try to cover tough and major weightage-holding topics in the beginning so you have sufficient time to revise them.
Create a study plan based on your strengths and weaknesses to score well.
In conclusion, this article on how to crack IPMAT provided valuable insights and guidance for cracking the IPMAT exam. By following these tips, candidates can enhance their preparation and increase their chances of success in securing admission to esteemed management programs.