The Council of Architecture (COA), which is conducting NATA 2024, has categorically advised you to meticulously follow NATA exam day instructions and make sure that you appear in the exam without getting subjected to a different type of problem before or during the exam.
This post takes you through the detailed information about NATA Exam Day Guidelines 2024.
Table of Contents
NATA 2024 Exam Dates & Timing
Students appearing are advised to keep checking the NATA official website for getting updates related to NATA Exam Dates.
NATA Exam Date 2024

Event

NATA 2024 Exam Date

All Session Timings

First NATA Exam 2024

To be notified

Session 1- 10.00 am to 1.00 pm
Session 2- 2.30 pm to 5.30 pm

Second NATA Exam 2024

To be notified

Session 1- 10.00 am to 1.00 pm
Session 2- 2.30 pm to 5.30 pm

Third NATA Exam 2024

To be notified

Session 1- 10.00 am to 1.00 pm
Session 2- 2.30 pm to 5.30 pm
Exam Day Guidelines for NATA 2024
Make sure to carry the NATA 2024 Admit Card and any government ID proof (PAN card, Driver's License, Voter ID, Passport, Aadhaar Card) on the day of the exam for verification at the exam centre. Otherwise, you are not allowed inside the examination hall.
One passport-size photograph (identical to the one uploaded on the Online

Application Form

) should be taken and pasted on the specific space in the attendance sheet at the examination hall.
You must reach the exam centre at least one hour before the exam.
You will not be allowed inside the exam hall after 15 minutes of the commencement of the examination.
Check the computer system that has been assigned to you to see is in working order.
Do follow the signals given by the invigilator and show your admit card whenever demanded by the invigilator.
Make sure to carry a copy of the PwD certificate (if applicable)
Mark your attendance in the Form with your signature when asked for in the NATA exam hall after biometrics
Ensure that all of the information on the attendance sheet is correct and that signatures are completed in all the appropriate places/columns.
It will be better to make prior necessary arrangements for travel, food, accommodation, and any other expenses. Determine your mode of transportation and commute time at least one day before the Exam Day to ensure that you arrive at the Test Centre on time.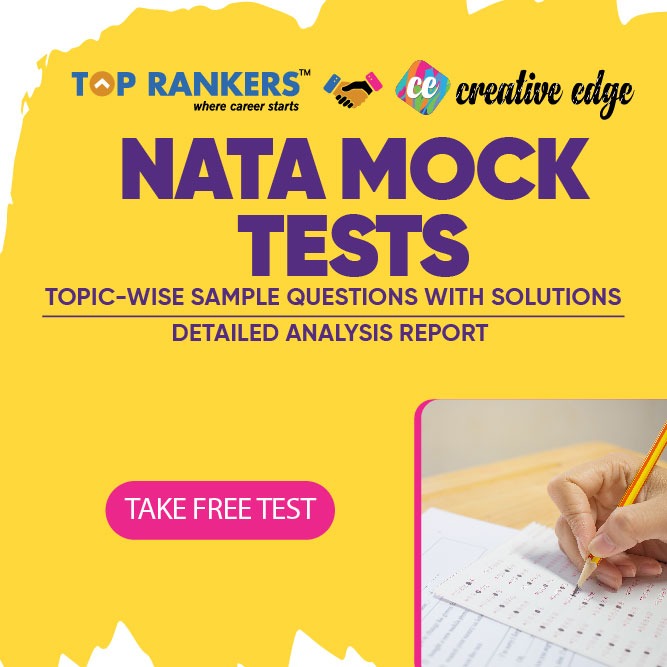 NATA 2024 Exam Dress Code
The Council of Architecture (COA) has issued exam-day dress code for NATA exam that you should strictly follow on NATA exam day.
Applicants are advised not to wear any clothing with metallic elements.
It is completely prohibited to wear a cap/muffler or any other garment over one's head.
Do not wear anything with too many pockets.
Students should dress comfortably to avoid discomfort throughout the exam.
On the day of the examination, candidates should not wear any jewellery or ornaments.
Goggles, rings, bracelets, and other similar things are also prohibited.
Wear simple clothes without accessories.
Preferably wear a T-shirt and jeans, or a top/Kurti with leggings.
Things Allowed Inside the NATA Exam Hall
You are allowed to carry only the following things inside the NATA examination centre.
Mask (preferably 3 ply mask that covers mouth and nose completely)
Gloves
Face Shield (if any)
Transparent Water Bottle
Personal hand sanitiser (50 ml)
Pen
Pencils
Erasers
Admit Card
Valid ID Proof
Things Not Allowed Inside the Exam Hall
As per NATA Exam Day Instructions 2024, you are not allowed to carry mobile phones, bags, or wallets to the

NATA Entrance Exam

. If you carry any of these things, you must deposit them at the test centre entrance gate.
You are not permitted to take any textual material, calculators, slide rules, log tables, electronic watches with a calculator, printed or written material, bits of paper, mobile phone, pager, or any other device.
It is also mentioned in the NATA 2024 exam day instructions that no friends or parents accompanying you will be allowed to enter beyond the Test Centre unless you belong to a PwD category and have requested a scribe.
NATA 2024 Guidelines for PwD Category
If claiming the relaxation under the PwD category, a PwD certificate issued by an authorized medical officer is required.
If claiming the PwD category relaxation for using your own scribe, a letter of undertaking is required.
NATA Guidelines on the Day of the Exam
You will be assigned a seat with a roll number. You should sit in the seat that has been assigned to you. If you are found to have changed rooms/halls or seats on your own, your exam will be cancelled, and no appeal will be accepted.
Without special permission from the Centre Superintendent or the Invigilator in charge, no one will leave his or her seat or the Examination Room/Hall until the entire paper has been completed.
You must follow the NATA 2024 exam day instructions of the Centre Superintendent/Invigilators strictly.
Don't engage with security personnel or test centre workers in debates over the forceful entry.
After the gates have been closed, do not request any entry into the Test Centre. Make every effort to arrive on time.
On the day of the examination, do not request a different test centre, exam lab, or console.
Do not solve any question in a hurry.
Do not disturb other students nor attempt to do cheating or copy answers from others during the Examination.
Don't leave the examination hall even if the exam is finished. Wait till the examination is over.