JEE Mains Paper 2 2022 concludes on July 30, with shift 2 ending by 6 PM.
All students are requested to strictly follow the instructions and COVID-19 guidelines mentioned in JEE Main admit card 2022 session 2.
To ace your JEE Main Paper 2, preparations it is always important to analyze the previous year's papers to understand the paper's weightage, important topics, and exam.
This article will walk you through the Important Topics for JEE Mains Paper 2 2022.
Download FREE Study Material for JEE Main Paper 2 by Creative Edge
JEE Mains Paper 2 Syllabus 2022
Firstly, let's understand the important topics to be covered in JEE Mains Paper 2 syllabus and then move on to understand the topics to prepare.
According to the JEE Main Paper 2 Exam Pattern, the B. Arch question paper includes 82 questions, and each question carries four marks. The exam is conducted for a total of 400 marks.
Also, there is a negative marking of -1 mark for each wrongly answered question. The JEE Main Paper 2 Syllabus for the B. Arch program consists of three sections:
Part 1: Mathematics
Part 2: General Aptitude
Part 3: Drawing
Check: Important aptitude questions for JEE main paper 2 exam
Important Topics for JEE Mains Paper 2 2022
Check the important topics for each section mentioned below:
Important Topics to be covered in Mathematics
Prepare for the topics below:
Complex numbers and quadratic equations
Matrices and determinants
Sets, relations, and functions
Mathematical induction
Permutations and combinations
Mathematical reasoning
Limit, continuity, and differentiability
Integral calculus
Three-dimensional geometry
Differential equations
Binomial theorem and its simple applications
Sequences and series
Vector algebra
Statistics and probability
Trigonometry
Coordinate geometry
Check: Best study timetable for JEE Main Paper 2 exam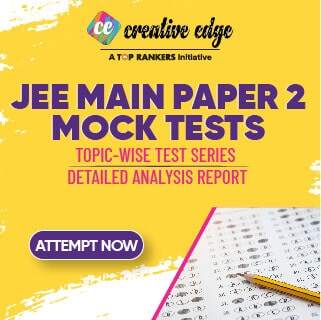 Important Topics to be covered in General Aptitude
Awareness of persons, places, Buildings, and Materials. Objects, Textures related to Architecture and build—environment
Visualizing different sides of three-dimensional objects.
Visualizing three-dimensional objects from two-dimensional drawings
Analytical Reasoning Mental Ability (Visual, Numerical, and Verbal)
Three-dimensional - perception: Understanding and appreciating the scale and proportion of objects, building forms and elements, color texture, harmony, and contrast
Design and drawing of geometrical or abstract shapes and patterns in pencil
Transformation of forms in both 2 D and 3 D union, subtraction, rotation, development of surfaces and volumes, Generation of plans, elevations, and 3 D views of objects
Creating two-dimensional and three-dimensional compositions using given shapes and forms
Sketching scenes and activities from memory of urbanscape (public space, market, festivals, street scenes, monuments, recreational spaces, etc.), landscape (river fronts, jungles, trees, plants, etc.), and rural life
Check: GK Questions for JEE Main Paper 2 2022
Important Topics to be covered in Drawing
Drawing and Designing geometrical or abstract shapes & patterns in pencil
Transformation of forms in both 2D and 3D union
Elevation and 3D views of objects rotation
Development of Surfaces and Volumes
Generation of Plan
Creating 2D & 3D compositions using given shapes and forms
Sketching of activities from memory of urban scenes
Check: Creative Edge All India Scholarship & Admission Test
JEE Mains Paper 2 Preparations Tips
Revise all the important formulas from CBSE textbooks regularly.
To get a good hold on this subject, solve as many practice questions as possible from the RD Sharma textbook. You can solve level 1 problems from the Cengane book.
Make sure to prepare 2-3 topics from the general awareness section daily.
Try to solve at least 15-20 aptitude questions for JEE Main Paper 2 based on topics like architecture awareness daily. Also, you must be aware of the famous building names and architects' names.
Focus more on topics like Buildings in India and the World, speed distance and time, Important Architects of India and the World, Logical and Reasoning Ability questions, General Maths questions like area, volume Mirror Images, Building Materials and Terminology, etc.
You are advised to practice portrait designs for at least 10 minutes daily.
You need to practice human figures for 15 minutes a day.
Practice as many JEE Main Paper 2 drawing questions as possible to get an idea about the scale and proportion of the images.
Ensure to complete the memory drawing, including coloring in 40 minutes and Portrait drawing/2D design/3D design drawing in 40 minutes.