NTA is conducting the JEE Main 2022 exams on July 30 last day of the entrance test for this academic year.
The shift 1 exam for B.Arch and B.Plan courses is at 9 AM, followed by shift 2 from 3 to 6 PM.
Not a lot of GK and current affairs questions appear in the JEE Main Paper 2
However, since the paper has negative marking, you do not want an unnecessary drop in your score or leave any question unanswered if you are well prepared.
This article takes you through the GK Questions for JEE Main Paper 2.
Download FREE Study Material for JEE Main Paper 2 by Creative Edge
GK Questions for JEE Main Paper 2 2022
This section has a couple of questions from GK and current affairs that you can expect in JEE Main Paper 2 Exam pattern 2022
1 - Which country topped the Asian Power Index for 2021?
2 - The Nupi Lal Day is observed every year in which state/ UT?
Manipur
Assam
Arunachal Pradesh
Sikkim
Read more: Best study timetable for JEE Main Paper 2 exam
3 - What is the name of the therapy involving the use of light-sensitive medicine?
Photovoltaic therapy
Photogeneric therapy
Photodynamic therapy
Photogy
4 - Which country is the new member of the BRICS New Development Bank (NDB)?
Italy
Egypt
Israel
Bangladesh
5 - As of January 1, 2022, what is the world's estimated population per the US Census Bureau?
3.8 billion
5.8 billion
7.8 billion
9.8 billion
6 - Who eon the " Global Entrepreneur of the Year Award" from the Indus Entrepreneurs (TiE)?
Ratan Tata
Kumar Mangalam Birla
Uday Kotak
Adi Godrej
Check: Important aptitude questions for JEE main paper 2 exam
7 - Avani Lekhara, who took the "Best Female Debut" at Paralympic Sport Awards, is associated with which sports?
Shooting
Tennis
High-Jump
Table -Tennis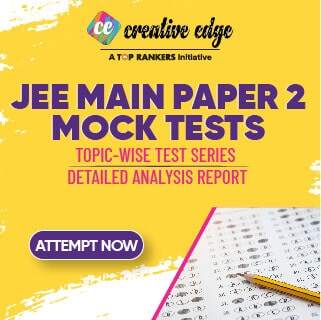 8 - Blue Book, which was seen in the news, is the manual of which armed force/ group?
Central Reserve Polic Force
Special Protection Group
National Security Group
Indian Coast Gaurd
9 - Khuntkatti law, which was seen in the news recently, is practiced in which Indian state/ UT?
Uttar Pradesh
Chhattisgarh
Punjab
Jharkhand
Check: Best tips to enhance your JEE main paper 2 preparation
10 - The United States recently announced which country is its major non-NATO ally.
11 - Khijadiya wildlife sanctuary is a new Ramsar site, located in which state/ UT?
Haryana
Gujarat
Bihar
Uttarakhand
Check: Creative Edge All India Scholarship
12 - Which Indian city has the most traffic congestion, as per TomTom Traffic Index?
New Delhi
Mumbai
Bengaluru
Photology
13 - What does "S" stand for in "SWIFT" financial messaging service?
Secure
Simple
Service
Society
Check: How To Prepare For JEE Main Paper 2 in 6 Months
14 - Which is the headquarters of the International Atomic Energy Agency (IAEA)?
Vienna
Geneva
New York
Moscow
15 - Which are the largest exported items from India's fresh fruit categories?
Guava
Fresh Mangoes
Fresh Grapes
Betel Leaves and Nuts