To be a part of the Indian Judiciary System is a privilege that requires aspiration, knowledge, and hard work. This exam requires a planned approach.
There are topics like the Indian Penal Code, the Code of Criminal Procedure Code of Civil Procedure, etc., that is part and parcel of judiciary examination.
The Criminal Procedure Code is a major subject for the Judiciary Examination. Understanding CrPC would aid you not only in clearing the examination but also throughout your judiciary career.
Here, we have penned down some preparation tips and tricks for preparing for CrPC for the judiciary examination.
Tips to Prepare CrPC For Judiciary Exams:
It is a procedural law that came into force on April 1, 1974. CrPC extends to the whole of India except the States of Jammu and Kashmir.
CrPc is a practical subject, so it is crucial to understand it thoroughly.
The best way to study CrPC is to learn it parallelly with IPC in relation to provisions.
Learn tricks to remember the sections.
Download FREE Study Material for CRPC Judiciary Exam by Judiciary Gold
For example-
Where is the police report defined?
You can use the trick - take R from the report.
The police report is defined in 2R.
Where is the police station defined?
Take S from the station to remember this. The police station is defined in 2S.
Where is a victim defined?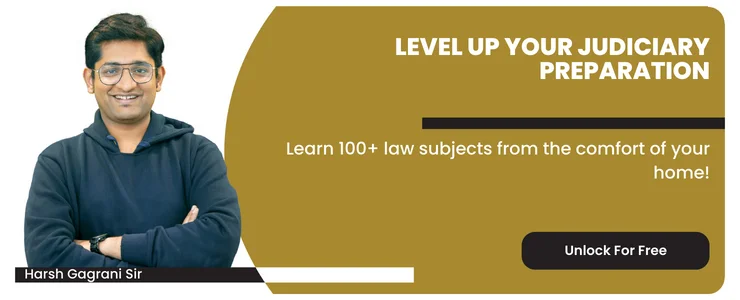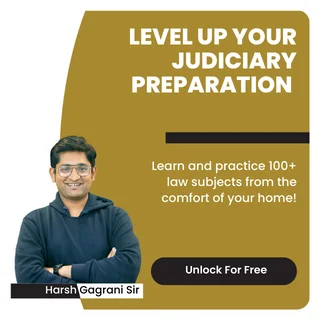 2W(A).
Make handwritten notes and use special writing techniques
For example-:

Where is the public prosecutor defined?
Write it as pUblic prosecUtor. We have written U in capital letters, which indicates that it is defined in 2U.
Try to connect the sections with the sequence of stages.
For example:
Offence, type of offence, i.e., bailable or non-bailable, compoundable or non-compoundable, etc.
FIR
Investigation- read everything about the investigation and inquiry, report and case diary.
Solve as many objective questions as possible from the Previous Year's Judiciary Exam Question Papers. In this way, you can enhance your reading skills and speed in the final exam.
Revise in a cycle:
Daily revision
Weekly revision
Monthly revision
Solve previous year's questions
Divide and dedicate time carefully, keeping the Mains exams in mind.
Sample CrPC Questions for Judiciary Exams
To help you get an idea about the type of questions asked in the exam, we have provided a few important CrPC questions for judiciary exams that are curated from the previous year's papers.
Q. Under Section 106 of the Criminal Procedure Code, which of the following courts can order the offender regarding security for keeping the peace and for good behaviour?
Sessions Court
Magistrate 1st Class
Both A and B
None of the above
Q. Who of the following may order for maintenance of wives, children and parents under CrPC 1973?
Only Executive Magistrate
Judicial Magistrate 2nd Class
Magistrate of the 1st Class
All of the above
Read more: Important GK Questions for Judiciary Exams
Q. No wife shall be entitled to maintenance from her husband under section 125 of CrPC if:
She has obtained a divorce from her husband and has not remarried.
She is unable to maintain herself
She refuses to live with her husband on the ground that keeps a mistress.
She is living in adultery
Q. In non-cognizable cases, the investigation starts:
Immediately with the lodging of F.I.R.
After obtaining orders from the concerned Magistrate
The matter is referred to the concerned Superintendent of Police
In the same way as provided in Section 154, CrPC
Q. Under section 10 of IPC, "man" denotes a male human being of:
16 years
18 years
21 years
Any age