Are you dreaming of becoming a judge in Uttar Pradesh? If yes, then the first important thing is to understand the structure of the exam.
You might be wondering that all Judiciary exams have three stages: prelims, mains, and interviews. But, you need to be aware of the marking scheme, why UP Judiciary is different from other state Judiciary, and more.
Read through the complete post and follow the tips and tricks mentioned below for achieving your desired goal of becoming a Civil Judge.
Latest Vacancies in UP PCS J 2022
In 2018, around 600 vacancies were released for UP Judiciary, and currently, it is expected that around 400 vacancies will be released. It is definitely a good number. In case you wish to apply for UP Judiciary, then make sure you have completed your Bachelor's and are aged between 22-35 years.
Download Practice Question Papers for UP PCS J Exam by Judiciary Gold
Structure of UP PCS J Exam 2022
As said above, there are three stages. The preliminary examination is conducted for 450 marks. The Mains session is for 1000 marks, while the interview is for 100 marks.
UP Judicial Services Preliminary Examination
There are two sections: General Knowledge and Law.
The GK section includes 150 questions for 150 marks, while the Law section includes 150 questions for 300 marks.
In GK, every question carries 1 mark, while in Law, every question carries 2 marks.
Note that there is a negative marking of 0.5 marks.
UP Judiciary Mains Exam
Make a comprehensive strategy to crack UP PCS J Exam 2022.
Refer to the structure of Mains exams as mentioned below.
There are five papers in the Mains session, each with 200 marks.
Paper 1 is General Knowledge, Paper 2 is Language, Paper 3 is Substantive law, Paper 4 is Procedure and Evidence, and paper 5 is Penal, Revenue, and Local laws.
UP Judiciary Personal Interview
The interview session is conducted for 100 marks. In the interview, you can expect diversified nature of questions.
Interviewers ask twisted questions. Hence you need to be well prepared for various types of questions.
If you have completed your master's, then you can expect questions from that. Ensure to follow

tips and tricks to prepare for Judiciary Interview

.
Refer to the table below to get an idea of the UP Judiciary exam pattern.
Exam Type

Paper

Subject

Duration

Marks

Preliminary Examination

Paper I

General Knowledge

2 Hours

150

Paper II

Law

2 Hours

300

Main Examination

Paper 1

General Knowledge

3 Hours

150

Paper 2

Language

3 Hours

200

Paper 3

Law –I (Substantive Law)

3 Hours

200

Paper 4

Law – II (Procedure and Evidence)

3 Hours

200

Paper 5

Law – III (Penal, Revenue, and Local Laws)

3 Hours

20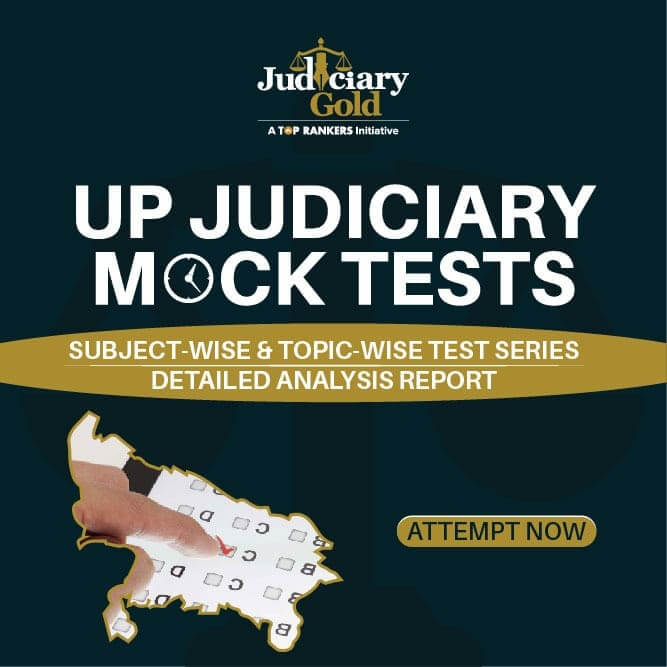 How to Prepare for GK & Law for UP PCS J 2022?
Check out the tips mentioned below to excel in the UP Civil Judge Exam.
In General knowledge, you can expect questions from science and social studies subjects. If you have studied computer science and humanities subjects in class 12th, it is a great opportunity to become a judge.
Each one of your

preparation strategies for UP Judiciary

may vary, but for the GK section, refer to the Lucent GK book, which is highly recommended.
Divide the GK subject into two categories: Static GK and Current Affairs.
Important topics in GK are History, Geography, Economics, Awards, Honours, Art, and culture.
In order to prepare for law, you need to ensure to read all the law-related subjects for UP Judiciary Exam.
Don't miss any of the topics or concepts in the law section.
Type of Questions in UP PCSJ Mains
Baes on the previous year's pattern, the UP Judiciary exam has the following types of questions.
You need to write answers for 5 marks or 10 marks. Most commonly asked questions in GK are based on famous personalities. The section might seem lengthy but it is not difficult.
The language section is the easiest of all other sections.
Paper 2, 3, and 4 are based on respective law subjects. Ensure to

prepare for Mains answer writing in Judiciary Exams

as it is very essential to get a good score.
UP Judiciary Cut-off Marks 2022
Last year's prelims cut-off was 208 out of 450, while for the mains session, it was 443 out of 1000.
Thus, to pursue your career in the judiciary, focus on your commentary books for UP PCSJ. You need to know your invigilator by practicing answer writing so that you know how the answers are evaluated.