Reader's Digest: Do you know the parameters you must fulfil for the CULEE Examination? Not yet? Well, now you will learn with this blog. 
In any examination, the University sets the eligibility parameters to filter out the best-suited candidates out of all the applicants. Hence, your eligibility must sit well with the parameters laid out by the University.
It will enable you to participate in the examination and make you eligible for admission (Upon qualifying). 
Let's answer a few questions which might be boggling in your mind regarding CULEE Eligibility:
Is there any age bar for CULEE Examination?

CULEE has set no maximum age limits for you. Therefore, you are free to apply at any age you wish. 

Can I go for a CULEE post-B.Tech or another graduate exam?

 For a 3-year LLB Programme, you need to complete your graduation. However, it can be from any stream and subject you choose. 

Can a foreign candidate participate in the CULEE Exam?

You need to have Indian Nationality to apply for the CULEE Exam. No foreigners can drop an Admission Application at the Christ University of Law. 

Can someone awaiting the 12th board results apply for the CULEE Exam?

Yes, you can apply for the exam. However, you need to get your scorecard before the counselling round. 

Is Indian nationality mandatory for participating in the CULEE Examination?

Yes, you must have an Indian Nationality or an NRI status. Only then can you apply for the CULEE Examination. 
CULEE Eligibility Criteria – Overview
Before we walk through the corridors of the eligibility criteria individually.
It is better to have an overview of the examination we are talking about.
CULEE has the University level Entrance Examination conducted annually by Christ University School of Law. 
The core idea of this examination is to offer admission and LLB (3 & 5 years) and LLM programs at the University level.
The admission process Includes CULEE Application, Examinations, Skill Assent, and an Interview round.
However, you must fulfil certain parameters before becoming part of this process. 
These CULEE eligibility criteria are determined to keep the competition subtle and allow only the best-suited candidates like you to participate in the examination. 
However, there are some provisions for the reserved section.
It allows a slight relaxation in the eligibility criteria for SC/ST and Domicile candidates from Karnataka. Now let's check all the criteria in detail. 
CULEE Eligibility Criteria – Nationality 
The first criteria in this row are your nationality. Here are the details of it. 
You need Indian Nationality, either as a Citizen or as an NRI, to apply. 
No Student with foreign citizenship is allowed to participate in the examination. 
Also, you will be given preference if you have a Domicile in Karnataka over applicants from other states. 
Check Here - CULEE Syllabus
CULEE Eligibility Criteria – Age Limit
The University sets the Age limit to limit the number of participants participating in the examination. It is also done to create a more homogeneous Class. However, this isn't the case at CULEE. 
There is no upper age bar for LLB (3 years) and LLM. Hence you can apply at any age. 
However, for the integrated program (5 years LLB), you must have cleared 12th and should not have taken more than 2 years of Drop. 
Don't Miss - CULEE Preparation Books
CULEE Eligibility Criteria – Education Qualifications
Before moving on to any degree program or other educational endeavours, it is necessary to have a basic qualification. The Institution itself determines this basic qualification. In the case of CULEE, You need to have the following:
The High School degree (12th) from a recognized board (state or Central) for the Integrated LLB program. 
For the 3-year LLB Programme, you have to have a Graduate Degree (All the streams are acceptable) 
For an LLM program, ensure an LLB degree, or else you won't be qualified to apply. 
Read More - CULEE Preparation Tips 2023
CULEE Eligibility Criteria – General Criteria
Some general terms and conditions are applicable across all degree programs at the CULEE. You should know these beforehand to dodge rejection. 
You need to have at least 50% of the aggregate score in your latest academic degree. 
As an SC/ST, you will receive around 3-5% relaxation in the Merit list. 
Your Degree should be obtained from a recognized University or board only. 
Being able to participate in the examination doesn't ensure admission, so make sure to qualify for the rounds for admission. 
In the case of Spot admission, the admission will be given on a first-come, first-serve basis. 
Know Here - CULEE Exam Pattern
CULEE Eligibility Criteria – The Tie-breaker 
The tie occurs when two or more participants acquire the same exam score. In that situation, the candidature will be decided on these terms:
Students having better scores in Legal Aptitude will be given preference. 
In the case of multiple ties, the one with a higher age bracket (or experience) will be preferred.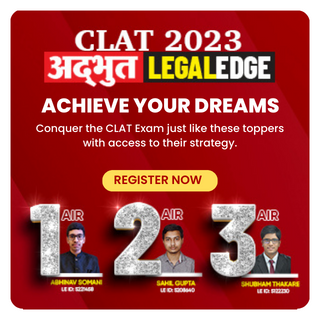 Conclusion 
We have enclosed all the information regarding Eligibility Criteria at the CULEE. You can save this blog for later reference. Also, we hope you can apply for the same easily without any significant problems. Also, we wish you luck with your future endeavours.