Summary: Learning about the CUET Sanskrit Syllabus is essential for anyone interested in studying Sanskrit. The syllabus provides a comprehensive language overview, including its grammar, literature, and history. It also outlines the various topics covered in the course, such as Vedic literature, the Upanishads, and the Mahabharata. By understanding the syllabus, students can prepare themselves for the upcoming exam in May 2023. Additionally, the syllabus can help students identify areas of interest and focus their studies accordingly.
Several colleges, like AMI, Central Sanskrit University, DU etc., offer bachelor's in Sanskrit, requiring you to prepare CUET Sanskrit Syllabus 2023 as NTA prescribes. The CUET Sanskrit Syllabus 2023 includes Language and Philosophy-based topics.
Sanskrit Question Paper has 50 questions, out of which 40 must be attempted.
Watch the video attached below to explore CUET's top 50 most expected questions.
Did you know NTA has released CUET 2023 exam dates and tentative registration dates?
CUET 2023 Important Update: Did you know the CUET 2023 dates have been released? NTA issued a public notice on 15 December for CUET, NEET, and JEE Mains aspirants notifying the important CUET 2023 Exam Dates for the next academic year. Application process to begin from 1st week of February.
CUET Sanskrit Syllabus 2023
The CUET Sanskrit curriculum comprises a total of ten different units; each unit is related to the other and is considered critically vital to pass CUET.
Check: CUET General Syllabus 2023
CUET Sanskrit Syllabus 2023
Check out the CUET Sanskrit Syllabus 2023 below:
Cover these topics from your NCERT textbooks.
Unit
Topic
1. शब्दरूपाणि - वाक्येषुणवभणिप्रयोगा
§ अजनताः बालक, फल, रमा, कवि, मवि, िारर, नदी, विि, ुधेन, ुमधु, विि,ृ माि, ृ वििीय, सवि, दाि, ृन, ृ स्िस, ्अवि । § हलनताः राजन, ्भिि, ्आत्मन्, वििस, ् िाच,्िविन, ्मरुि्, िादृक्, वदि,्धवनन, ्िञ्चन, ्अष्टन्, निन, ्दिन्। § सववनामाणन सिव, िि, ् यि, ्वकम, ्इदम्(विषुवलङ्गषे)ु, अस्मद, ्यष्ुमद्।
2. धातुरूपाणि
§ परस्मैपणदनः गम,्नम, ्अस,्हस, ्श्र, ुनि, ्आि, ्िक्, इष, ् प्रच्छ्, कृ, ज्ञा, भि्, वचन्ि, ्निृ ्, कि, ्नी, िच् (लट्, लटृ्, लोट्, लङ्, विवधवलङ्इवि िञ्चलकारेषुप्रयोगााः) § आत्मनेपणदनः लभ, ्सेि, ्िन्द, ्याच्(लट्-लटृ्-लङ्लकारेष)ु
3. सनधयः सणनधणवच्छेदाः च
§ स्िरसवन्धाः दीर्वाः, गणुाः, िवृधाः, यण, ्अयावदाः, ििूरूव िम्। § व्यञ्जनसवन्धाः श्चत्ुिम, ्ष्टुत्िम, ्जश्तत्िम, ्अननुावसकाः, अनस्ुिाराः, िरसिणवाः। § विसगवसवन्धाः उत्िम, ्रत्िम, ्लोिाः, विसगस्व िानेस, ्ि, ्ष्।
4. समासाः णवग्रहाः च
§ अव्ययीभावः यिा, प्रवि, उि, अनु, वनर, ्सह, अवध । § द्वनद्वः इिरेिरिन्िाः, समाहाराः, एकिेषाः । § तत्पुरुषः विभविित्िरुुषाः, कमवधारयाः, विगाःु, उििदित्िरुुषाः । § बहुव्रीणहः
5. प्रत्यया
§ कृत-्प्रत्ययाः ि, ििि, ुिव्य, अनीयर, ्िि, ृ िानच, ्विन्। § तणित-प्रत्ययाः मििु्, इन, ् ठक्, ठञ, ्त्ि, िल्। § स्त्री-प्रत्ययौ टाि, ्ङीि्।
6. उपपदणवभणिप्रयोगाः
7. भाणषककायवम्
§ वििेषण-वििष्ेयिदचयनम् § किववृिया-िदचयनम् § ियावय/विलोमिदचयनम
8. छनदसांसोदाहरिलक्षिपररचयः/श्लोकेषुछनदोऽणभज्ञानम
§ छन्दाांवस – अनष्टुुभ, ्उिजाविाः, ििां स्िम,् िसन्िविलका, मावलनी, वििररणी, िादलवूवििीवििम, ् मन्दािान्िा ।
9. शब्दालङ्काराः अर्ावलङ्काराः च
§ िब्दालङ्कारााः - अनप्रुासाः, यमकाः, श्लेषाः । § अिावलङ्कारााः -उिमा, रूिकम, ्उत्प्रेिा, अिावन्िरन्यासाः ।
10. संस्कृतसाणहत्यस्य सामानयपररचयः
Check: NTA CUET Mock Tests 2023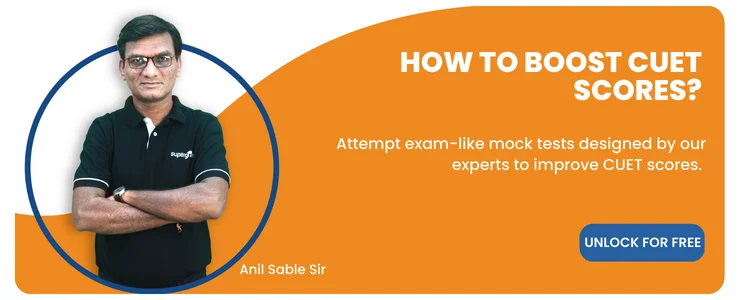 Conclusion
CUET Sanskrit Syllabus 2023 summarises everything you must study.
Focus on Sanskrit grammar, Vedic eras, Epics, Education, Politics, Economics, Digital Humanities, Globalization etc., from NCERT text books to ace your preparations.