In the century we live in today, major changes are occurring that also include the pandemic, which bought several crises and changes to our lifestyle.
Due to the pandemic, most students hesitate to go out and take their classes in a room full of students.
Your concern is real and if you're worried about how to prepare for civil judge examinations in these unprecedented times of Covid, this post will walk you through extensive preparation tips and strategies for the upcoming exams.
Read through the post to learn about how to study for judicial exams at home.
Download Study Material For Judiciary Exams by Judiciary Gold
When to Start Preparing for Judiciary Exams at Home?
If you are wondering what is the right time to start preparing for the Upcoming Judiciary Exams to gain a seat from the respective Vacancy lists? It is suggested to begin the preparation at least 1 year before the commencement of the exam.
However, each of you may have a different way of studying, a different study environment at home, and a different pace of learning and grasping concepts. So, it would be best if you plan your preparation as per your understanding ability, and likeability.
We suggest you develop a habit of reading the newspaper. If done with persistence, it will help you develop an objective to cover many topics of your exam.
For example
It will help you with current affairs
It will help you a lot in the English language section while precise writing or essay writing
I will also help in building a good vocabulary and a sense of punctuation, and correct grammar
Read More: Tips to avoid negative marking in the Judiciary Exam
How to Start Preparing for Judiciary Exams at Home?
The main Judiciary examination preparation strategy is to focus on preparing a planned framework to score excellent marks.
You should focus on your own preparation to build confidence in yourself.
Our experts at Judiciary Gold (a pioneer in providing the best online guidance for Judiciary Exams) have provided a few tips and strategies that will help you prepare for judiciary exams at your home to ease your preparation.
1. Start your preparation as Early as Possible
If you aim to appear for judiciary exams, this is your time. Whether you are a law student or a working professional, this time presents you with the golden opportunity to begin your preparations from the comfort of your homes and march towards realising your dream of becoming a judicial officer.
The earlier you start, the more time you get to prepare!
2. Take benefit of Online Coaching Classes
As much as you miss your offline classes, let's be honest to accept that online coaching for Judiciary Exam is the new norm, and it can effectively help you realize your goals.
Unlike offline classes, online coaching is less time-consuming (no travelling time) and much more economical.
It provides you with all the required study material and a daily dose of motivation to keep you going.
Due to the advent of this new online education era, you can study from the best faculty in the field, irrespective of your geographical limitations.
So, experts suggest that rather than waiting with folded hands for guidance through offline classrooms, make the most of online platforms. You can learn from the experts at Toprankers.
3. Shortlist the states that you wish to appear for
Once you have decided to prepare for the Judiciary Exam, decide on the states you wish to appear for.
This will immensely help you streamline your preparation accordingly right from the beginning and lead to greater success of chances.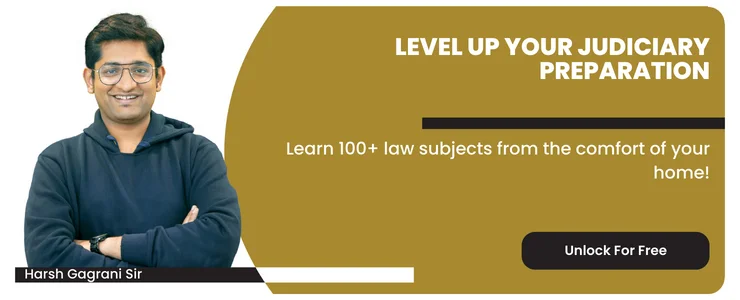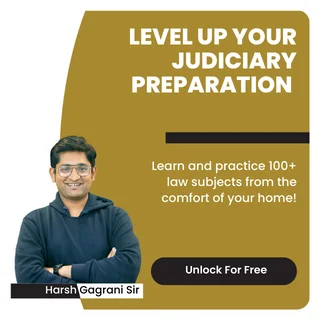 4. Go through the Syllabus
Go through the syllabus for the Judiciary Exam of your targeted state judiciary to better understand all the subjects you have to prepare.
If you wish to appear for multiple state judiciaries, knowing the syllabus of all will help you know the common subjects to all those states, and hence you can dive right into preparing all those common subjects first.
5. Understand the structure of your targeted judiciary exam
Besides the syllabus, another important prerequisite is understanding the structure of the Judiciary Exam that you are targeting.
This means that you should know how and what kind of questions are asked in all three stages of the selection process, i.e., Preliminary, Mains, and Personal Interviews.
For this, you must look into the previous year's question papers to decode the exam pattern and know the weightage of different subjects at different stages so that you can strategize your pathway thereafter.
6. Don't Skip Online Classes
If you are serious about your exam, you are unlikely to skip your classes. Because Judiciary exams require a deep understanding of law concepts, your faculty and subject experts will try their best to convey this to you through online classes.
So, by skipping, you will lose the connection between classes, so your concept clarity will definitely take a hit.
7. Attend online classes with due diligence
While attending your online coaching classes, you must make sure to be fully attentive.
Do not forget to keep the required bare act and your class notes handy for better understanding.
8. Read Bare Acts and Class Notes Regularly
State judicial exams are highly competitive and demand a good understanding of numerous law concepts. The most commonly recommended way to attain that is to read the bare acts and your notes multiple times.
With each reading, you will remember the provisions better and find something more than your previous understanding of the law.
9. Understand the Language of the bare act well
The bare act is 'the bible' for any judiciary aspirant. So, you cannot afford to ignore it in any manner. Here are the Important Bare Acts for Judiciary Exams 2022
Understanding the language of the bare act is helpful for the preliminary stage and can also massively improve language in your Mains answer writing.
You must learn to read between the lines and comprehend the practical implications of a legal provision.
Read More: Short Tricks to crack Judiciary Exams in 6 Months
10. Opt for Smart Study
Undoubtedly there is no substitute for hard work in preparations for judiciary exams; however, like every competitive exam, this also requires smart study.
By this, our experts mean that you should know which areas are worthy of more of your time and which spheres of the syllabus must not be invested with a lot of your time.
This strategy helps you not only cover the syllabus but also to score better in exams.
Keep practising with the previous year's papers to get the look and feel of the exam and evaluate your growth.
11. Keep track of Landmark and recent Judgements
Judgments hold immense importance in all stages of selection. While almost all preliminary exams ask questions about case laws, their correct use in Mains answer writing can greatly enhance your answer and fetch you better marks.
For these reasons, you should make your own bank of landmark and recent judgments alongside notes on relevant topics.
12. Avoid studying from Multiple Sources
One common mistake committed by many aspirants is the approach of studying from multiple sources. This can take up more of your time and is often seen as a less effective way of scoring marks.
Instead, you should stick to limited sources; Bare act, class notes, and one reference book for Judiciary Exam (if required).
Through this, you can invest more time in concept clarity and revision.
13. Make brief Notes
Note-making is the 'brahmastra' in the process of preparation for judiciary examinations. Ensure that your notes are crisp and wholesome.
You can also make flow charts, diagrams, etc., to make them interesting for every revision.
14. Start the practice of answer writing right from the beginning
I strongly recommend not waiting to qualify for mains to start writing answers for the Mains exam. This is the worst mistake you can make to spoil your Mains score.
Develop the habit of writing answers regularly right from the beginning, and you will be surprised by the results after some time.
Read More: Short Tricks to write answers in Judiciary Mains Exams
15. Never mug up
The belief that 'judiciary exams can be cracked by cramming' is a myth. Recent trends in judiciary exam patterns show that examiners ask more conceptual questions.
In fact, the main question papers are filled with factual matrix types of questions which are very difficult to attempt if you have only mugged up the provisions and not understood them in and out.
16. Practice the Previous Year's Papers
Solving previous years' Question Papers for Judiciary Exams is a must to improve your time management skill and speed.
Also, it will help build your confidence levels and help you perform well in the exam.
Make sure to solve previous year's papers every week, as this will help you get an idea about the type of questions and the difficulty level of the paper.
17. Revise regularly
Human minds retain better if the information is regularly revised. So, plan your study routines in such a way that you devote some time during the day and the week to revise all that you have studied in that duration.
It shall increase your retention many folds and help you crack the exam.
18. Attempt Mock Tests
Solving mock tests would definitely help improve your speed and accuracy on the final exam day exam and help you score good marks.
By taking up Mock Tests for Judiciary Exams, you can know your strong and weak areas and try to overcome them.
Also, you can understand which section requires more time in the final exam.
19. Let's maintain Confidence
The last tip would always be to remember that good thing take time. So, it would be best if you did not get disheartened and must continue to maintain confidence in your preparation.
Learn not only to be fixated on the results/destination but also to enjoy becoming a judicial officer.
Sooner or later, all of your hard work will pay off, and you shall enjoy the fruits of it for the rest of your life.
How to Prepare for Judiciary Interview at Home?
Firstly, you should remember that the interview round is not to check your knowledge regarding the law. It is to check your personality, manners, and behaviour.
Attending mock interviews will clear all your doubts and eliminates the fear of an actual interview. Also, you can follow

Tips for Judiciary Interview

provided by experts to understand better how to give a short yet apt answer to the questions put up by the interview board.
You should always be ready with your greetings and a brief introduction about yourself which examiners usually ask as a first question.
Every time you are asked a question, you should pause for a few seconds, formulate an answer in your mind, and only then answer it. This will minimize the possibility of error and will also convey a good impression.
You can prepare a list of commonly asked FAQs in the interview and revise them regularly.
For a comprehensive guide, do read

How To Prepare English For Judiciary Exams