Once enrolled in law school, every aspirant's mind is that the judiciary is the entire career a person can pursue. After several months of internships, seminars, and meeting new people over the years, you discover various good employment choices.
Most of you might be preparing for judicial services exams along with a job or college and worried about how to plan your preparation in a better way.
This post shall guide you through the tips and strategies to help you better understand how to manage judiciary exam preparation with a job/college.
When is the Right Time to Start Judiciary Preparation and Job/College?
Planning is most important for judicial services exams to maximise the benefits of your study.
It is ideal if you are clear from the beginning since you'll study effectively. It would help if you start your Judiciary Exam Preparation two years or one year early since concentration, discipline, dedication, and a robust approach are what count.
You know what you'll be occupied with within your profession, whether work or studies. Start with the basics.
Law schools are focused on the curriculum and rarely on substantive or local laws. So, it is important to focus more on bare acts.
Download FREE Study Material for Judiciary Exam by Judiciary Gold
Every bare act contains hundreds of sections. Memorizing all of them is a big challenge for many of you.
So, break it down into chunks and study 10 to 5 sections every day.
How to Prepare for Judiciary Exams with Job/College?
As we all know, the judicial services exam is one of India's most competitive exams. Therefore, you require a proper preparation plan to create the exam on the first attempt.
You must prepare the best study plan covering all the topics per the latest

Judiciary Exam Syllabus

of the particular state you wish to apply for.
The study plan must also include time for revision and additions mocks for practice.
You can study between one and two subjects, along with GK/General Studies.
If you study for 9 hours a day, make sure to allocate at least 1 hour for answer writing and 30 minutes to review results.
Solve as many questions as possible from the previous year's papers to know the difficulty level of the exam.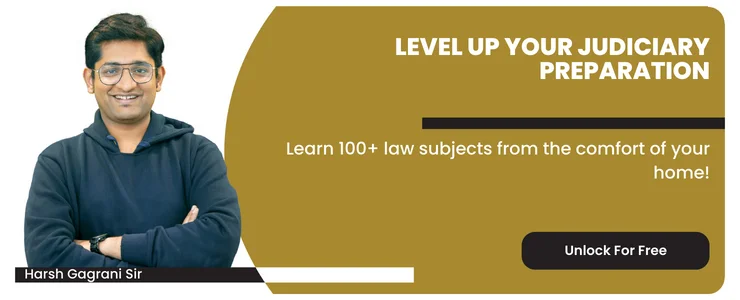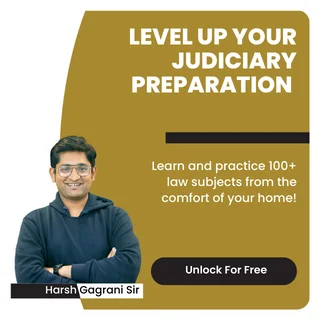 How to Make Use of Time?
To use our time correctly, we should have the skills to manage our time correctly. It would help us during our preparation and while writing our exams.
Make a daily schedule every day and decide on what you will study at the time that is at hand.
Make small targets and achieve your daily targets slowly.
What to study for Judiciary Exams?
Don't start by reading everything; give your attention to topics that need the most focus.
Be smart and start with the Previous Year's Questions asked in the Judiciary Exams. Try to read, practise and analyse the paper.
Also, take note of the sections from which the maximum questions are asked. In this way, you will learn how much weight should be given while preparing each section.
What Do You Need to Incorporate into Your Reading Daily?
Reading newspapers every day is a non-negotiable thing for every aspirant for the judicial service examination.
If you habitually read the newspaper every day, this will help you in all three stages of the Judiciary exam, be it prelims, mains or personal interviews.
Also, it would help you answer questions on Current Affairs and know the contemporary legal issues applicable to all the Judiciary exams.
It would also help you write descriptive answers in Mains as you command the language by reading newspapers daily.
What should be My Focus on Prelims/Mains or Both?
It is common for you to begin with the 'prelims' and then go to the mains when studying.'
However, to pass the Judiciary exam, you must switch strategies and prepare for the Mains first. In this way, you can cover the prelims syllabus too.
Please don't take one single law at a time for preparation; take a major and a minor act both together. It becomes monotonous in the long run.
For example, you can take the constitution of India as a major act and take Partnership Act and Negotiable Instrument Acts from the minor acts. In this way, there won't be any lag in your preparation.
Should I include Rote Learning while preparing for Judiciary Exams?
If you are an aspirant for the judicial services exam, you should avoid all the chances of rote learning.
It might be helpful occasionally during prelims but not in mains, and it is better to avoid such a strategy.
How to prepare Notes for Judiciary Exams?
Always remember that the notes you make should be made by yourself instead of borrowing them from others, as when you take notes by yourself, it creates visuals in your mind that keep flashing while you are writing your exams.
The following are some of the best tips that will help you understand How to Prepare Notes for Judiciary Exams.
Note down the essential points from the exam's point of view.
Make a question bank related to significant subjects as well as minor subjects. Prepare a question bank of 50 questions for each major subject and 25 questions for minors.
It is always recommended to use colour coding, i.e., using different coloured highlighters to make sensible and connected notes, which gives an edge to your preparation.
What Can a Good Mentor Do for You?
Only select someone who has cracked the exam on the first attempt and has a proven track record of assisting others in passing the test.
What's more, you should concentrate on having exactly ONE mentor you can rely on.
They will also assist you in preparing a master plan that helps you perform well in the judicial services exams.
How do Revision for Judiciary Exams?
We may study a lot of topics at once, but remembering them is difficult. So, revising topics daily will help you memorize in the long run.
There are two reasons for the demand for revision.
Firstly, for starters, it aids in the recall of information that you might otherwise forget. In other words, it can increase your memory by a factor of ten.
Second, revising your important content three to four times increases your confidence and decreases your anxiety.
So, after you have figured out your plans and tactics, no one will be able to stop you from achieving your goals.