When it comes to the preparation of the judicial services exam, most of the law aspirants get worried about how to start and when to start their preparation. Firstly, you need to understand that cracking the judiciary exam is a tough task but not an impossible task.
If you are dedicated to your goal with the correct approach, you can definitely crack the exam on the first attempt.
Wondering, how!!! Read through the post that will give you a complete insight on how to crack Judicial Services Exam in 6 months, pre-requisites to start your preparation, and more.
Pre-requisites to Crack Judiciary Exam in 6 Months
You must be committed to cracking the judicial services exam in 6 months.
Then, you must select your target judiciary and not getting confused with any and every approaching vacancy.
In addition to this, keeping up with Current Affairs and brushing up your language is a task that you have to perform daily.
The knowledge gathered by this acquired habit will prove helpful to you in all stages of the judiciary exam as many states ask questions from G.K. at the preliminary stage.
Even the Mains stage demands you to write essays usually on legal or socio-legal topics that you can enhance with current affairs information.
On the other hand, a Language exam can help you to give an edge over all your competitors as most of you often tend to dealy reading up on language till they qualify for mains.
How to Make a 6 Months Study Plan for Judicial Services Exam?
Each one of your preparation strategies may vary. So, to help you guide through the Judiciary Exam preparation, we have provided a detailed 6-month study plan provided by our experts at Judiciary Gold (a pointer in providing the best online guidance for Judiciary Exams).
You must remember that a study plan doesn't mean 24*7 you need to study. Try to relax and take breaks.
If you are opting for the best Online Coaching for Judiciary Exams and planning to prepare for 9 hours a day, then the 6-month study plan should be as follows:
| | |
| --- | --- |
| Topic | Preferred Time Limit |
| Online Classes | 2 Hours |
| Read any 3 chapters from 2 subjects | 2-2.5 hours |
| Practice writing answers from each subject | 2 hours |
| Reviews Answers | 30 mins-1 hour |
| Attempt previous year papers | 1 hour |
| Analyze your Performance | 30 mins |
How to Start Judiciary Exam Preparation?
The most recommended way to kick start your preparation for judiciary exams is the Reverse Method. What I mean by it is that you must take the reverse approach and start preparing for the Mains exam first and then move on to the preliminary stage.
So, even before your targeted judiciary exam is notified, you should invest time in preparing for the Mains exam.
By analyzing your targeted state judiciary pattern and previous year's question papers, prepare a Question bank of around 50 questions of the Mains exam each from all the major subjects and around 25 questions each from all the minor subjects.
Based on these question banks, you should develop your conceptual clarity of the laws. This approach will help you understand how to write good answers in the Mains exam and hence prove to be a score-oriented approach.
While studying concepts of law for Mains, do not forget to prepare brief notes on all subjects of the syllabus.
The notes should be crisp but must also holistically cover all the important points of the topic.
Any good judiciary notes have content from three spheres: Bareact provisions, Commentary on the concept, and leading case laws that can be either recent or landmark judgments.

Major Subjects for Judiciary Exams
Indian Penal Code
Criminal Procedure Code
Civil Procedure Code
Indian Evidence Act
Constitutional law
Minor Subjects for Judiciary Exams
Contract Law
Partnership Act
Rent Law
Family Law
Limitation act
How to Prepare for Judiciary Prelims Examination?
While reading laws for conceptual clarity, you have already started your preparation for the Preliminary exam, now you need to streamline it again by REVERSE TECHNIQUE from practicing MCQs to Learning Bare acts.
Start practicing MCQ questions (preferably previous year question papers from all states) and then after gathering an idea on what topics the questions are asked from? What kind of questions are asked? Move on learning the provisions from the bare acts.
Read More: How to deal with negative marking in Judiciary Exams?
You will save a lot of time by the strategy as when you are reading the bare act you already know which areas to focus on and which all areas should not be invested with a lot of your time considering their weightage and trends of questions.
Another tip is to give as many time-bound tests as possible. You can also attempt Mock Tests for Judiciary Exams as it will help improve your time management which can be a real game-changer in preliminary exams.
Lastly, be thorough with the scheme and pattern of the bare act. By this, I mean that you should put special emphasis on repetitive readings of just the indexes of all laws. This will make you well-versed with the structure of the law and hence help you qualify for the prelims exam.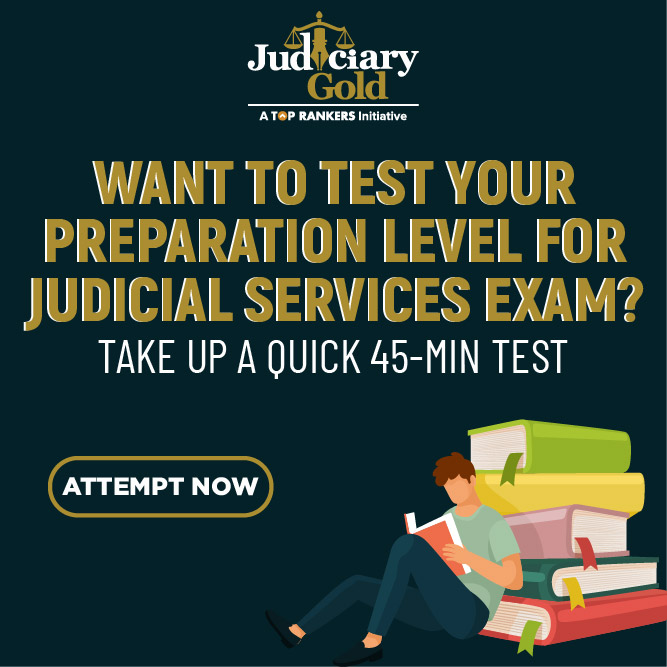 How to Prepare for Judiciary Mains Examination?
If you follow all the above suggestions, you must have gone through all the concepts of law in the syllabus by now.
So now devote time to revise the law (preferably from your own notes) and simultaneously start practicing answer writing (2 to 3 answers daily) in a time-bound manner.
With time, you will notice the increased speed, better structures in your answers, and more clarity of concepts.
Give special attention to areas of legal, socio-legal developments as it will enhance your answers and also help in essay writing for Mains.
Do not forget to prepare for judgment writing (if part of syllabus) and Language paper as they can evidently create a huge difference in your score and help you clear Mains with flying colors.
Do not commit the mistake of waiting till your prelims result to start your preparation for Mains exam as there is usually a lot to be done and usually only a time of 2 months is kept for preparation of Mains once the results for prelims are announced.
Read More: Short Tricks to write answers in Judiciary Mains Exams
How to Prepare for Judiciary Personal Interview?
Personal Interview or Viva-voce is the third and final stage in the selection process of judicial services examination. Personal Interviews offer great scope for the interview board to test your general awareness about recent happenings, Legal developments, and your opinion on these.
So, keep a track of the news of national importance or any news particular to the state that you are appearing for. Also, keep a track of important judgments that might have been pronounced recently as the board usually asks on them.
You can follow simple tips for Civil Judge interviews provided by experts to better understand how to give a short yet apt answer to the questions put up by the interview board.
Every time you are asked a question, we strongly recommend you to take a pause of a few seconds, formulate an answer in your mind, and only then answer it.
This will minimize the possibility of error and will also convey a good impression.